Hope you all had a wonderful 2014 and looking forward to a
FaBuLoUs 2015
!
Doug and I want to do a little weight maintenance. I found a 30 day Plank Challenge schedule. We started it today. I've got a couple of girlfriends that are interested in doing it with us. We are still going to the gym. Honestly, gyms do me no good because I'm starving as soon as I leave the weight room. Ugh! I did stock up on Craving Blocker milkshakes. Treadmill, you will not defeat me this year! HAHA!
We had a wonderful and memorable Christmas break. Of course, we have a our family traditions that we do every year. For instance, kids sleeping under the Christmas tree; driving around looking for Christmas lights; making a gingerbread house; making Christmas cookies; making Christmas ornaments; and having family night, watching Christmas movies.
I have to say that this year was probably one of the most stress-free Christmases I've ever had. I'm blaming the common cold that I've had the blessing of catching back in the month of September and still have it to this day. There are days when I think I'm feeling better and then the next day, BAM. I'm visiting my beloved doctor again. Yay! I haven't had the getty up and go this Christmas. I didn't cook that much and Katie didn't get her cinnamon scented cut-out Christmas ornaments to put on the tree this year either. Maybe next time. I did string popcorn and cranberries as garland this year. Pretty, but I miss the construction paper chain. We'll have to go back to it this year. Basically, if something didn't get made or done. Oh well. I think I will have to continue this concept from here on out. It is so much easier just to say "I didn't do that this year." Solved.
The children and I found some fun new ways to enjoy the break. This year, I thought it would be fun for the kids to put on their PJs, I packed some fresh baked chocolate chip cookies along with a drink. As we drove around looking at Christmas lights, we listened to Christmas music, ate cookies and drank our favorite drink. When we got home, we got hot chocolate to drink before bedtime. On Christmas morning, in order to open up your present, you had to answer my Christmas trivia questions correctly. The kids really liked it. I was surprised how much they liked it, so I think we'll mark it down to use again in Christmas future. It was fun! Last year, I bought the kids some small gifts and hid them in the Christmas tree. Katie really liked that game on Christmas morning. I read on someone's blog where they have a flash light gift party. If we had a Christmas Eve party, I think the flash light gift would be fun to play.
I did find time to make a few special gifts for some family, friends and the kids' teacher gifts. It's nothing spectacular, but fun.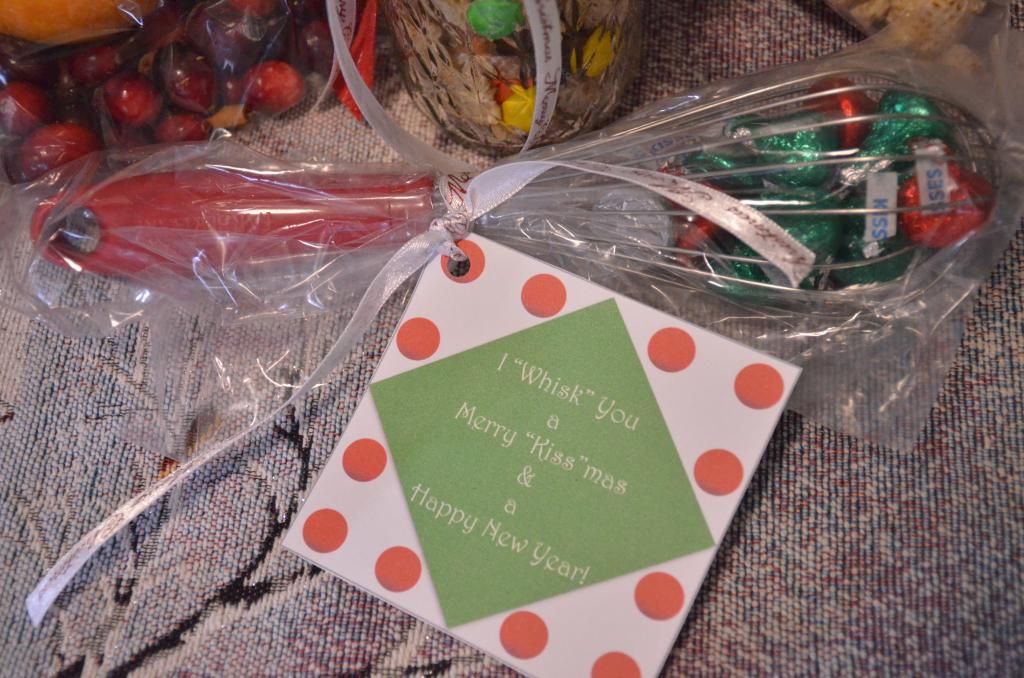 These were made for my kids' teachers - "I 'Whisk' You a Merry 'Kiss'mas & a Happy New Year!"
I found this on Pinterest one year and thought it was cute. I just purchased whisks and filled it with Hershey's Kisses, put it in a clear bag and tied it off with ribbon. Our teachers seemed to like them.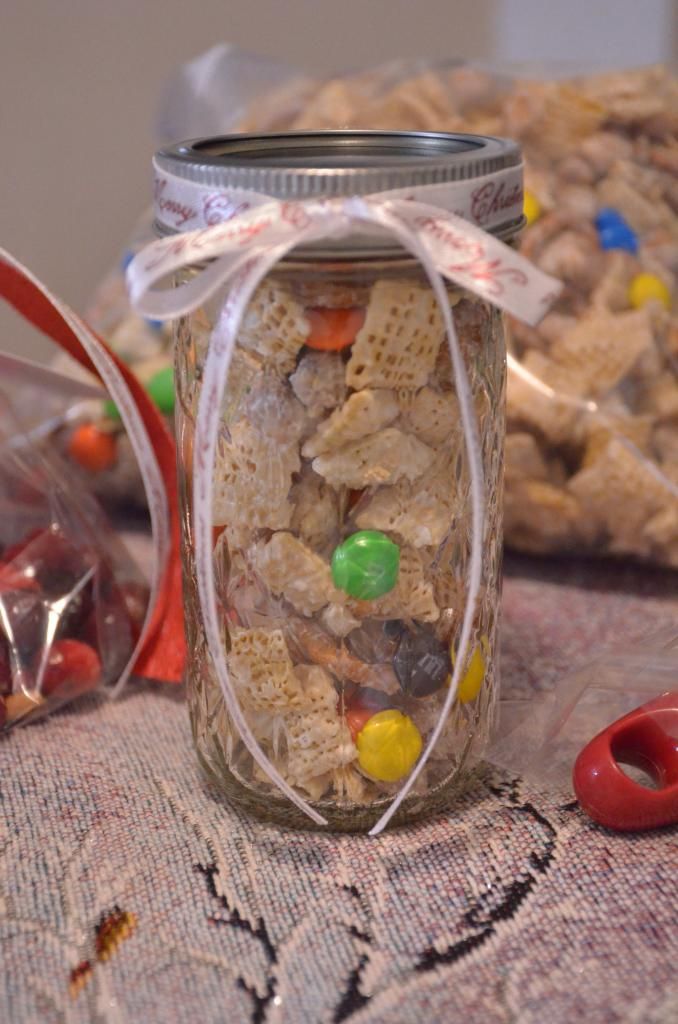 I purchased some pretty canning jars and filled them full of my Christmas Chex Mix. Below, is my recipe:
Christmas Chex Mix
Ingredients:
3 C Rice Chex Cereal
3 C Corn Chex Cereal
1 C Honey Roasted Peanuts
1 C small Pretzel Twists
12 oz. Vanilla Almond Bark
12 oz. M & Ms (your favorite flavor)
Instructions:
In a large bowl, combine chex cereal, pretzels and peanuts.
Melt the chocolate in the microwave (90 seconds on high and intervals of 15 seconds each additional time until melted).
Add the chocolate to the chex mix and gently stir to coat.
Spread the mix out onto parchment paper into a single layer. Add M & Ms on top.
After an hour of cool, break up the mix into pieces. Store in an air tight container.
Christmas Potpourri
I've been wanting to make this stove top potpourri for a couple of years, but would forget about it until it was too late. This year, I made sure to make a few bags of potpourri to give away for a little "Thinking of You" type Christmas gifts. The recipe is below: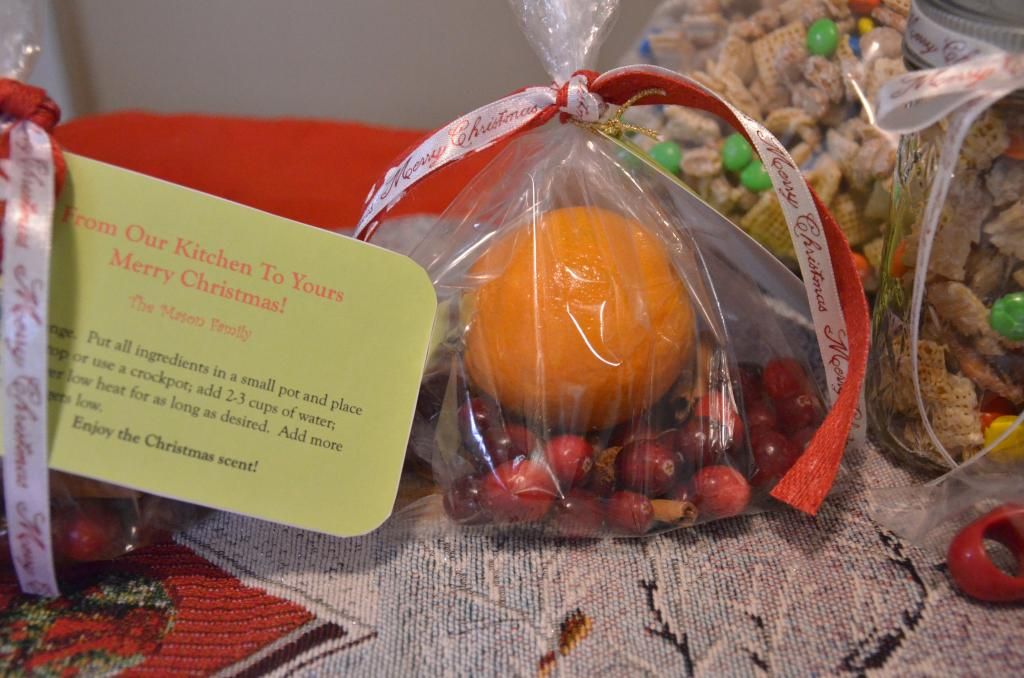 Ingredients:
1/2 C fresh cranberries
1 orange
4 cinnamon sticks (broken in half)
1 Tbsp whole cloves
1/8 tsp ground nutmeg
Make guests simmering instruction tags
Instructions:
Place all ingredients into a clear bag and hold securely with a rubber band. Decorate with simmering instructions and pretty ribbon.
Below is an example of our gift tag.
In case you can't read the tag very well. See below:
Directions:
Slice orange. Put all ingredients in a small pot and place on stove top or use a crockpot; add 2-3 cups of water; simmer over low heat for as long as desired. Add more water, if it gets low.
For our Christmas parties, I tried to make Pinwheel sugar cookies. What a joke!! I made 2 batches of this cookie and ended up renaming them "Grinchy Christmas Cookies". It didn't matter if my cookie dough was nice and chilled (hard) or soft. Every time, I jelly rolled the two colored dough and put it in the fridge, it would want to settle flat. Making the dough more oval than round. Ugh! I re-rolled the dough to make it round, which made the cookie look more whimsical than round and pinwheel shape. Thus, the name change. LOL! You've got to laugh about it. The cookies were still tasty. My children LOVED them, no matter what they looked like. Doug requested a batch of "Reeses Peanut Butter No Bake Bars". Do you remember getting these as school, before the "healthy food" aka "no taste food"? The layer of solid chocolate on top of peanut butter mixture bar. Oh, they were so good. Well, I think I brought some people back to their school years, when I opened the lid to my peanut butter bars. Below is the recipe:
Reese's Peanut Butter No-Bake Bars
Ingredients:
1 C salted butter (melted)
2 C Keebler Graham Cracker Crumbs
1/4 C Brown Sugar
1 3/4 C Powdered Sugar
1 C Peanut Butter
1/2 tsp. Vanilla Extract
1 (11 oz.) bag milk chocolate chips
Instructions:
Combine all ingredients, except chocolate chips in a medium bowl. With help from your trusty mixer, mix until the mixture is smooth and creamy.
Pour peanut butter mixture into a 9x13" casserole dish.
Melt chocolate chips in the microwave (at 50% power) for 1-2 minutes. Stir chocolate and pour over the peanut butter mixture. Spread chocolate with a spatula. To even out chocolate, tap dish on the counter.
Refrigerate bars for an hour. Cut while bars are still cool. Enjoy!
I'll keep these recipes listed under my recipe link for future reference.
What will the year 2015 hold for us? I know, we are awaiting another family wedding this year. My youngest nephew got engaged to a wonderful, patient and beautiful young lady. They decided to wed in the month of September this year. I am so happy for them and wish them all the best on this blessed adventure together. I hope your 2015 will be a blessing for you and others around you. God loves you and so do I!