I finished creating all types of treats for our little booger bears. This year, I made candy treat hands with bat rings for each student in both Katie and Colton's class. I used Smarties for the fingers and individual bags of Skittles and M&Ms for the hand part. I tied off the top with decorative ribbon.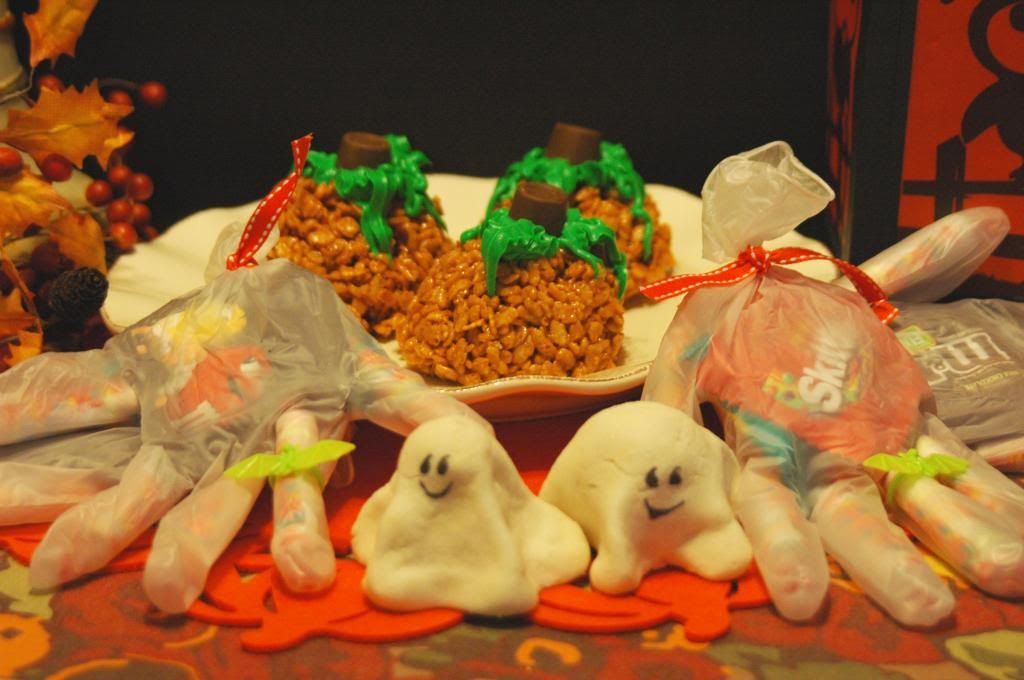 It's been a few years since I've made Salt Dough Ghosts, but I thought Katie and Colton's teachers would like them as a Halloween gift.
CLICK HERE
for the Salt Dough Ghost instructions.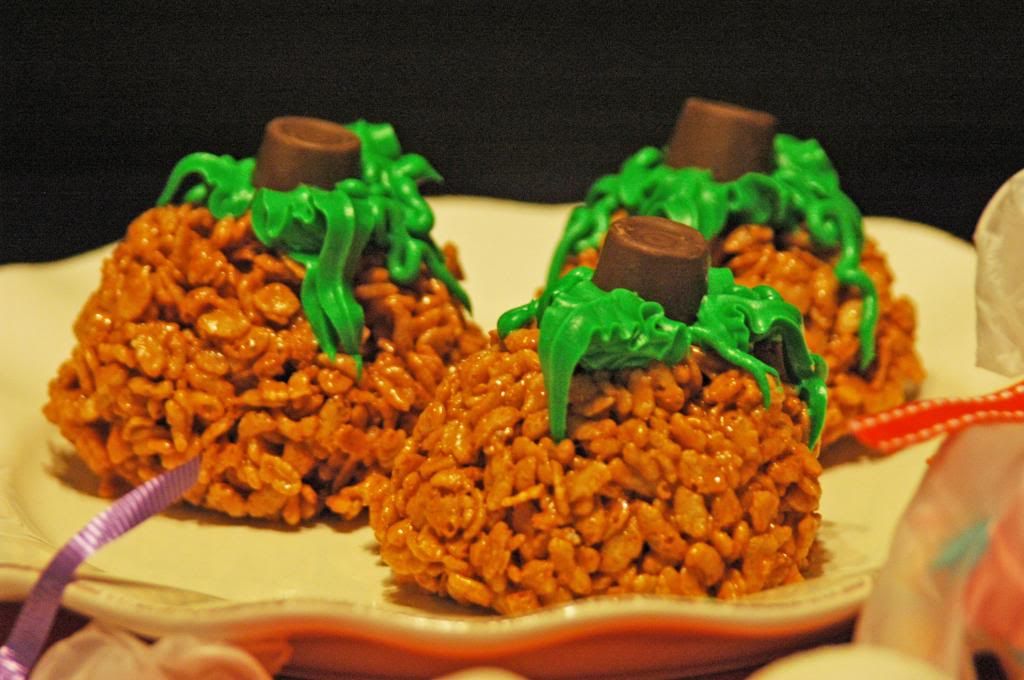 Lastly, I wanted to try something new. I found these on the grocery store shelves.
Now, you may have already seen these Jet-Puffed Pumpkin Spice Mallows before, but I had not. I love the pumpkin spice flavor and a light bulb went off. Why not make pumpkin rice krispy treats in the shape of pumpkins? I got the ingredients and went home. I used a Rolo for the stem and green icing for the leaves. As I was looking at Kraft's website, I like the idea of putting a mini candy bar like 3 Musketeers inside the pumpkin. Great idea! However, I didn't have any mini candy bars to put in the center of each pumpkin. I basically made these just like you would make regular rice krispy treats.
Pumpkin Spice Rice Krispy Treats
3 Tbsp. Butter
1 package Kraft Jet-Puffed Pumpkin Spice Mallows
6 cups Gluten Free Rice Krispy Cereal
6 Individual Rolos
Green Icing
On low heat, melt butter.
Add marshmallows and stir constantly until melted.
Add cereal and stir until coated completely.
Keeping your hands wet at all times, form the cereal into a large ball and place on a flat surface. Because your rice krispies are still warm, it might try to fall apart. Keep your fingertips wet and mold back together. Once it cools the ball will stay in it's form. This recipe will make 6 large pumpkins. Place a little icing on the bottom of the Rolo before placing it on top of the pumpkin, to make your stem. With a leaf tip on the bag of green icing, decorate the top with leaves and curly stems. Have fun with it!
I could not believe my eyes, when Katie brought this home from school. They've been well on their way with Multiplication Tables for a few weeks now. Who would have thought Algebra? I guess I was a little shocked when I showed it to Doug. He very calmly said well she can do it. That wasn't the point. She's just 8 years old and just began memorizing her multiplication tables. I looked at the sheet again and realized that yes, she can do it.