We decided to celebrate the beginning of college football season with our cousins from Louisiana. They always pull out the red carpet for us, such great host/hostess. Of course, I took my camera 'cause this photographer want-to-be needs the practice, practice, practice. Wayne, Laura and Alise were so sweet and patient with me, because I drug them off to the Bayou for pictures in the 100 degree weather and that's not including the humidity. Trust me when I say, it was HOT! Thank you guys! I think the pictures turned out really good. I'm not going to show you Wayne and Laura's picture because it is a surprise for their family and friends. Instead, I can show you our group photo and maybe a few other snap shots.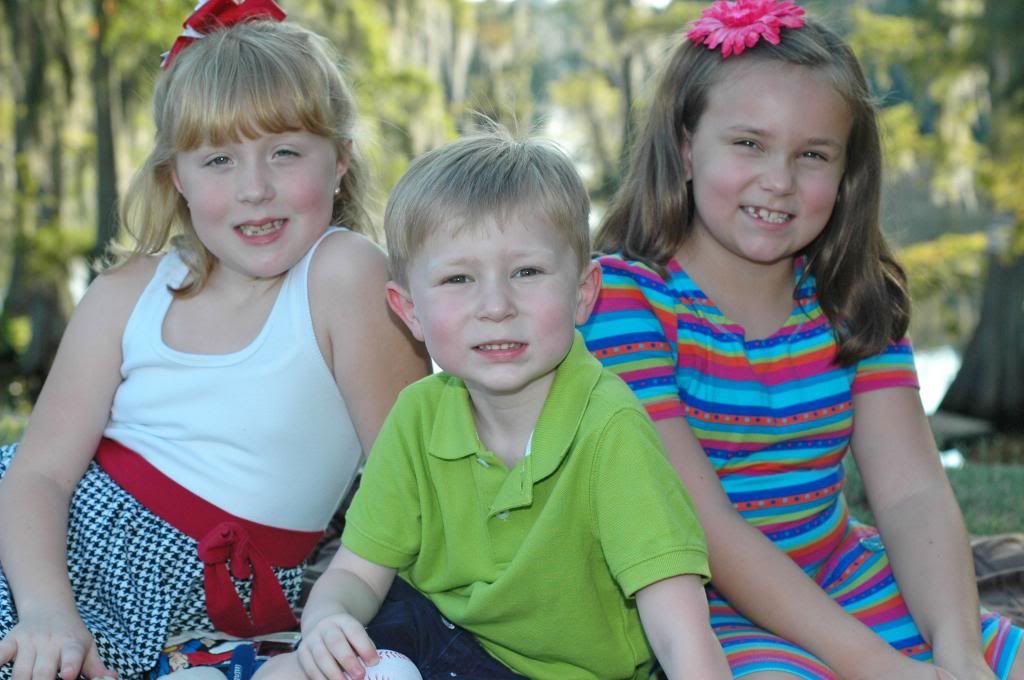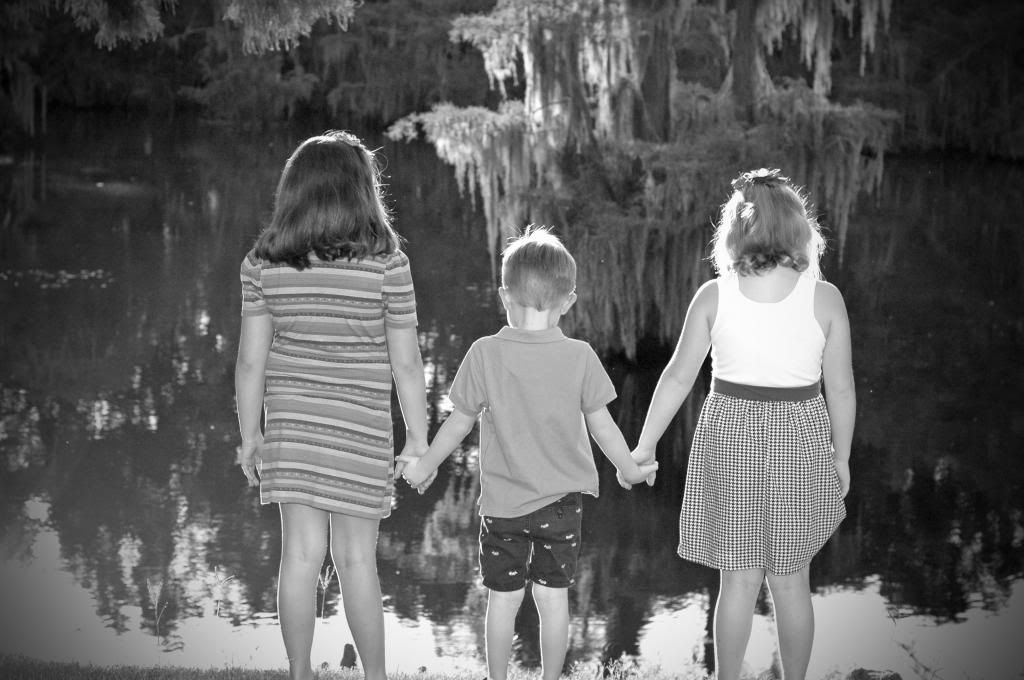 I expressed my desire for some props for my photo sessions. I needed a child's chair and other small pieces, just to get started. I'm not getting paid because I need to experience, I have to take my time adding pieces here and there. I'll get there. Well, I hit the jackpot at the Bayou Crafters in Monroe, LA. I spoke to the store clerk and she told me that a lot of photographers come there for all their photo prop needs. I believe it because I really feel like I got a good deal. I will have to take photos of my pieces, to show you. I was able to purchase a child's chair, bench and column for under $50. I did get to make it to The Paul Michael Company. It reminds me of a large Kirklands. They keep their sale items in the back room that can give you savings up to 60%. I found some items for Spring/Summer photo sessions. You'll have to just wait to see photos with them in the shot. I get so excited when I find something that I can use. I did love the fabric filled pumpkins for the fall season, but didn't care for the fabric used. I wasn't going to pay the price for something I really didn't love. I told Laura that maybe me and some of my family members (nieces, sisters and mother) can get together and come up with a pattern to make these pumpkins. I think they would be precious and less harmful for little kids. I'm currently working on ideas for a fall photo session, so stay tuned.
While Laura and I were shopping, Doug and Wayne took the kids over to Duck Commander aka "Duck Dynasty." Doug called me and told me that people were lined up outside the door just trying to get inside. It was too hot for them to get in line just to visit the store. Laura and I were not far from there and could actually see the line of cars waiting to turn into the parking lot. CRAZY! We decided to wait until Sunday and take a few pictures.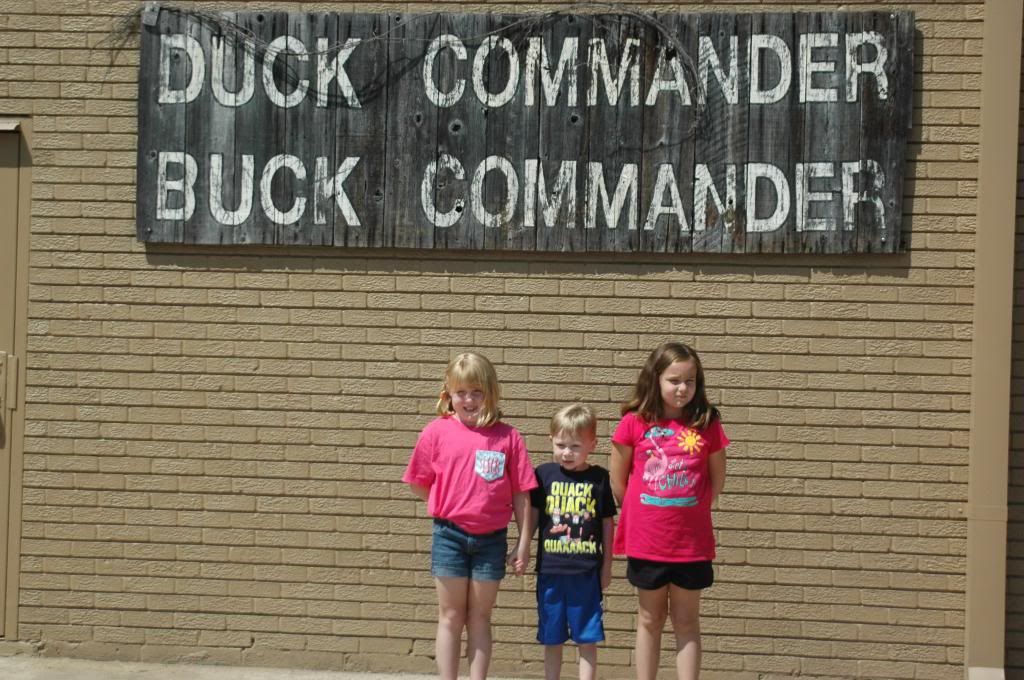 Laura and I made a nice sized spread for our party of 9 people Saturday night. LOL! We had a sea of dips with chips and bread, snack mix and other finger foods. Wayne and Doug made some smokin' ribs and Donna, Wayne's sister, brought over some brisket. YUM! No one and I mean no one walked away from table hungry. Everything was delicious! We cheered on our favorite college football team - Bama vs. Virginia Tech. I think our offense team struggled and I'm hoping they will improve by the next game. They had a chance to blow Tech out of the water, but we just didn't show up offensively. At the end of the day, it ended up being a victory for our Bama team. They've got to get with it when Texas A&M show up. I have faith in them and I know, we will have another great year.
I have a passion and love for photography, I appreciate the art and history of it. I decided to continue my education by taking a photography class at our local community college. I attended my first class this week. It was exciting and the critiques will put you on the spot, I've noticed. The critique session allows you to work in small groups. You view the photos that the instructor passes out to each group. I think she handed us about 6 photos. We assigned one person to make notes as we come up with words that described "how we feel" with each photograph. Then, we had to decide why it made us feel that way. Was it the lighting or the shutter speed? How was the lighting applied? Trust me, our instructor will ask you directly how a photograph makes you feel and she wants as much information as you can give her. Nerves? I think much. My weekly assignment includes taking 10 photos, to use during the critique session. Here are a few that I took today:


Just a Quick Note:
The children are doing great. Absolutely loving school. Colton has his first field trip to the apple orchard in a few weeks. I received the paperwork today. We are suppose to go on a tour of the orchard, read about "Johnny Apple Seed," which is one of my favorite books and be able to pick apples. Be sure to check back for pictures of this event. I always love the field trips and watching the children's eyes in amazement. Katie joined a club at school, Youth for Christ. Now I say a club at school, but it doesn't conduct during school time and therefore is not affiliated with the public school. Just so you know. The club meets before school is in session, early in the morning. Last week was their first meeting. At first, Katie wasn't too sure if she would like it or not. I told her to give it a chance and if it's not for her than she could just drop out. When I picked her up that day, she gave me all thumbs up when I asked about the club. Our church's children's minister, Miss Erica, will be tomorrow's speaker during the Youth for Christ. Katie LOVES Miss Erica! When I told her tonight that we have to get up early to go to our club meeting and that Miss Erica will be there, her little eyes just lite up. During her prayers, she asked God to help her get up on time without giving mommy a hard time, so she could make it to her club meeting. I love it!!