I hope you had a lovely Christmas holiday. We had a wonderful time, enjoyed the parties and family gatherings. God continues to bless us. He is such an awesome God and incredible Savior! Because of Christ's birth, I had a chance to be truly free. You know, you really don't know happiness and eternal fulfillment until you have Christ in your life and how much you strive to be more Christ-like. For the past few years, my New Year's Resolution has been to be more Christ-like. I can look back in the years past and I can see some change. I fail a lot and come short, but it's not easy being Christ-like. I hope to be the beacon of light that God would want me to be for Him. Please keep me in your prayers. I pray this year, God will make your year awe-some and filled with happiness.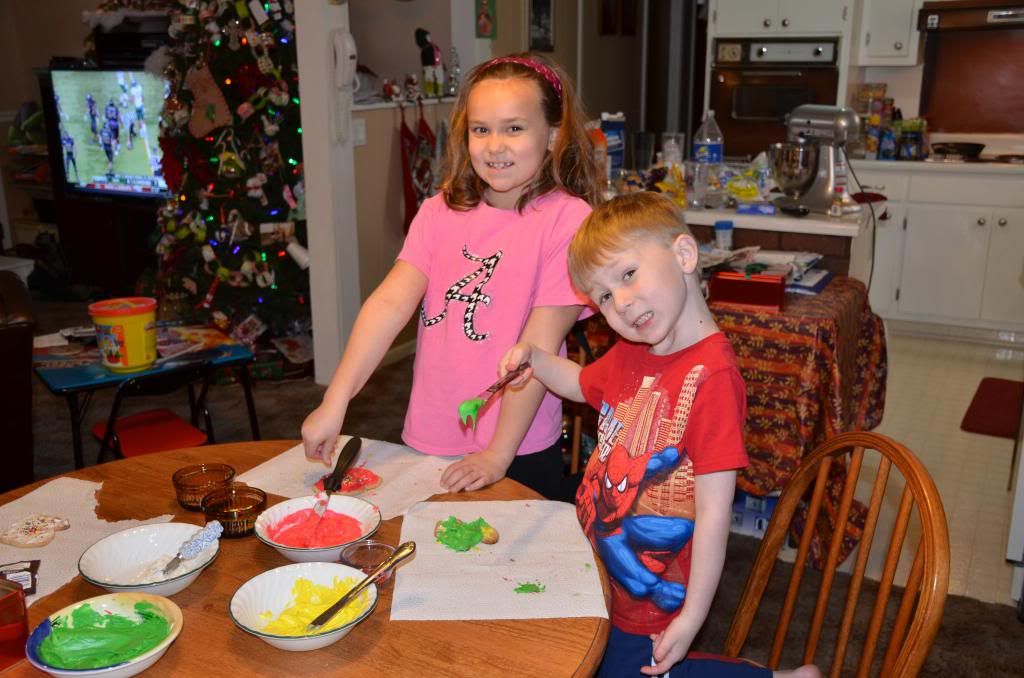 Kids preparing Santa Cookies
Colton prefers having a little cookie with his icing - Katie showing her masterpiece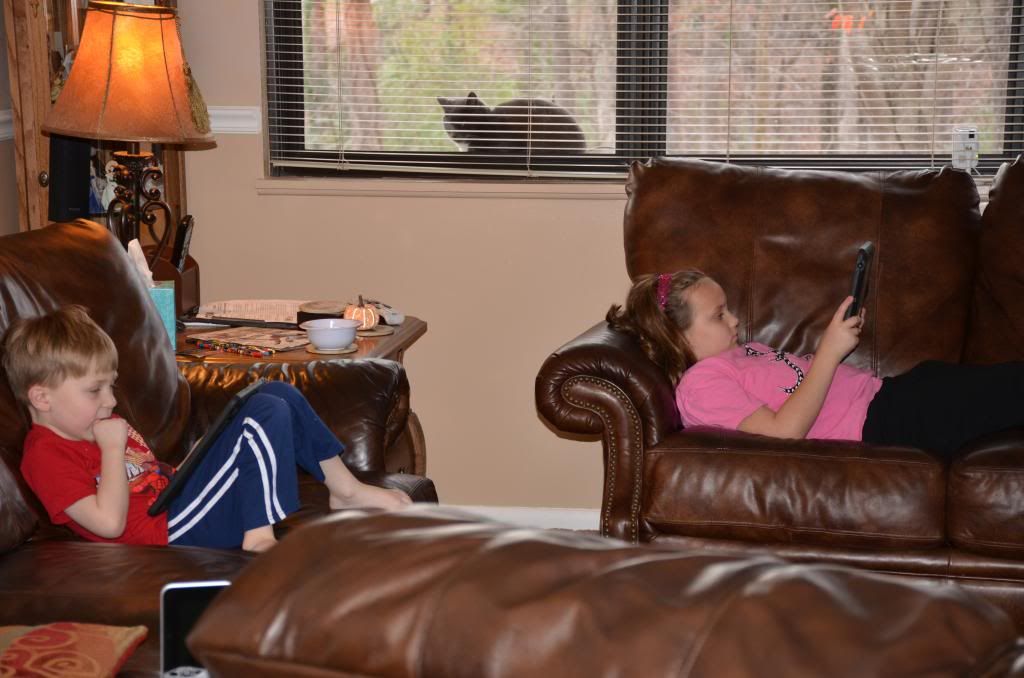 This has been the scene for a few days, especially during the rainy and very cold days - Lu wants to come in the house and warm up as well
We had a few days of nice, warm weather, but not many. The kids have enjoyed being outside, playing with the neighbor girl. They've had a good time. I love the fact that my cat chases the little girl's dog out of my yard. LOL! We've had lots of movie days, due to cold or wet weather. This past weekend, we pulled out the kids' new movies that they got for Christmas - "Monster's University" and "Dear Dumb Diary". For all parents that have girls in the 3rd and 4th grade, I recommend "Dear Dumb Diary." The main character, Jamie, is my daughter up one side and down the other. She may not act like her entirely, but I can see that she will in the future. So funny! I believe my mother-in-law laughed from the beginning of the movie to the end. Katie has read most of the "Dear Dumb Diary" books and loves them. I've bought her one of the newest series. She loves funny series. For Christmas, she asked me to get her "Stink and the Midnight Zombies" and "Magic Reindeer." She said that she is loving the Stink book.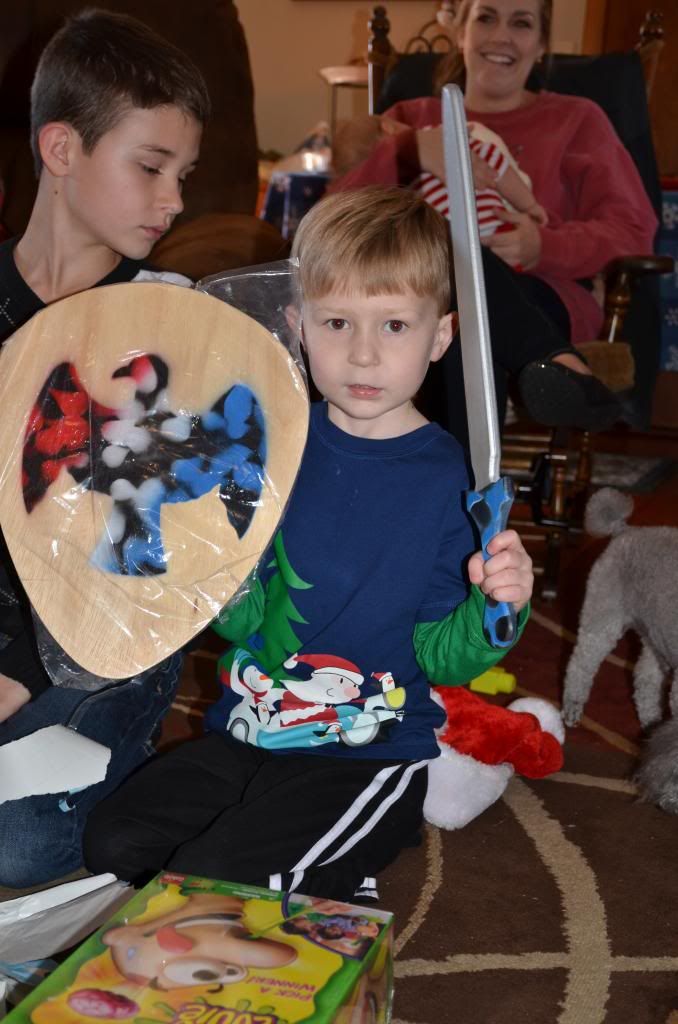 Colton received some very cool toys this Christmas - lots of Nerf guns, sword & shield, castle with knights and armor. Very Cool!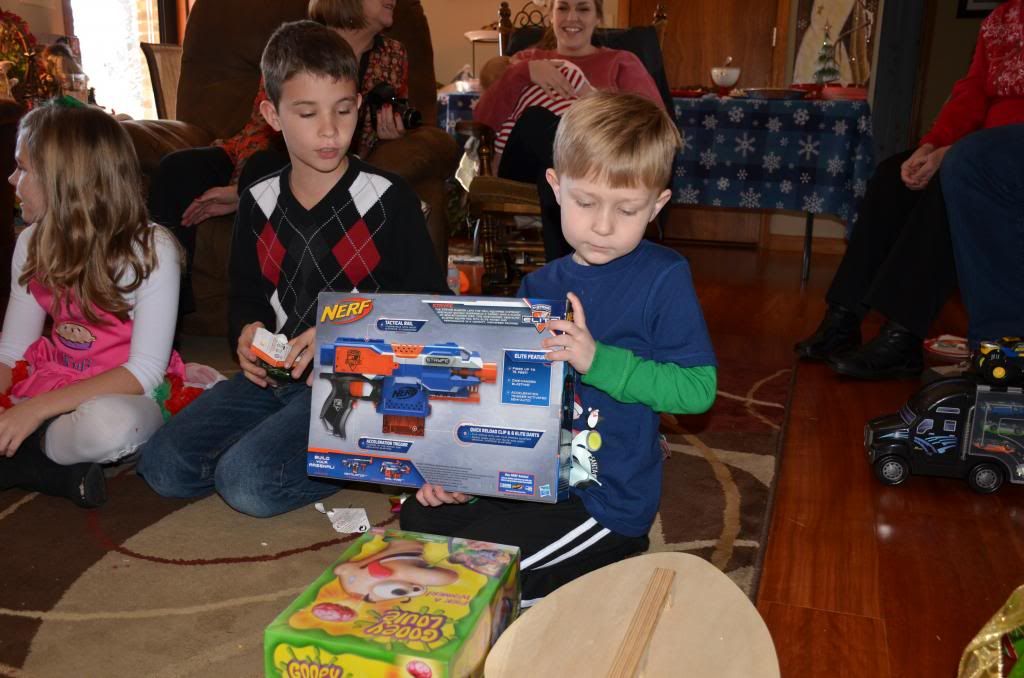 We had to make Colton wear his sunglasses during the Nerf battles between he and his sister. Mom and dad got tired of telling them over and over "don't shoot in the face!" Our next purchase is Colton some safety glasses.
Can't you just see the sweet revenge in her sweet little face? - My mom embroidered every one of my sisters a pillow or wall hanging. She started YEARS ago. I never thought I would ever see mine. I got such a sweet surprise this Christmas. My sister told me that she encouraged my mother to keep up the good work. My mother will be 77 years old this February, so her hands are not as good as they once were. Mom knows how much I love the color purple. I love it so much that I've painted two rooms in my house purple (different shades of course). Now, I need to decide if I'm going to hang it up in my bedroom or bathroom. Hmmm. Everyone will be able to see it more in my bathroom than the bedroom.
Christmas Morning - HO! HO! HO!
Colton said that he wanted a large chocolate Santa for Christmas. To his surprise, Santa Claus left him and Katie large hollow chocolate Santas in their stockings. While we had sausage balls for breakfast, Colton just wanted his chocolate Santa and milk. Who can argue with that on Christmas? He ate half of it by lunch time. He said it was so good! LOL! I was surprised that he didn't get sick.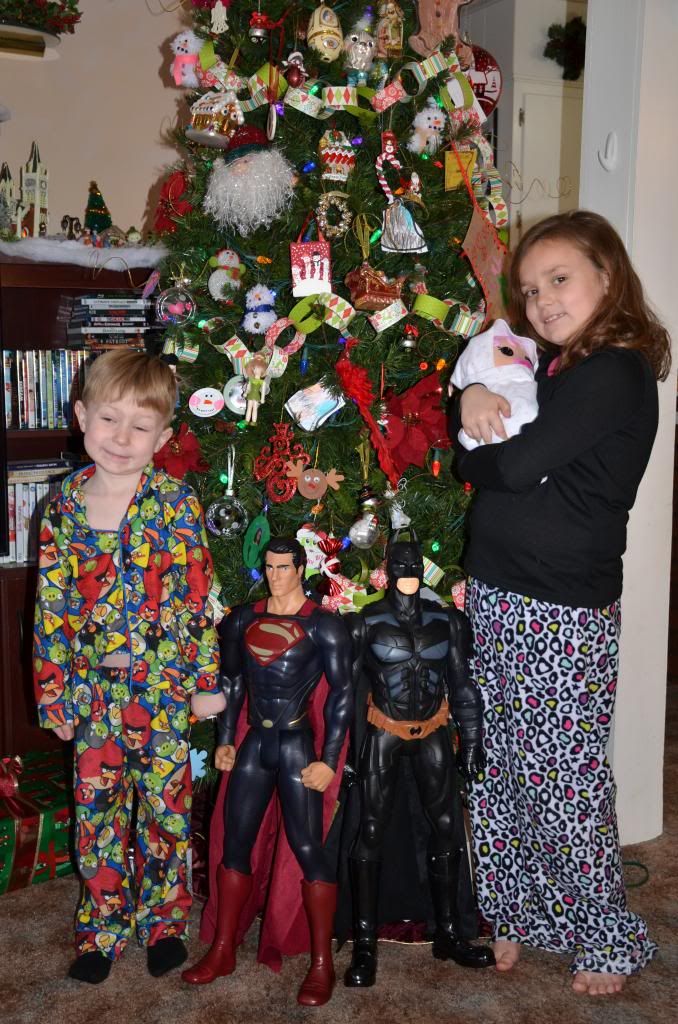 Colton asked Santa Claus for a BIG Superman, just like his Batman. Katie asked for a Lalaloopsy. Santa gave her a beautiful collector's edition (not shown). We gave her the new baby Lalaloopsy that she is holding. The kids had a great Christmas and us parents had a very relaxing and enjoyable vacation.