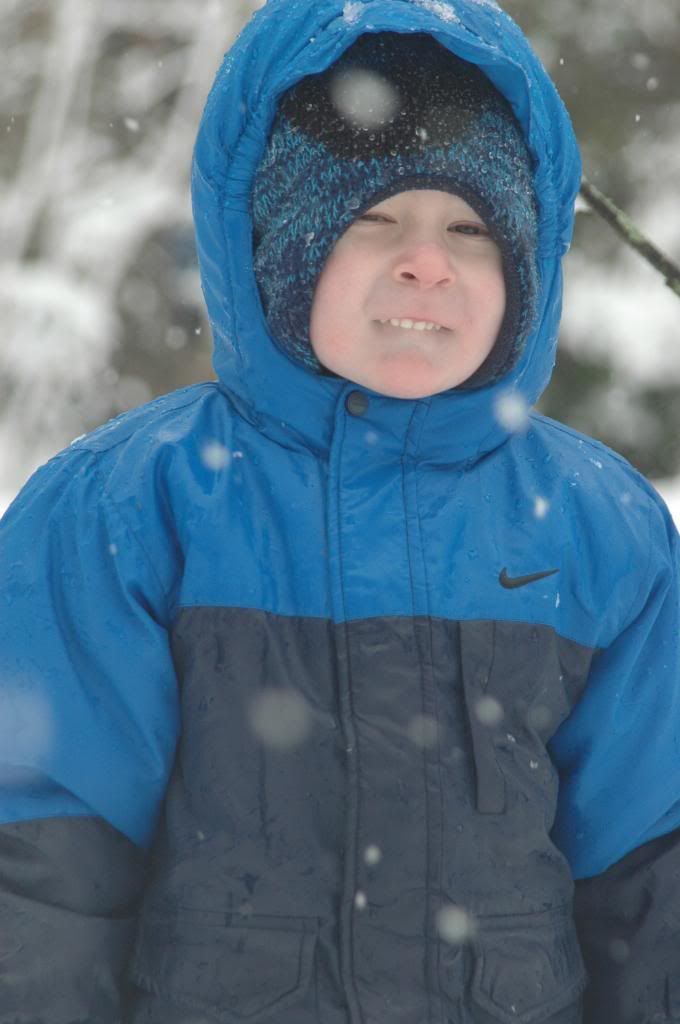 My little snowman enjoying a rare event in these parts
It was projected that would get a few flurries and maybe an inch of snow on the ground. I believe our local meteorologists have missed the ball this time. During the day, Colton and I would go outside and take a few pictures for daddy. It snowed so hard and fast that within minutes the ground was covered. I think school couldn't decide if they wanted to shut down early or not. Finally, a half an hour before schools closed I received a phone call stating that they would close at noon. Wow! Not much time to get my thoughts together and get a toddler ready for the drive.
Katie absolutely loved it. She told me, she was so happy that her wish came true and this was the happiest day. We didn't stay outside all day. Periodically, we'd take breaks inside to warm up. Besides, Katie had to get her homework finished. When I could see that the snow was letting up some, we went out one more time. I wanted to measure the depth and the kids wanted to build a snowman/snow lady. We measured 2-3 inches of snow in most areas.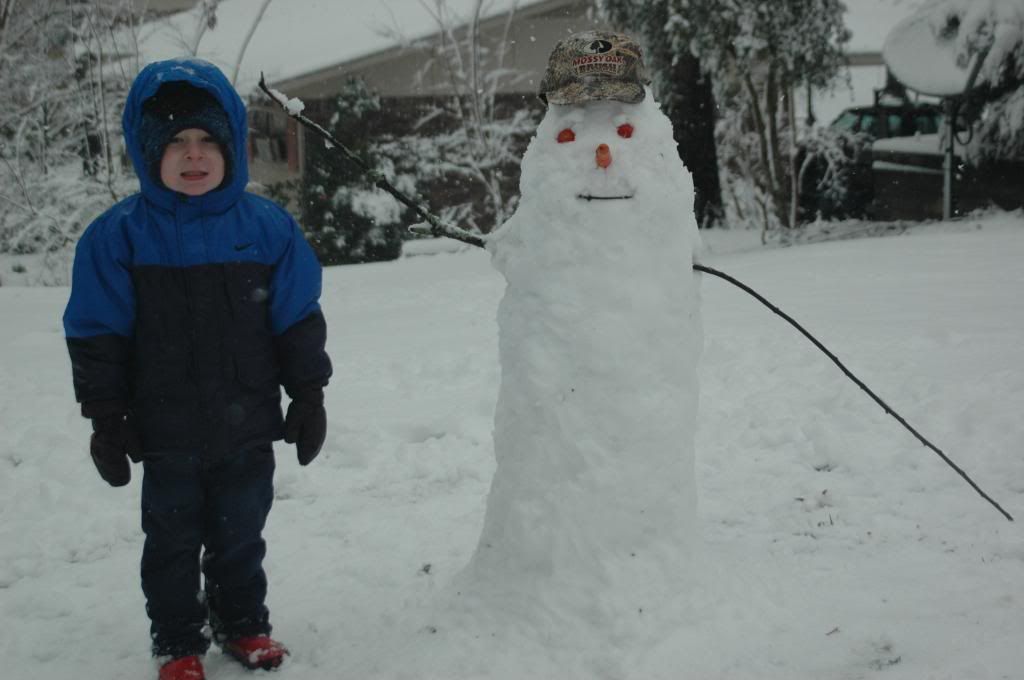 Colton's Snowman
The only thing I could get my hands on for eyes were cherry tomatoes. His eyes look evil. Colton liked it though and that's what matters. LOL!
Katie's Snow Lady
So fun to make, even with impatient children.
I've enjoyed making memories with my children. One day, I hope they will be able to look back and remember the happy moments. Not long after we went back inside for the day, the sun came out and began to melt the snow. There is still lots of snow on the ground, but most of the snow is out of the trees and off the bushes. Family and friends going home tonight from work have been more than eventful for them, with wrecks and vehicles skid off the roadways. Doug got stuck in traffic for a little bit because of the roads. Tomorrow, most schools will be either closed or have a delay. I get tickled at Katie and Colton, ever now and then they check on their snowman. They want to make sure that he/she is going to make it. (haha) Colton was shocked that we still have snow. "Mom, there's still snow on the ground!" he said.
Just for Kids
After Colton and I covered our lesson for today, he asked if he could play with play dough. He did so well, I didn't see why not. I pulled out the play dough and cutters, but our play dough was getting pretty old that it just crumbled. I've always wanted to make my play dough and here was my chance. I got on Pinterest, where I had bookmarked "DIY Play dough" and looked up the recipe. I have to say that it wasn't has hard as I thought it would be.
Colton helped me out of course. Children are so impatient or mine are anyways. The entire time I was preparing the mixture, all Colton wanted to do was the finishing touches of food coloring. Ugh! At one point, he had the lid to one of my gel food coloring off. One wrong move and he would have his hands dyed orange. Luckily, I got there just in time to wisp it right out of his hands and the lid back on. Shew! The play dough recipe came from Skip To My Lou. For a complete tutorial
CLICK HERE
.
Play Dough
Ingredients:
1 cup flour
1 cup warm water
2 tsp cream of tartar
1 tsp oil
1/4 cup salt
food coloring
Mix all the ingredients together except for food coloring in a medium sauce pan.
Stir over medium heat (on the stove) until smooth
Stir continuously until a dough ball forms (it won't look smooth yet) about 1-2 minutes.
Remove from heat.
When dough has cooled enough to handle, knead until smooth.
Form into a ball (might be a little sticky)
With a butter knife, divide the dough into how ever many different colors you want to use. A single batch will make up to 4 different colors of equal portions.
In order to protect your countertop and hands from food coloring stains, I suggest that you place the dough on wax paper. Wear latex gloves, so your fingers and hands won't stain. If you don't have gloves handy, you could use ziploc bags.
Add food coloring to each portion and knead the color into the dough. If you are using ziploc bags, the children could help knead.
Put the dough in separate air tight containers. I used old Play dough containers. I only had 3 containers available, so the 4th dough was wrapped in wax paper and placed in a Ziploc sandwich bag. Dough is suppose to keep for several weeks in an air tight container.
Colton was so excited that he got brand new play dough. He couldn't wait to try it out. I told him, first we have to gather up all the old play dough that just happened to be in several pieces all over the table and throw it away. Like all kids, he hates having to pick up. He just wasn't picking up all the old dough fast enough, to him, because he asked me to help him. He wanted to get into his new so bad. I got tickled at him, while picking up dough. Absolutely disgusted, he told me "uhhh, mom this is freakin' me out." He has never said this before. I had to chuckle and ask him where he heard that word. Then, I asked him if he heard it from me. "Yes" he informed me. LOL! Got to watch what I say at all times.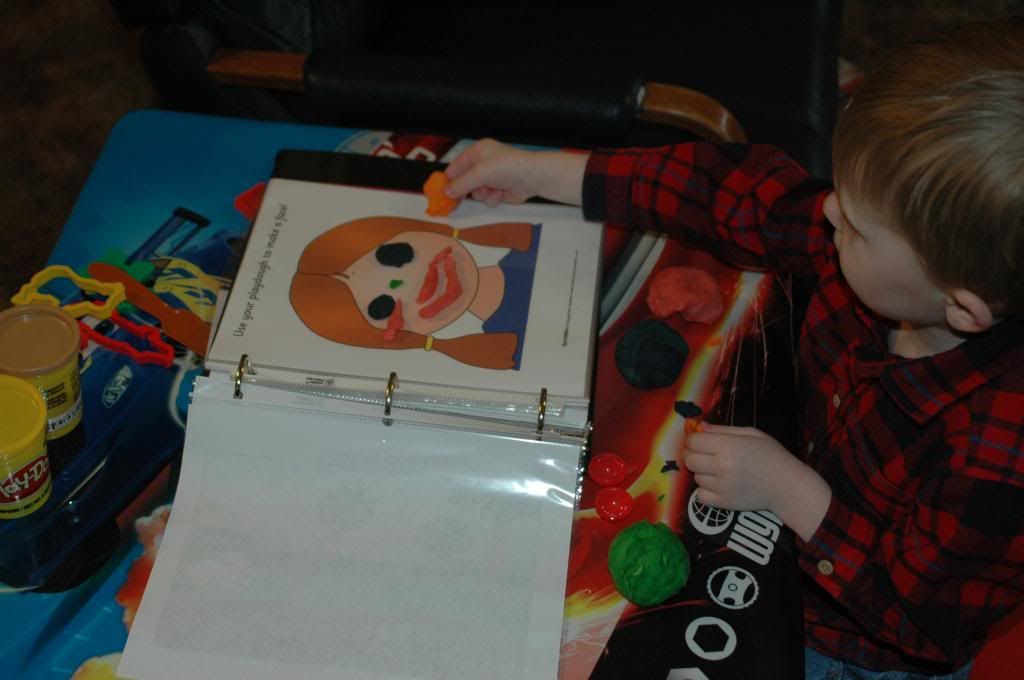 The complete set contains 20 sheets. So far, Colton seems to have had a lot of fun using his new play dough, putting faces on boys and girls. I placed the sheets in protectors, so they won't be damaged.
Sensory Game
I haven't come up with a name for our new game. I didn't know if Colton would be too old for a sensory game. I've seen several different types, but I don't think there's anything out there like mine. Colton and I both created this together. How did we do it? I had a couple of bags of decorative stones. I put them in a plastic bowl along with a bag of different sized pom-poms. Katie collects Mini Lalaloopsies, so we have several tiny characters that came with the dolls. At times, we even use tiny Barbie and Polly Pocket accessories (purse, bottle of perfume, etc.) Squinkies would also work well with this game. To make it a little challenging, we use popsicle sticks to dig through the stones and pom-pons, looking for our missing treasure.
- Mix up the treasure through the stones and pom-poms.
- Change it around:
- How many squinkies are there?
- Who ever finds the monkey first wins!
- Find all the butterflies. How many butterflies are there?
Add any sort of phonics are counting to fun is always a good thing. So far, Colton loves playing this game. He will play up to 30 minutes at a time with this game. At times, I have a hard time getting him to use the sticks. He wants to go in at it with both hands, but it keeps him occupied. Also don't be surprised to see pom-poms all over the table as well. LOL! We created this game at the beginning of the week and he requests every day to play. He tells me that he wants to go diggin'. LOL!