by Robert Frost
Oh, give us pleasure in the flowers today;
And give us not to think so far away
As the uncertain harvest; keep us here
All simply in the springing of the year.
Oh, give us pleasure in the orcahrd white,
Like nothing else by day, like ghosts by night;
And make us happy in the happy bees,
The swarm dilating round the perfect trees.
And make us happy in the darting bird
That suddenly above the bees is heard,
The meteor that thrusts in with needle bill,
And off a blossom in mid air stands still.
For this is love and nothing else is love,
To which it is reserved for God above
To sanctify to what far ends he will,
But which it only needs that we fulfill.
All photos are taken by "TheMasonBunch.blogspot.com"
We've been busy doing some projects. Enjoying the Spring like weather (70 + degrees). Katie had a small school project this weekend. She brought home a stuffed toy named "George." She had to do some things with him. Today, she had to write a story about their time this weekend together. I think it is cute. We took a couple of photos to tape to the story and she drew her impression of George. I also wanted to get a head start on a couple of upcoming events, Mother's Day and Teacher Appreciation. In the back of my head, I knew these two events would be coming up soon and didn't want to rush on the projects at the last minute.
Outdoor Project
Last Autumn, my sister and her husband gave us edger brick that they were no longer using. I was telling her how we were planning on purchasing some in order to keep mulch around the play set. Our back yard is so plain and I'm really hoping these bricks will be the beginning of a back yard that we all can enjoy. Introducing Phase I: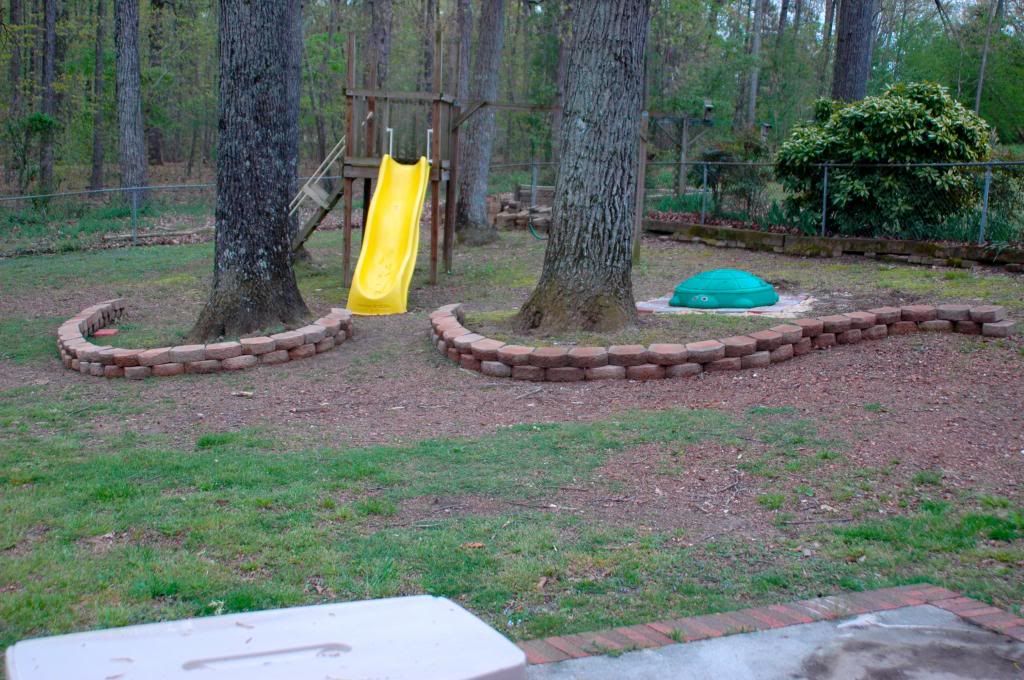 Full view of the project
It will serve a purpose, but hope to add style and color.
Close up of sand box area
We put down pavers for the sand box area. We've never installed pavers before, so this was a new experience for us. It wasn't as bad as I first thought, just make sure your area is LEVEL. What did we need to do this? We measured the sandbox and I wanted additional for the kids to sit or put their shoes on the pavers. We purchased 25-12" square pavers, 2-bags of paver base, 1-bag of paver sand and shop broom.
Clear off a level area by your needed measurement.
Spread out the paver base, even to the cleared area.
Place pavers with a small even gap between them.
Pour paver sand on top and make sure to fill in the gaps with sand.
What's to come? Adding a few flowers and mulch. I've been keeping my eyes open for a metal bench and glider. I still have a few other places to check out. I will keep you up-to-date on our outdoor project.
Teacher Appreciation
I really wanted Katie to make a handprint flower for her teacher last year, but ran out of time. Of course, the year before last, we had our tornado and missed teacher appreciation week. I think Mrs. M will like her painting and hopefully brighten up her day. Katie said she wanted to paint Mrs. M a sunflower. I think I made the mistake of using washable finger paint. I've never experienced "washable" finger paint. It's not very project friendly because I had to go back with regular paint and fill in where the paint wouldn't stick to the watercolor paper. I still think it turned out cute.


"Mrs. M, Thank you for helping me to . . . Bloom and Grow. Love, Katie"
I have a couple more Teacher Appreciation gifts to prepare for Mrs. M. As soon as I finish them, I will post for you to see.
Mother's Day
I know it is a month away, but my time is precious and hate to be rushed. I came across this precious Mother's Day card idea for my children's grandmothers. Love it!
I really thought these turned out so cute. Each one is unique in it's own way.
Here is an up-close look at the card


I got the idea from The Crafting Chick.
CLICK HERE!
For instructions and the "Happy Mother's Day" printable. The card itself is made from double-sided scrapbook paper, I picked up from Hobby Lobby. I think the paper cost me $.59 each. The flower blossom is made from cupcake holders and scrap button that was in my button jar. Yes, I have a button jar. They are great for crafts. The flower stem, leaf and decor are ribbons. The leaf, I cut a leaf shape out of very wide (2-3") ribbon. The "Happy Mother's Day" and "All About My Grandma" are free printables from The Crafting Chick.
To print the Grandma questionnaire,
CLICK HERE.
Go to the part of the website, where you can save the questionnaire to your computer. It isn't a download. You can print as many questionnaires as you please. Such a cute idea! As you can see above, I helped Colton with his questionnaire about his grandmas. He came up with some cute answers and some that I had no idea, how he came up with them.
Our Spring Baby
Of course, I can not end this post without showing off my new little spring niece, Avery. She is precious and sweet! Colton and I had the opportunity to spend some time with her and her big brother last Monday. I was there to babysit, but all I did was run after boys. Avery knew I would be busy running after the boys, so she was a complete angel the entire time.