Teacher Appreciation Week is right around the corner and I have to be prepared. LOL! There are so many great ideas out there in the big wide world of the web. I'm having entirely too much fun, looking for some simple and quick gifts for my teacher of the year.
I posted this picture, Katie and I created, a while back. She just loves her teacher, Mrs. M. We have been blessed to have great and precious teachers involved in our little girl's life. When we make little gifts for our teachers, Doug thinks it's crazy. He says that I'm a suck up. Well, he can go ahead and call me all kinds of names. I'm going to tell ya something. Katie's teachers, past and present, have been holding her hand, directing her down the educational path. They have given her the tools to "Bloom and Grow." God not only connected my child with some awesome educators, but introduced me to some great new friends. Showing gratitude to someone that works so hard all year with my precious little angel is the least I can do.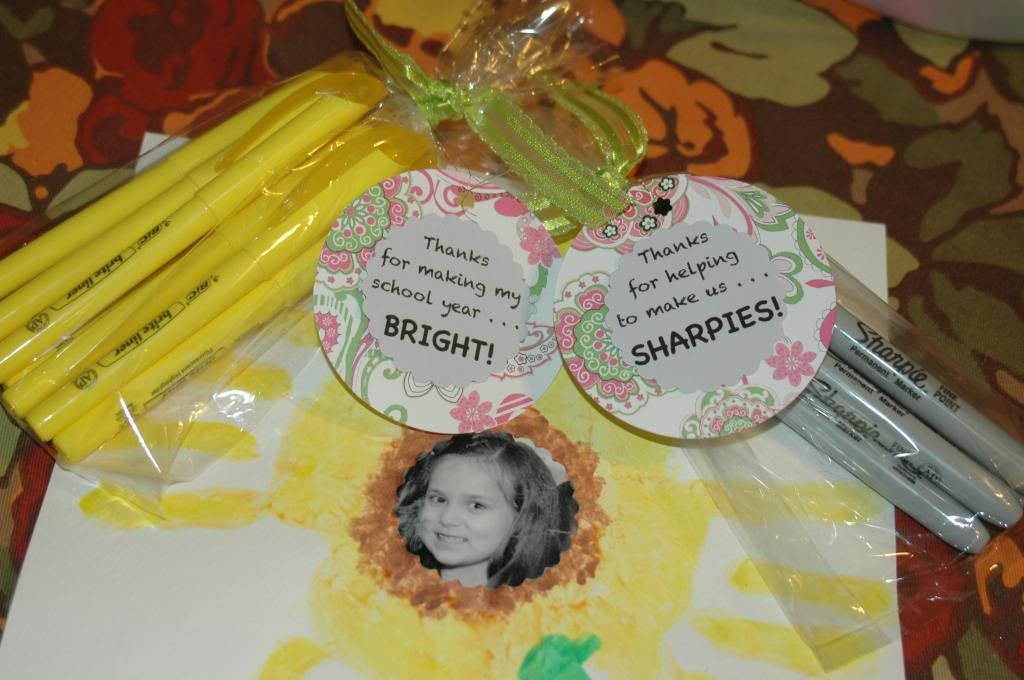 I made the package of highlighters and sharpie markers yesterday. I also made the little tags myself. So simple. I used my 2" scallop punch and glued it to a 3" circle cut out of some old scrapbook paper that I had left over from another project. I punched a hole at the very top of the tag with my flower hole punch. I used gold thread to tie the tag to the package. I had some green ribbon leftover from my Mother's Day cards and double knotted the packages.

I found some more great ideas on Pinterest. So many talented people out there to come up with such great gifts. I hope it will help give you some ideas for your teachers.





Looking through Pinterest for a pudding cake recipe, I came across a Chocolate Dump Cake that peaked my interest from
allrecipes.com
. Very simple ingredients and it turned out good. I'm still looking for a more ooey, gooey chocolate pudding recipe. If you have any suggestions or recipes, I am interested.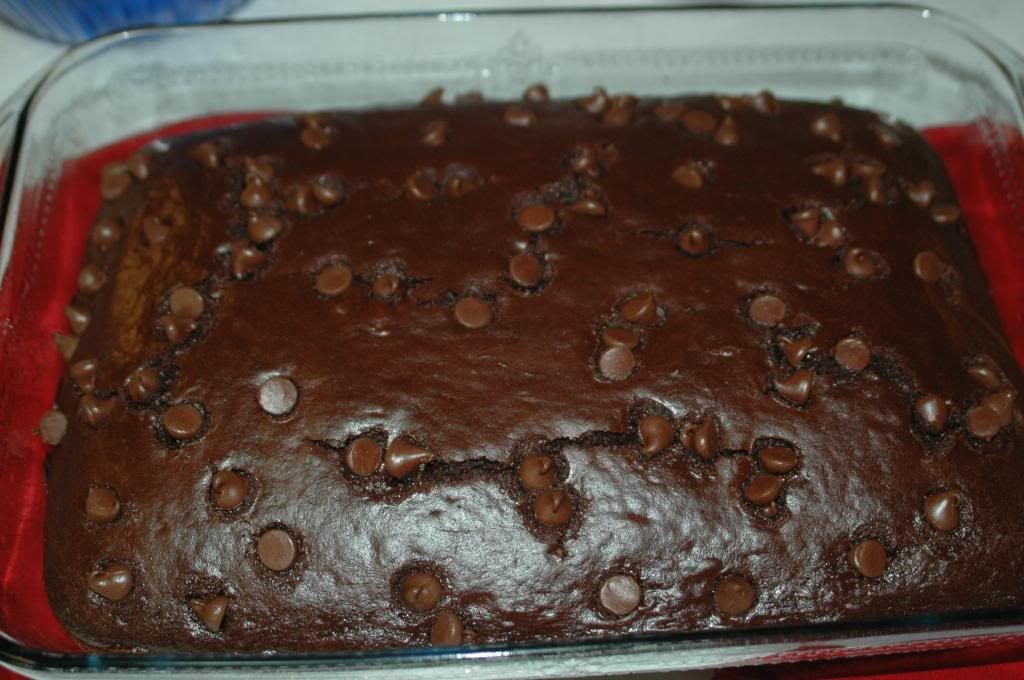 Chocolate Dump Cake Recipe
makes 24 servings
1- 5 oz. package non-instant chocolate pudding mix
2 1/3 cups milk
1- 18 1/4 oz. package chocolate cake mix
2 cups semisweet chocolate chips
Directions
Preheat oven 350 degrees. Lightly spray baked spray with powder in a 9 x 13" glass dish.
Combine pudding mix and milk in a sauce pan and cook over medium heat until thick, stirring frequently. Remove pan from heat and stir in dry cake mix. Mix together and pour into prepared dish. Evenly spread chocolate chips over the top of the cake.
Place dish in oven and bake for 40-45 minutes.
Let cool and serve.
Nutritional Notes: Each serving provides 193 calories; 8 grams of fat (4 g saturated); 31 carbs; 3 grams of protein; 2 grams of dietary fiber; 2 milligrams cholesterol; 210 milligrams sodium.
Mirya's Notes: I did a few tweaks to this recipe to suit my diet needs. Afraid it might take away from the flavor, I used 1% milk. I probably could have used skim milk because of the rich chocolate flavor in the cake. I didn't use 2 cups of chocolate chips. Instead, I grabbed two big handfuls and sprinkled them all over the top. Every little bit helps on the nutrition. The next time I make this cake, I plan to sprinkle nuts on top of the cake.