If you've been wondering where I've been, we are at full speed ahead captain. Our life has been full of bridal showers, weddings, and other special occasions. In the month of April, my niece and the love of her life said their wedding vows. She had a beautiful bridal shower and breath taking wedding. Shall we look back, starting with Natalie's Bridal Shower. Her wedding colors are all soft pastels with a sweet country feel. We had a craft day and all of us learned to decorate vases, bottles, etc. with burlap, twine, lace and other pretty embellishments. It added a special country touch to all the guest and food tables. Dainty frames with Nathan and Natalie's picture were displayed all throughout the room. I caught guests going from to table to table, looking the arrangements on each table.
Above photo: Natalie with her grandma, mom and future mother-in-law and grandma-in-law
A beautiful group of ladies. Poor Natalie put on her flats and is still the tallest in the picture. I think, she is a superstar!

I felt absolutely honored to be asked to take their rehearsal pictures. Nathan's mom, Phyllis, asked me to take pictures during the rehearsal dinner. It was very nice.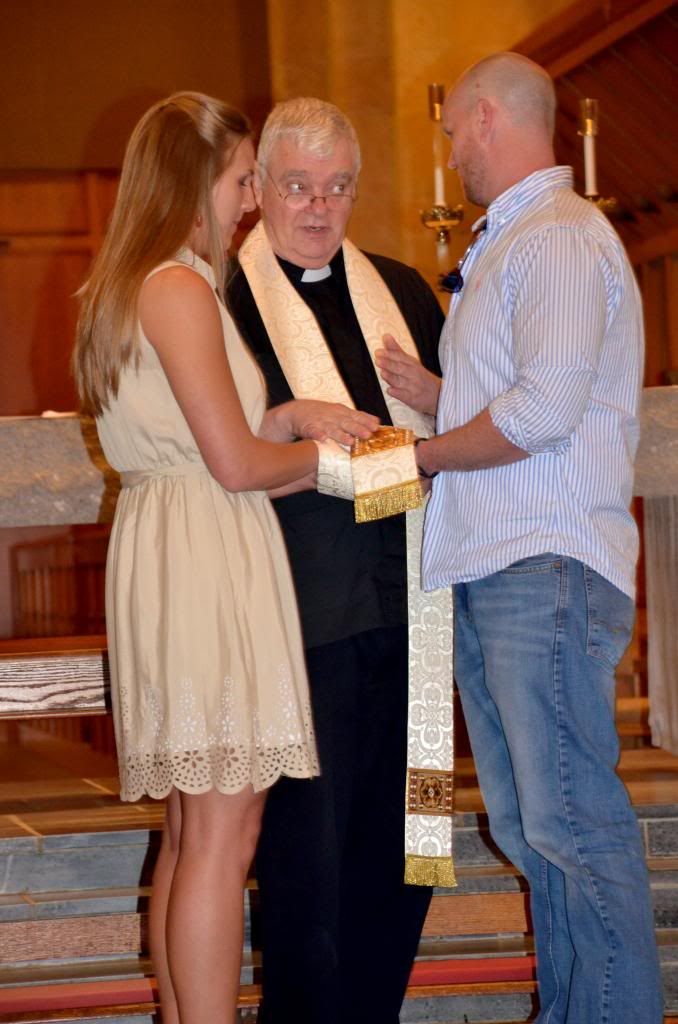 Nathan getting instructions down pat. A whole new experience for this country boy. :)
The rehearsal dinner was held Nathan's brother's place. They have a beautiful barn, just for parties and special events. It is rustic, filled with antiques and a warm cozy country feel. A perfect place for a great celebrate, for a perfect couple. Congratulations guys!!!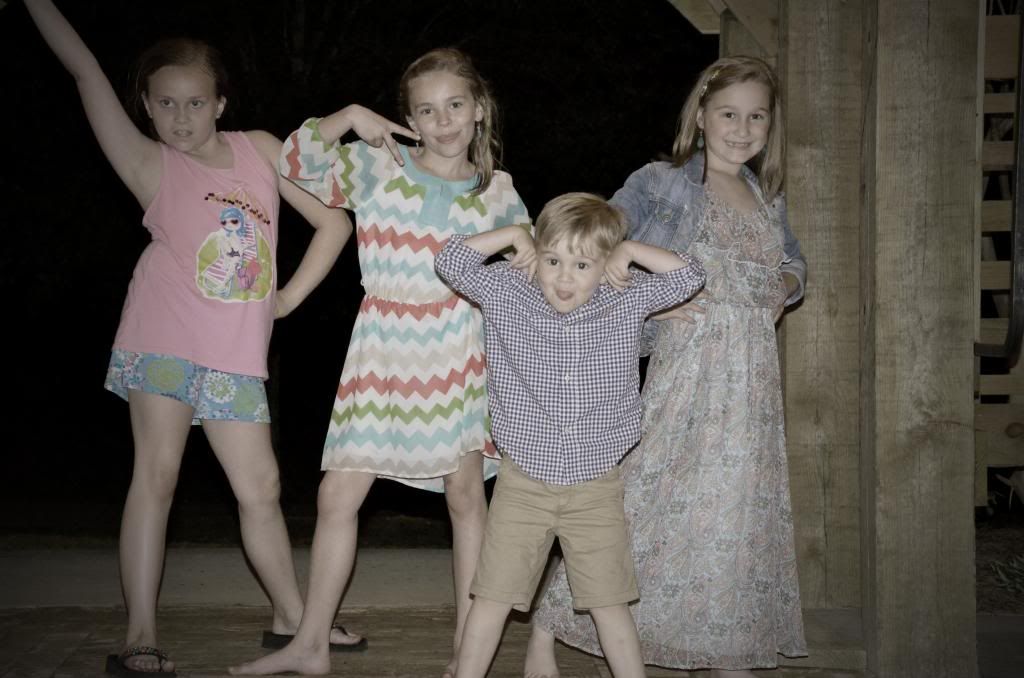 The kids had a blast running all over the farm. Katie was so hot and sweaty, but she had so much fun. It's great when all the relative children get along well. The little girl and boy to the right is Nathan and now Natalie's niece and nephew. Such sweet sweet kids. My kids took to them instantly.
Us ladies were all sitting around, talking, resting and watching the clock tick away. Natalie was sitting by this window sill, talking to us. My photography brain kicked in. I thought, her sitting there would make a great silhouette. I took the silhouette first and then Leslie asked me to just take a picture of her with a flash. As much as I like the silhouette, I have to say that I love this picture the best. She is so beautiful!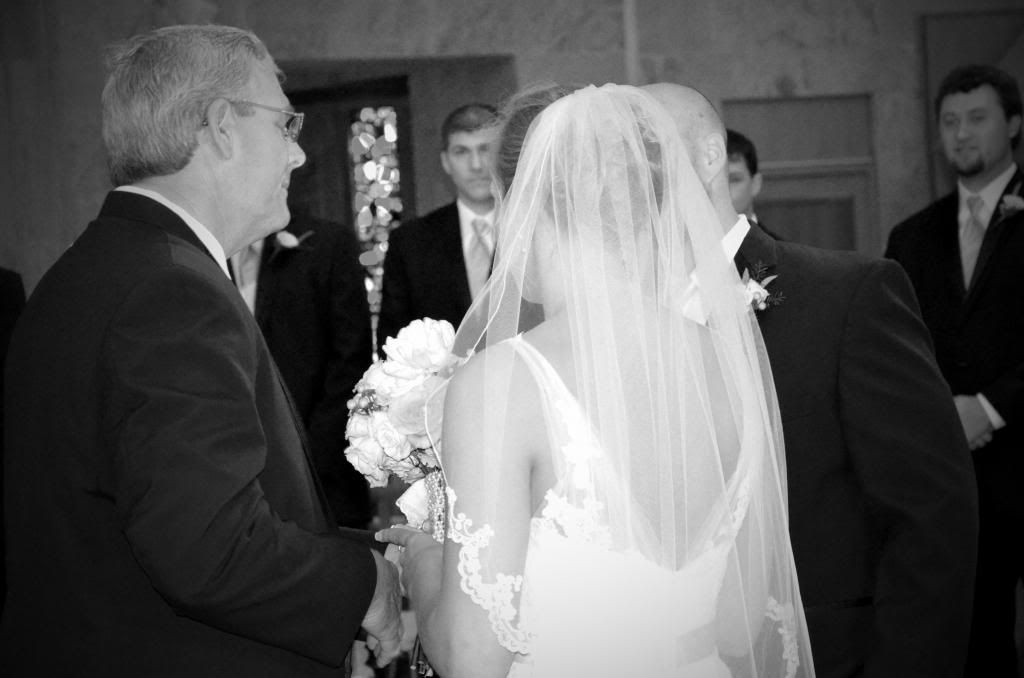 It's always hard on the daddy's to give their little girls away. I love these precious moments and it's these moments that I love my job as an artist.
Doug had the honor to do a reading for his niece, Natalie. The "Brown" sign, I doctored a little, using Photoshop. The sign was actually written lightly with chalk. All I did was enhance and replaced the filter to make it appear a little rustic.
Ryan's fiancee, Angie, painted this beautiful family tree for Natalie and Nathan as a keepsake, to hang in their new home. All of the family and friends had the opportunity to put their fingerprint on this tree during the wedding rehearsal and reception. It turned out so perfect! She just did such a great job with it. Angie is a terrific artist!
Grandpa and Daddy dancing with the bride - It's tradition
Our kids danced more than the adults. Katie danced so much that she got a headache later that night.
I absolutely thought this was adorable and something that I hope they will NEVER forget. Most of the night, Natalie danced with college basketball buddies and friends. Finally, Nathan put on his shades and hit the dance floor for his bride. They sang and danced together, it was great!
Sheer Happiness!
One perfect wedding of the year has met it's Happily Ever After. Now, the second wedding of the year is still in process.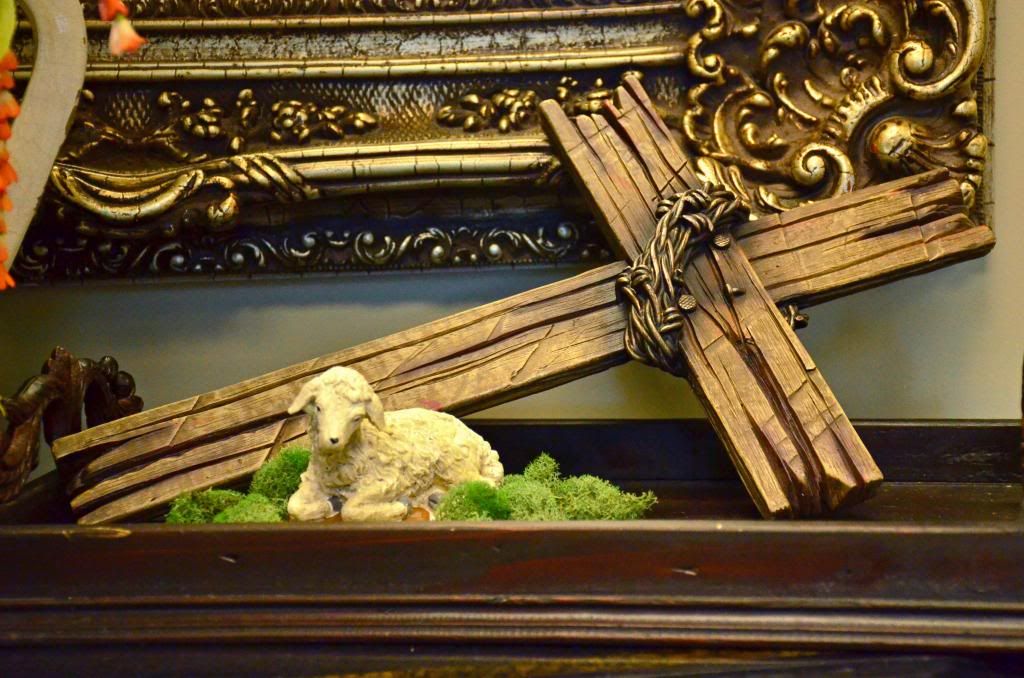 If you didn't know, I've been doing a little volunteer work at our church. They needed an extra hand and I was happy to loan mine. During Easter celebration, I saw this display from my desk. I had to capture it. I made this photo manually with my DSLR. It took a few takes to get that perfect shot. What I envisioned in my head.

Easter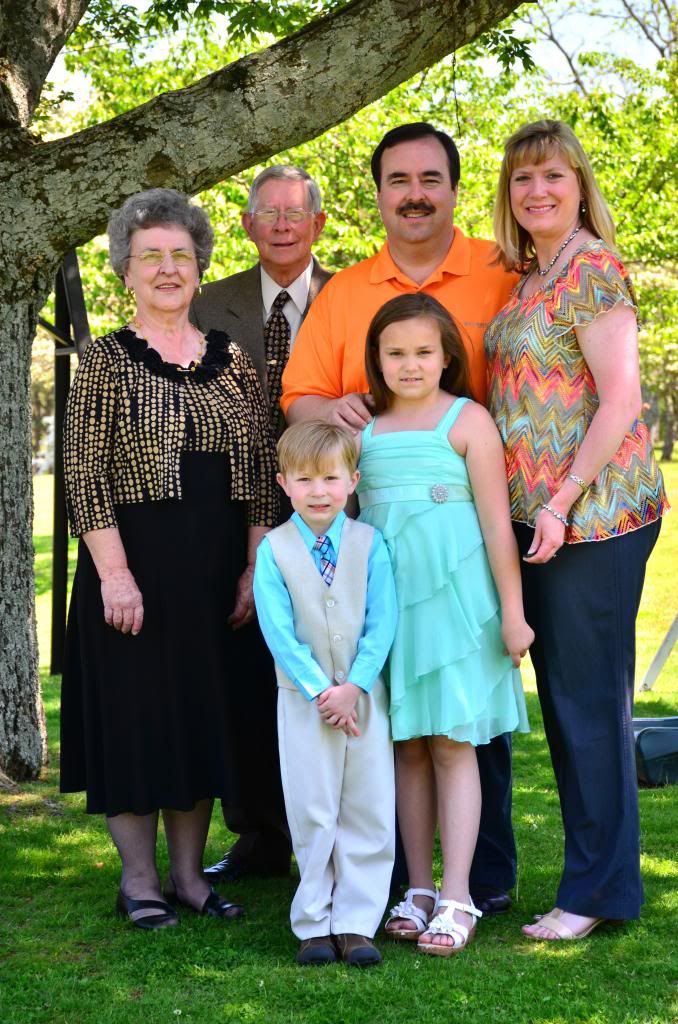 We all came together as one big family and celebrated Jesus' resurrection at Doug's parents place. Of course, we had a great time and you couldn't have ordered a better day of good weather. The Easter bunny hid approximately 100 filled plastic eggs. The kids loved it! They loved it so much that I hid them again.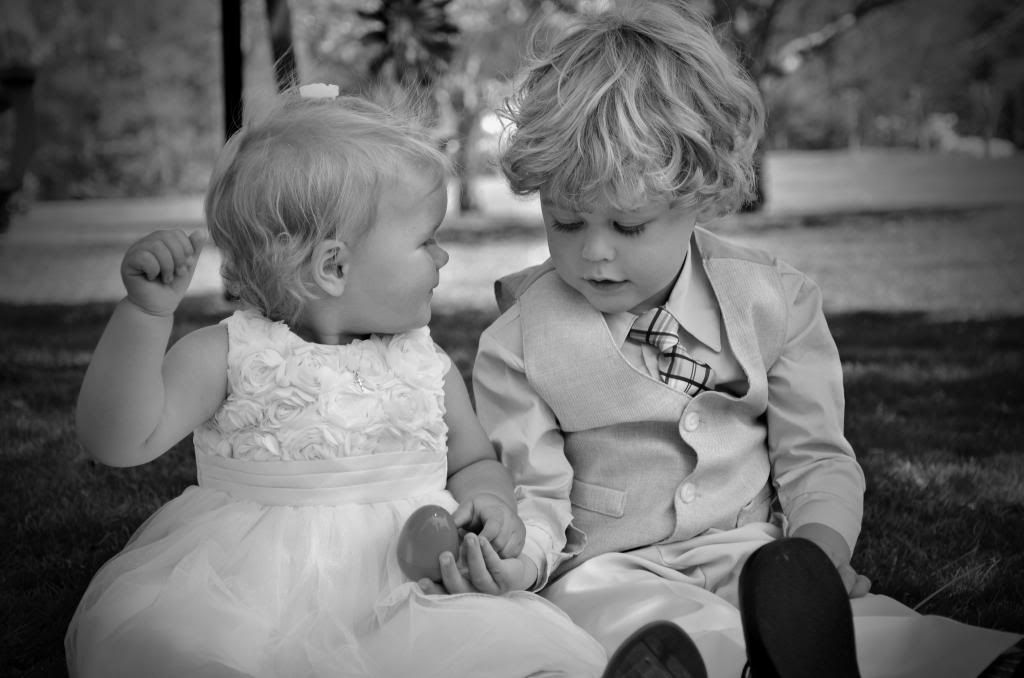 Is this not the most precious picture?
She was trying to get the egg away from him. LOL!
Angie's Bridal Shower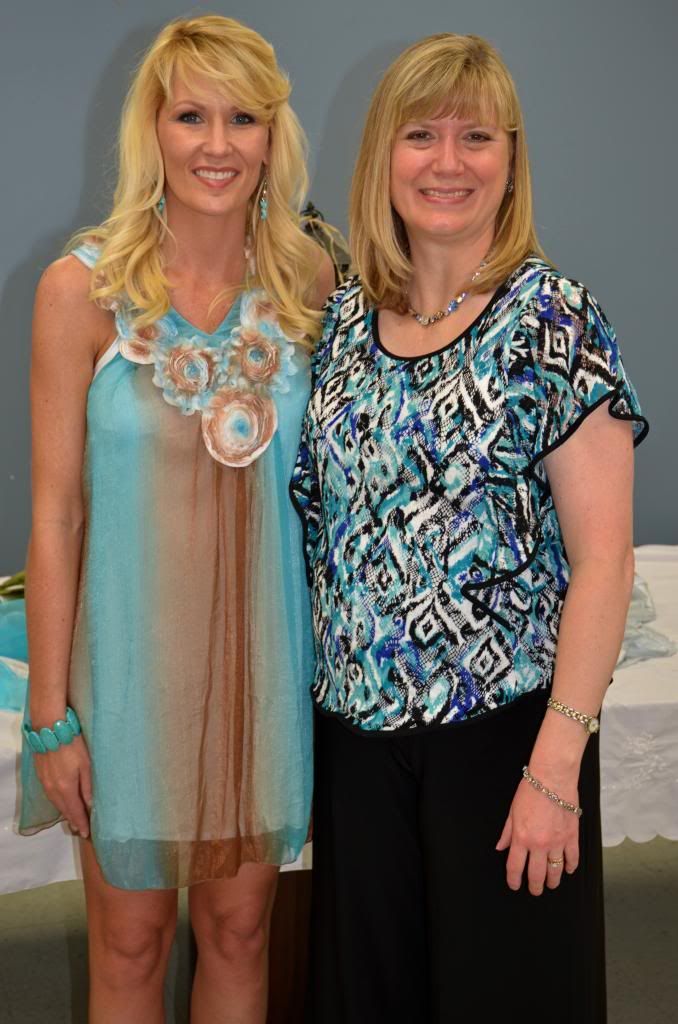 Ryan and Angie will be saying their vows in the next few weeks. They are beach people and Angie absolutely LOVES the color turquoise. I've seen houses decorated in turquoise and brown. So pretty! Well, we thought we would have a beachy themed bridal shower. I think it turned out beautiful. We all pitched in our different sized lanterns, sea shells (we've collected over the years) and throw a few flowers here and there. I think she had a lovely bridal shower and received so many neat things. Now, bring on the WEDDING!

Mother's Day
We are grateful to celebrate another Mother's Day with our little momma. She walks a little slow and gets distracted easily, but she's a feisty one. Don't say that I didn't warn you! I still say that she is beautiful at the young age of 78. My brother-in-law, Kevin, has given my mother her corsage every year for Mother's Day and Easter Sunday. She loves it and expects it now every year. LOL! Be careful when you start things. Of course, I'm the biggest in the group of my little sisters. I think I take after my dad's mother. She loved cooking, eating and having too good of a time. :)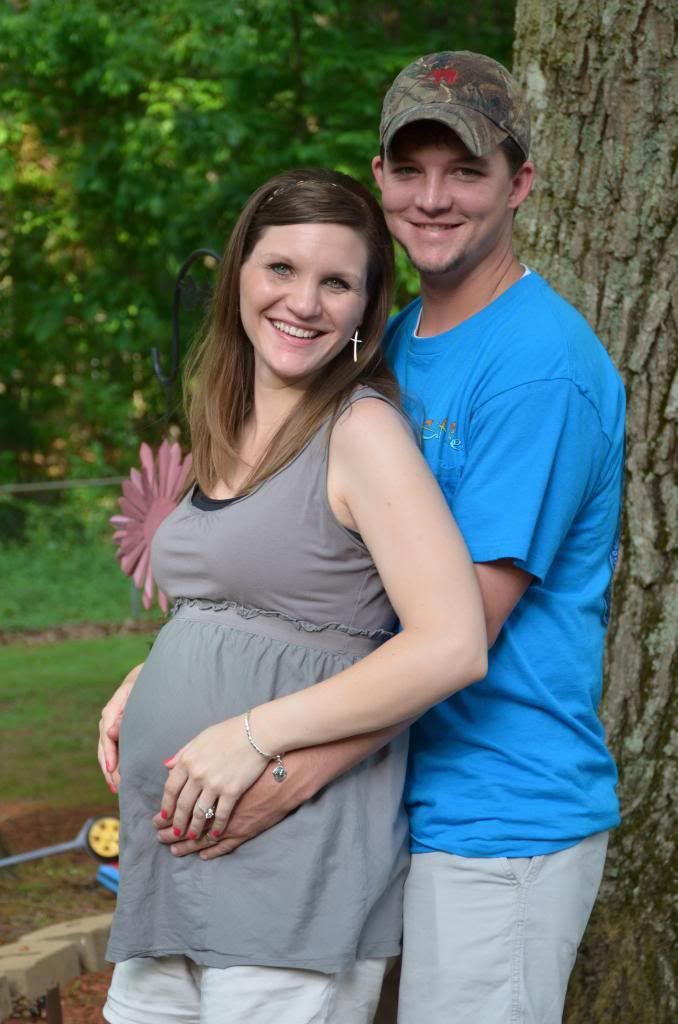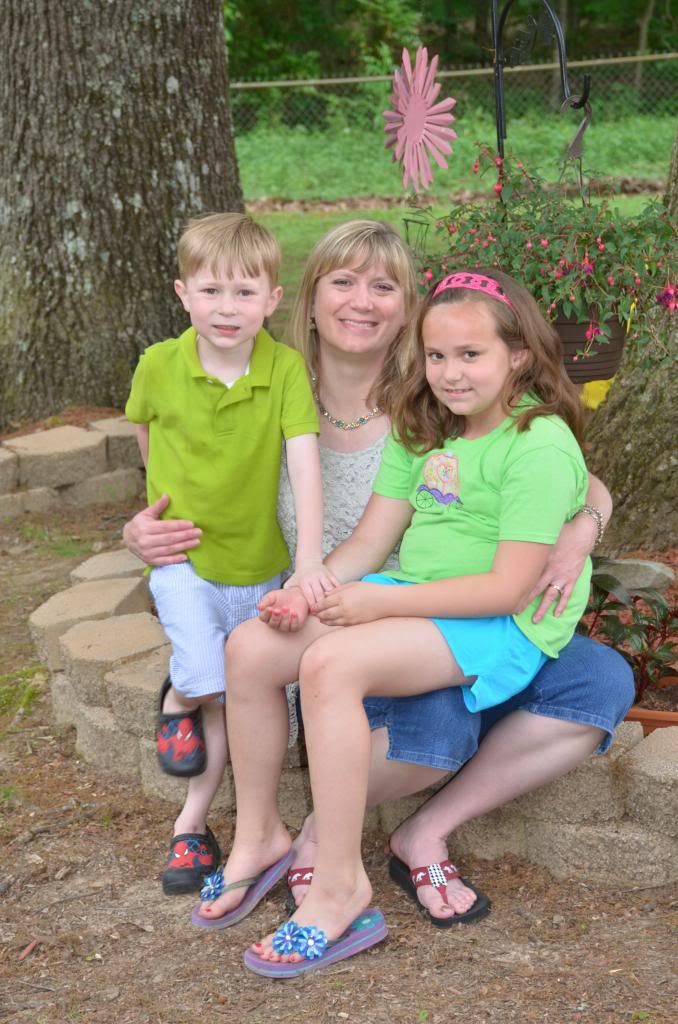 Our newest mommy-to-be and daddy too! She's going to be out of commission in a few short weeks. Twins are growing fast and doing well. Momma may have to put the nursing job to the side for a while.
Then, you have me with my white legs and my babies.
I'd like to wish all of you momma's out there a very good late Mother's Day!
Stay tuned to a school field day, fantastic ballet recital, wedding and other summer events . . .