Katie has taken ballet now for 5 years and she still loves it, which makes me happy. I just really enjoy and appreciate the art. I have to applaud her instructor and school because they absolutely strive to be the best that they can be. I'm always excited to see what the performance theme will be every year. I've NEVER been disappointed. Katie finished Level 1 ballet this school year and will be starting Level 2 in August. The school also offers tap and jazz. The older girls that are members of the company does a type of dance, I think is considered jazz, but I would call it modern dance because it is mixed with ballet and drama. Katie is very interested in that type dance. She really looks up to those girls and she is still determined to be a dance instructor one day. She told me earlier today that she would like to take jazz, so she can have more experience. "How many different types of dance do I need to know before I become an instructor?" she asked. I have no idea because I've never been exposed to ballet and this type dance. I was on a drill/color guard team for 3 years, in the country. I'm clueless! She was amazed that I didn't know. "Well, I think I need to take jazz with my ballet because I need to know as many different dances if I'm going to instruct." she informed me. I warned her that she would have to learn more routines for performances. "I think I can do it." She said confidently.
I love watching her because it seems like every year, she gets better every time. This year, I did notice that the girls danced a little longer and came out to perform a few times. At the recital, she asked me when she would be able to go to point. I told her that I think it's still at least a couple more years before she goes to point. Sometimes her patience is as good as mine. Please note that I don't have patience.
My pretty ballerina!
Colton's Preschool Program
My big boy - graduates preschool
He is ready for Kindergarten y'all! Every day this week, he has asked "am I going to my old school today or my new school?" After the hundredth time, it will drive you CRAZY. Now, this is it. We are finally having our End of the Year Preschool Program and he is officially a Kindergartener. Now, he thinks that he starts his new school next week. Ugh! Yeah, it's going to be hard explaining this one, but I'm sure he'll figure it out. The one thing he hates about leaving his old school is leaving his new friends that he has made.
He LOVES the idea that he got a medal with his name on it. It's a big thing!
We were happy to share this special moment with his PawPaw. The school provided refreshments afterwards, but all Colton wanted was cheese bread from our favorite Italian restaurant. Millard joined us for lunch. Colton had a great day! We are so proud of you and love you lil' man!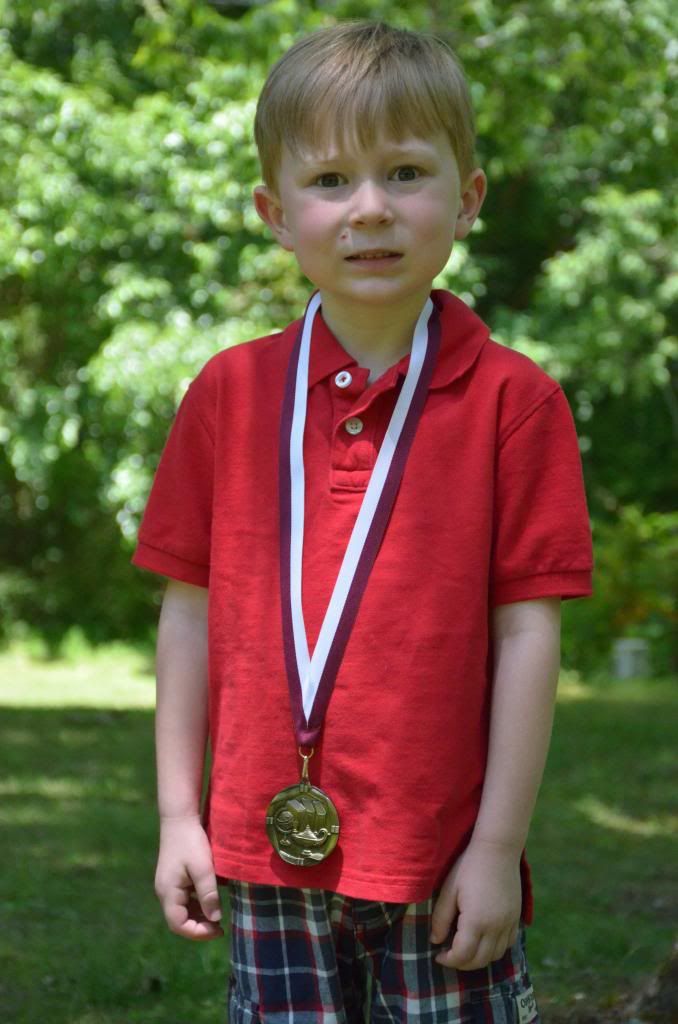 Don't ask about the staring off in space pose. I don't know what to think about it, but this is the face that he insisted on. Yeah, that's my boy!
I have to tell this quick story. I find it funny. Katie's got a swim party tomorrow at school because she was one of many kids that made the A.R. challenge. For their reward, they go on a field trip to our area swim park. She is so excited! Yesterday after I picked Katie up from school, we went straight to Belk's to get a swimsuit. After trying on 3 different ones, she decided on the one. While we were there, I wanted to check out the baby clothes and gifts. Colton asked me "why are you looking at baby stuff?" I told him that I was shopping for the babies that we are having this summer. Whoops! Wrong way to word that one momma! Yeah. Before I could fix my boo-boo. Colton was yelling and I do mean YELLING to Katie. "Katie, Katie did you hear that? We're having a baby. Mom said. " Oh. boy. I hated seeing my poor baby's face go from happy and excited to sad and confused. "But you said." As he looks upset. I had to explain to him that I was referring to Chase and Leslie's twins coming in July/August. Poor baby.
I do believe summer is showing her face in these parts. After that cold snap last week, we've been slowing warming right back up. Today was in the 80s. Katie and Colton were singing praises when I announced that they could get the pool out. The little neighbor girl came over and played in the pool with them. Thankfully, I put a few ice pops in the freezer yesterday because Colton was coming inside wanting his ice pops. I think he alone ate 5 of them. Before it was all said and done, I had to restock my ice pops in the freezer.
We hope you have a great Memorial Day weekend and stay safe. We still have another week of school before both kids are out for summer. Katie still has her class party and awards program. She has done awesome, but I'll go into all that in my next post.