The P.E. Field Day is the one event that everyone looks forward to every year. Normally it is nice and warm on this day. This year, we happen to have field day during blackberry winter. Shew!! It was cold cold cold this wonderful, fun and beautiful day. I don't believe the cold snap phased the kids at all. I believe this was one of the best field days thus far.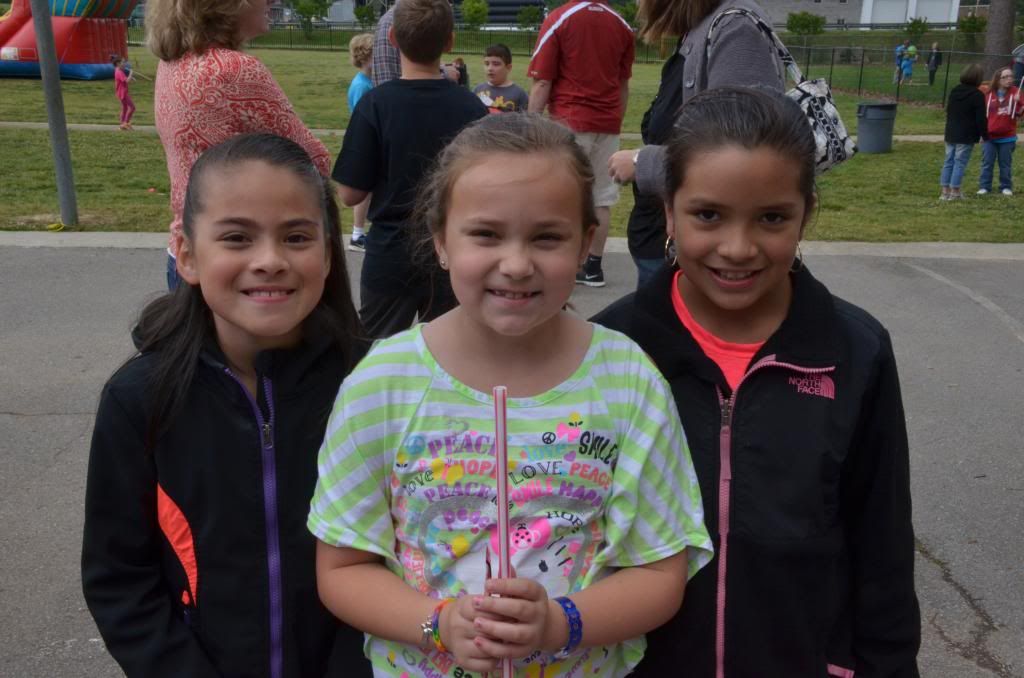 Katie and her peeps "N" & "B" - very sweet girls.
They have been such good friends to Katie this year and they absolutely adore Colton. Colton had a blast having these girls chase after him on the playground, I think the girls had just as much fun.
It was great that the whole 3rd grade spent an hour with the inflatables and an hour with P.E. competitions on the football field. The kids didn't want the fun to end. Dad and I just wanted our jackets and a nice cup of hot chocolate. HAHA!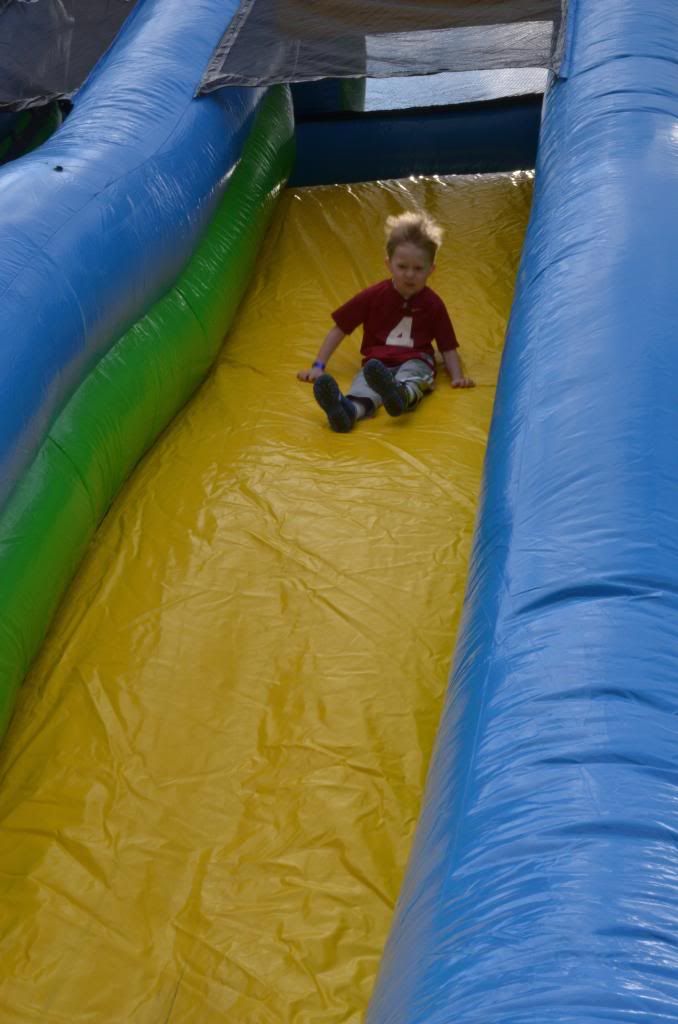 Colton LOVES the inflatable slides - we couldn't convince him to try other inflatables. LOL!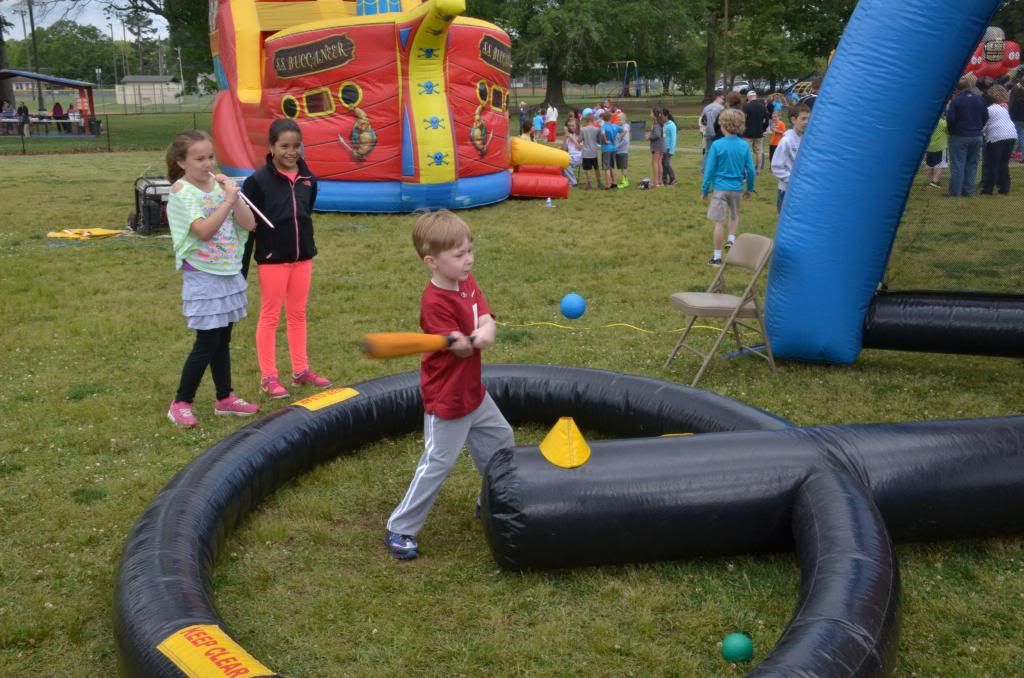 He wants to try out T-Ball next year. This was a good open door observation in the sport.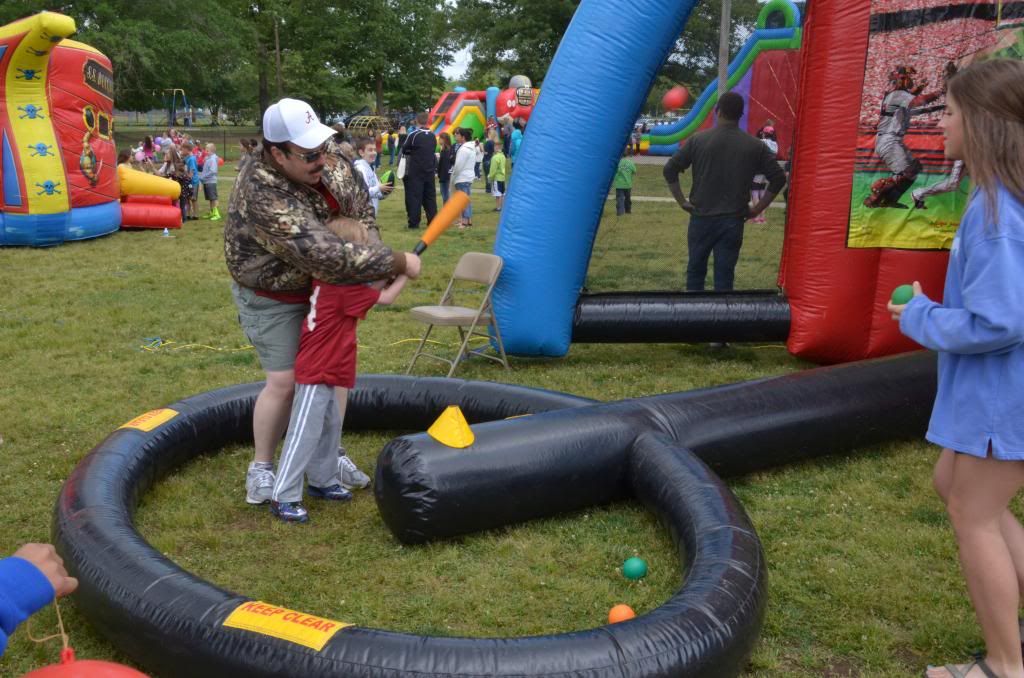 It was a little tricky, so daddy had to help him out. YES, Doug is wearing his hunting down coat.
. . . and he's back!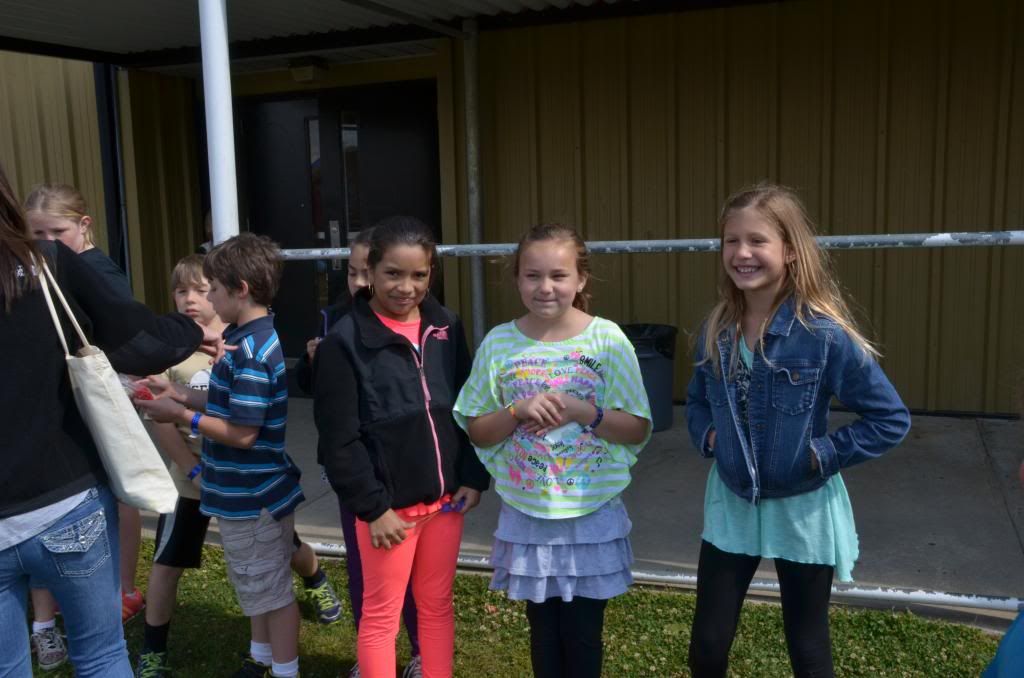 Katie hangin' with friends "B" and "H"
It's time to compete!
All 7 groups of 3rd graders flooded the football field, ready for the fun to continue. The first competition is always fun - Tug-of-War!
Katie's class competed against all the other classes and came in on top -
First Place in Tug-of-War
By the way, for those that may think this is really mean and that we are all winners.
Blah-blah-blah
. We do encourage friendly play and good sportsmanship, we also believe there are winners and there are those in last place. No matter if you make first or last place, you must use it as a positive experience and strive to be the best you can be and be happy for who you are.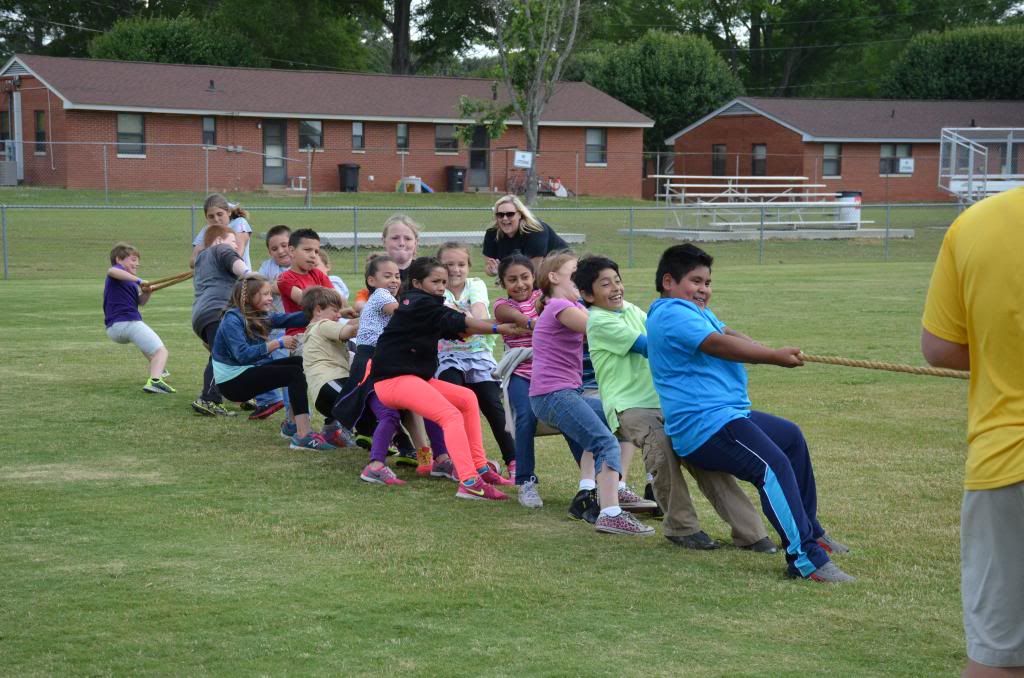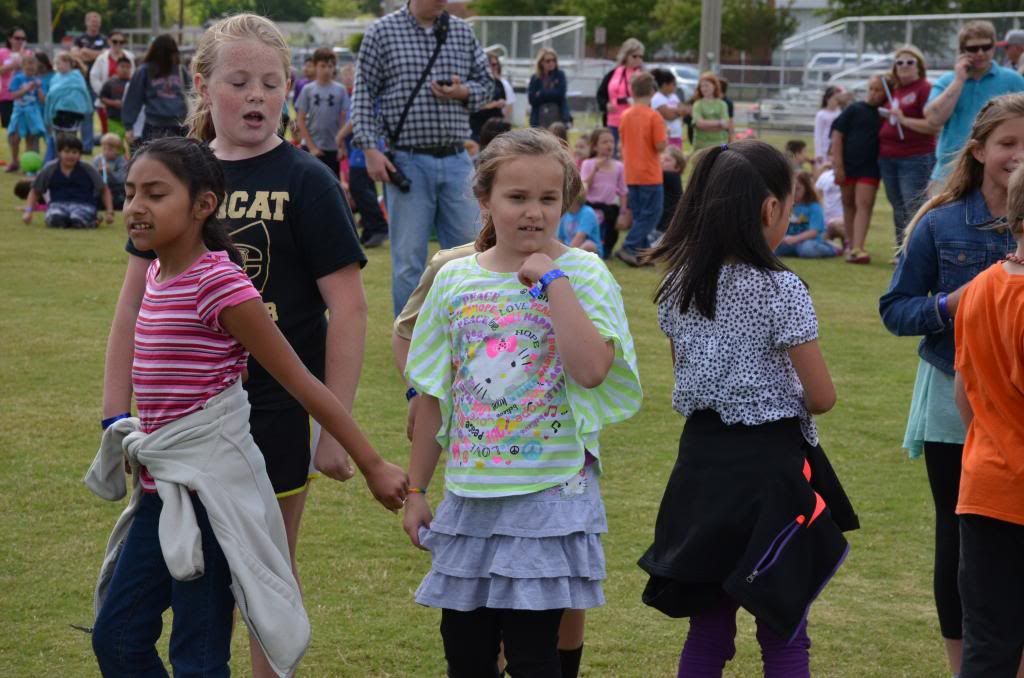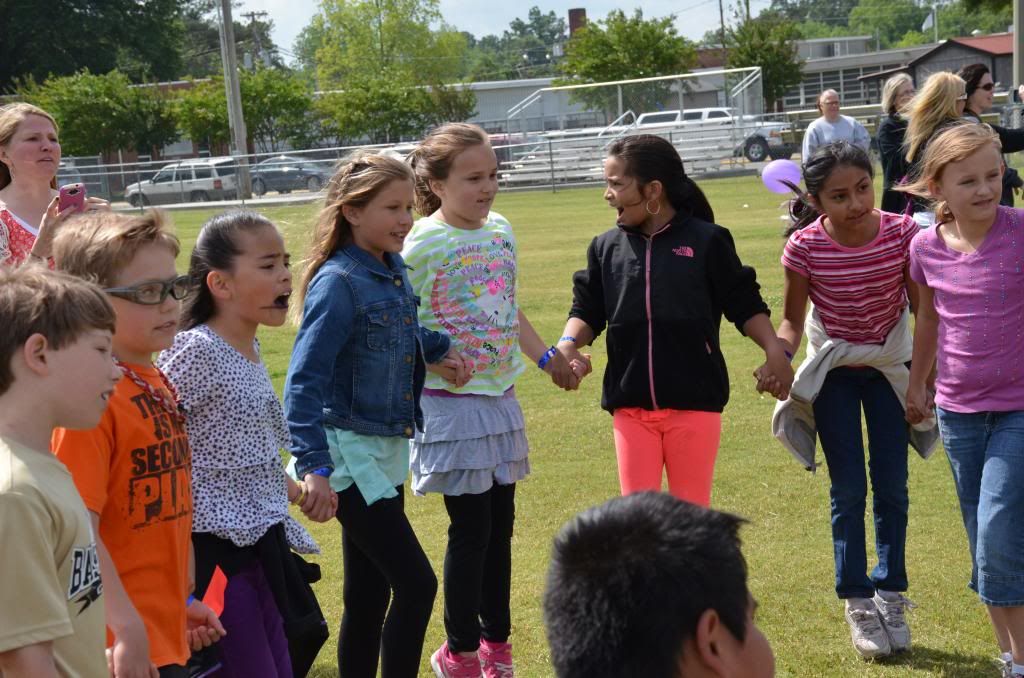 The object of this competition is that you have to hold hands and have a hola-hoop go through your body and pass to the next person. Once you pass off the hola-hoop, you sit down. The team that all of the players sit down first WINS! We placed 3rd place. It was so funny, watching these kids. Lots of laughs.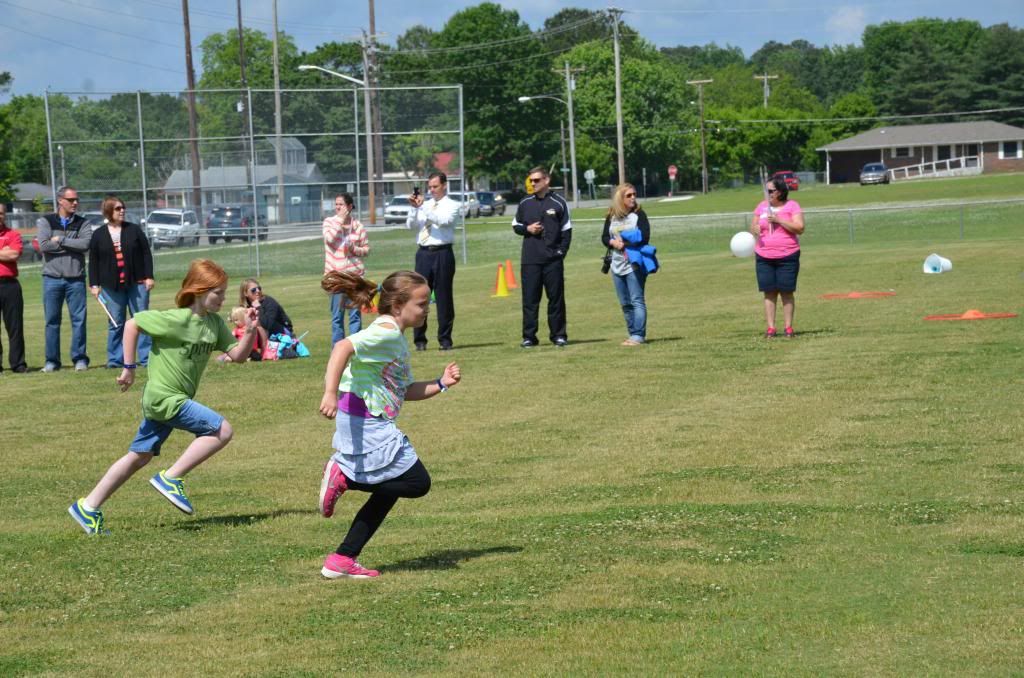 Relay Race - there goes my little sprinter! All that running in P.E. paid off this year. Coach has the classes run a mile at least once a week. Way to go Coach!! I'm all for the running. Our team placed 3rd place in the relay. I blame it on, one of our kids got confused and ended up in someone else's lane. Bless their heart, they nearly ran into another runner.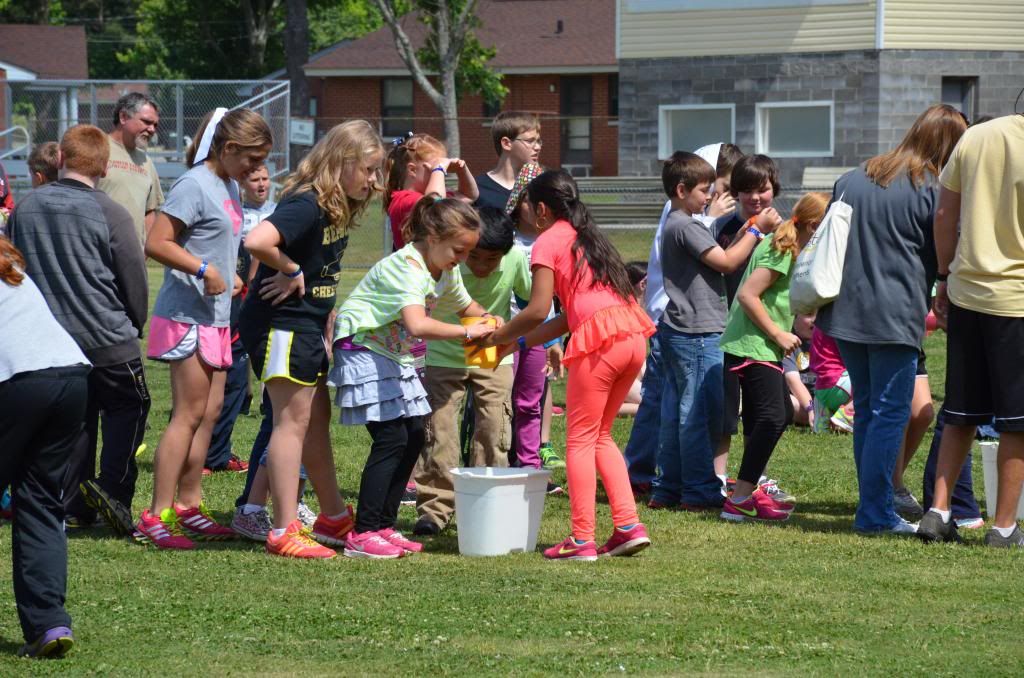 Water Relay Race was very interesting. Mine you that it was around 65 degrees and the wind blowing. Cold! I'm sure these kids were running hot from all the other competitions, but really? At least it was the last competition for the day. What was funny is the boys that dipped their heads in the buckets afterwards, while coach wasn't watching. BOYS! Too funny! I know my boy would be inside the bucket before you could blink.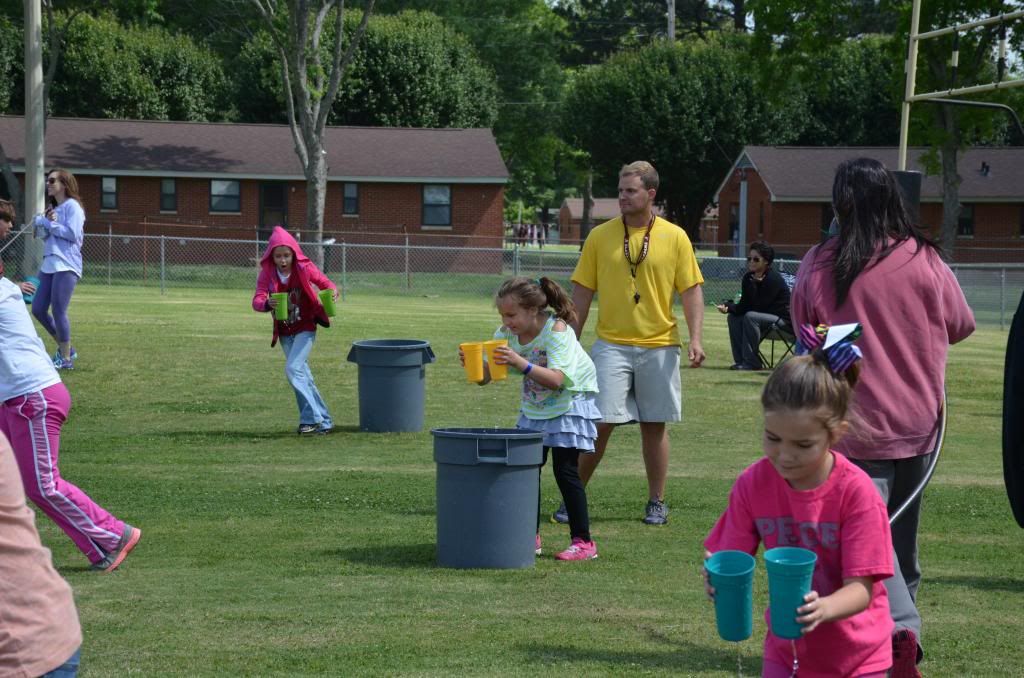 There she goes just a giggling
Our team placed 4th - so cold! LOL!!!
Ballet Rehearsal
The ballet recital is right around the corner, so we had to do our full week of rehearsals that could drive anyone CRAZY. By the time the recital FINALLY came around, Katie was so excited and exhausted at the same time. She was just ready to get out there and do her job.
Stay tuned to Ballet Recital and Colton's End of Year Program . . .