I really should finish washing my laundry, but I wanted to sit down and update you on the latest of all things Mason.
Last weekend, we watched on as the annual Fair Parade marched down our streets. The fair queen and other pageant hopefuls made their way, waving the famous princess wave to all the little girls standing along the sides of the street. The little girls' eyes all big with excitement and wishing that would be them one day. Katie was one of those little girls. Floats of all sizes graced us with their creativity. Some voiced a political point of view, some celebrate the existence of Jesus Christ and others advertised for their business. The best part of the parade, for the children, is the candy. Candy, candy and more candy, thrown to the crowds by the parade participates. The children running everywhere screaming, giggling and yelling as they grab and snatch the pieces of candy all along the road. My little kiddos came away with a nice bag full to add to the candy bucket, located in our Kitchen.
When we were visiting relatives in Louisiana, Laura and I went shopping. One of the fabulous places we shopped was Kohl's. I just
LOVE
Kohl's! I was just telling Laura about this mini pie maker that I found online at Williams and Sonoma. I thought it would be neat (and pretty) to make these precious mini pies. I thought this because last Autumn, I got on a mini pie making kick and baked a bunch of pies. I made them the way I was taught by my mother (spoon a small portion of filling in the middle of a round pie crust, fold over, dip a fork in flour and seal. At Kohl's, Laura points out the mini pie maker in the cooking section of the store. YAY! The best part is it was on sale 1/2 off. WHOO HOO! I scooped up that little baby and off we went.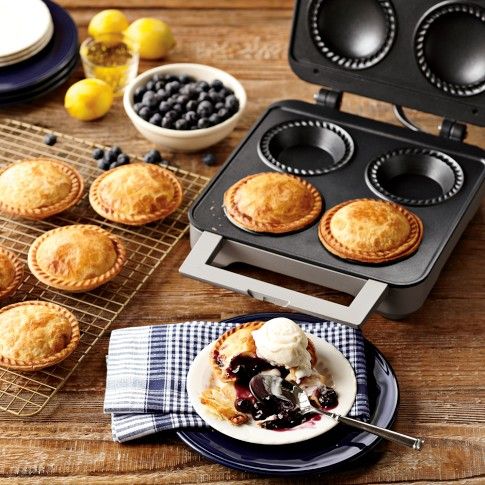 Mini Pie Maker sold at Williams-Sonoma pictured above.
Mine is very similar, except mine is a Bella brand name.
A couple of weeks ago, I had the opportunity to try out my new mini pie maker. I was so excited! I've been wanting to make chicken pot pies. I basically got an idea of what I would want in my pot pies and created. I didn't take pictures because it was the first time I had ever tried the pie maker and I put too much filling. Can you say "MESSY"? They didn't look all that appetizing, but were delicious. Even the kids LOVED them, which surprised me because I had chopped broccoli in it. Shhh!
My Chicken Pot Pie Recipe
2 Chicken Boneless, Skinless Breasts, chopped
2 cups finely chopped Broccoli florets
1 can Cream of Chicken Soup
1 cup shredded Mozzarella Cheese
1 can seamless crescent dough
Salt and Pepper to taste
Mix all the ingredients together and set aside, except for dough. Follow instructions on how to prep your mini pie maker. While the maker is pre-heating, go ahead and cut out the pie crust pieces.
When maker is ready, place the dough down in the hot plate. Be careful not to get burned! Use a wooden spoon or the cutter to press it in place. Pour 1/4 cup of filling inside the dough cups. When completed, place the tops over the filling. Make sure the dough covers all the filling or the filling will over flow. Close the lid and lock.
Bake for about 8-10 minutes. This recipe will make about 8 mini pot pies.
I didn't make 8 pot pies, so I had some filling left over. I used it the next day to create a chicken casserole for the oven.

Note: The suggested amount of filling from the pie maker booklet said a heaping 1/4 cup or 1/3 cup. Well, I used a 1/3 cup and caused it to overflow. Don't make my mistake.
It was so good and simple. It was fun for kids to let the cheese string out, so they could gobble it up. Katie asked me what the green stuff was. "Is is broccoli?" she asked. I told her no. "What is it?" she insisted. I told her it was my special spice to make it taste so good. She agreed it was good and said she would like for me to make it again, but with out the biscuit. She's not much of a biscuit person. Honestly, it would probably taste better using plain pie crust.
Katie is still doing great in school. I got educated yesterday from a friend that's a teacher about A. R., Accelerated Reading. Our class gets to visit the school library twice a week, instead of once a week like last year. They all check out two A.R. books and if they read them twice before the next library visit, the students get to take a A.R. test on the computer. The computer will keep up with each students A.R. points. At specific times of the school year, the students/class rooms with the most points receive rewards like pizza parties, ice cream parties, etc. Katie is all about taking these tests. If she didn't get to read her book twice at home, she pulls it out during reading time at school just so she can take her test. LOL! I'm glad she's motivated. Speaking of motivated, she is all crazy about the "Black Lagoon" books. Right now, one of her favorite is "The Teacher from the Black Lagoon." Scholastic sells "The Black Lagoon" books, so I ordered Katie 4 of the books online. I know 4 sounds like an awful lot, but one package had 3 books for $7.99. These are the books that Katie said she loved reading at Mrs. M's class. As I was scrolling down the list online, I noticed one "Black Lagoon" book was $1.99. Not bad at all, especially since these books normally sell for $3.59-$3.79 each.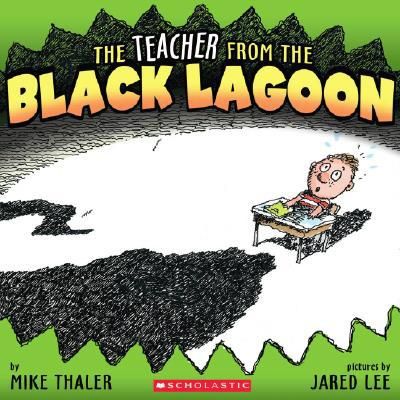 She gets so tickled reading these books. She told me, I had to get her at least one for our library. Today, she brought home a couple for the A.R. points and they were pretty funny. I'm glad she has found a series of books that she can't put down.
Last night was our school's annual book fair. What was different from the years past is we got to have it at Books-a-million. Wow! Our school teachers read stories to the children, while us moms shopped. I figured they would have a limited section that would benefit the school. Nope! It was the whole store that gave the school a percentage per sell. I thought that was awesome. Katie picked the first two book series of "Winx Club." She's seen the cartoon on Nickelodeon. Walmart also has the dolls displayed on their shelves with Barbie dolls. Katie is still interested in American Girls and loves the new AG Caroline. They had the doll on display at the BAM store. Katie and her girlfriends were going on about the doll, wishing they had one. This particular doll will be awarded to one special little girl that her mother entered her. I put Katie's name in about a week ago. She was so surprised when I told her. Of course, I had to remind her that she just has a chance to win the doll and she may not get it. I have to admit that it is a pretty doll, probably one of the prettiest out of the AG dolls. I've been trying
get her to try to read the books. I think she's just scared that she won't like them. She just likes the dolls, games and movies. Ugh! And it could be that the books are for a more older audience too. Colton insisted that he bring home a Captain America stuffed action figure instead of a superhero book. That's our Colton!
I'm so bad about putting books down just to pick up a different book to read for awhile. I put down my book I've been reading since last Winter "Just Perfect," to pick up a Beth Moore book. Have I told you lately that I just LOVE Beth Moore? She is AWESOME! Right now, I've been reading her book "When Godly People Do Ungodly Things." I absolutely can relate to the situations and experiences in this book, one way or another. It has been eye opening, inspiring and blessing to read and learn. If you love Beth as much as I do and haven't read this book. GET IT NOW! You will get a blessing out of it.
September is almost over! It's hard to believe the holidays will begin soon. YAY! I've enjoyed seeing all the creations and cute ideas for Halloween over at
eighteen25
. If you have an opportunity, please check them out on their blog or Pinterest. I have a couple Halloween creations in mind that I would like to do. I think the temperature change has got Katie all giggly and ready for the holidays. We've been so blessed with cool temps with a nice breeze. Ahhh! So nice. Normally, I have the house decorated for Autumn right now. Well, I'm falling behind along with everything else. Lord willing, in a couple of weeks, we'll have all the Spring/Summer decorations packed up and bring out the golds, browns, and sunburst schemes. I think Katie has decided on her Halloween costume. I've talked her into dressing up Pop Rock Star. I've planned a shopping trip to get her sequin skirt, leggings and top from The Children's Place. I hope they have what we want in stock. She's just excited she will finally get to wear her fully sequin boots. LOL! She wants her hair colored and have glitter, but I can't convince her to have her hair up a little and tease it. I showed her a picture of a rock star online from Party City and she said the model looked cool. The model had the 80s hair and Katie seemed to like it. Let's hope she'll let me do it. Aqua net, here we come! One request from her on the whole costume is she must have a painted star on her eye. She would prefer glitter on the star, but I told her that could be a problem. I don't want glitter to get in her eye and cut it, which would be my luck.
So moms, any suggestions on how I could fulfill her request on the star? I'm listening.