Last night, Doug and I didn't get to bed until around 1-2 o'clock in the morning. Needless to say, we slept in this morning. I didn't look at the clock when I got up this morning, but Doug said that we got up around 9:00. Wow! I hate having to waste good sunlight, but it was nice to actually sleep in today. Ahhh!
The Keebler Elves quickly got busy in the kitchen today. I wanted to make more, but was a little confused as to if I might be making too much or not enough for this week. Doug's got an office party Tuesday and Katie's got her party Tuesday. Then, there's next weekend. You see where I'm going with this, don't you? I was excited to finally try out my new mixer. Y'all. All I can say is sheer bliss. I was surprised how quickly I could get a batch of cookie dough mixed. No, stopping and scrapping. Start, stop and restart over and over. I just love it! I couldn't ask for anything better. Thank you Doug!
Another new kitchen gadget, I bought a few months ago was also used for the first time today. First, I must say that I grew up on the traditional Christmas sugar cookies, butter cookies, and especially spritz cookies. At Christmas time, my mom would make bookoodles of spritz cookies with the sugar sprinkles. Now, I know why she made tons of these little butter cookies. It's so EASY! I love it! I found a great Spriz recipe from
Christmas Cookies
. So simple and tasty. Here are my spritz cookies that I made today. One batch makes around 60 cookies.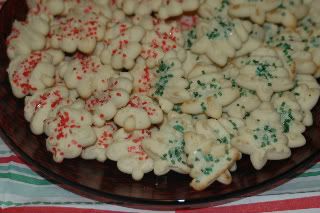 Christmas Spritz Cookies
Spritz
Use a cookie press to create lovely shapes in this easy, buttery cookie.
2/3 cup granulated sugar
1 cup butter
1 large egg
1/2 teaspoon salt
2 teaspoons vanilla
2 1/4 cups all-purpose flour
Heat oven to 400F. In large mixer bowl combine sugar, butter, egg, salt, and vanilla. Beat at medium speed, scraping bowl often, until mixture is light and fluffy, 2-3 minutes. Add flour. Beat at low speed, scraping bowl often, until well mixed, 2-3 minutes. Place dough in cookie press. Form desired shapes 1 inch apart on cookie sheets. Bake for 6 to 8 minutes or until edges are lightly browned.
Note
: You can also color the dough with food coloring, and decorate with dragees and colored sugar. I have 2 Pampered Chef cookie sheets to bake with, but I needed more cookie sheets to fit all the cookies. So, I placed parchment paper on an extra regular metal cookie sheet and put more spritz cookies on it. I found that I had a hard time getting the spritz dough to stay on the paper. The cookies didn't turn out perfectly shaped like the Pampered Chef cookie sheets. My advice would be not to use the parchment paper. I just like using parchment so there wouldn't be such a big mess.
I'm planning on making a batch of Chocolate Spritz Cookies hopefully tomorrow. Wish me luck! The recipe is exactly the same as above except for the cocoa.
Chocolate Spritz Cookies
from Hershey's
Prep time: 25 minutes
Ingredients
1 cup butter or margarine, softened
2/3 cup granulated sugar
1 egg
1 teaspoon vanilla extract
2 1/4 cup all-purpose flour
1/3 cup Hershey's cocoa
1/2 teaspoon salt
Decorating sugars, sprinkles or candied cherries (optional)
Directions
Heat oven to 350F.
Beat butter, sugar, egg and vanilla until light and fluffy in large bowl. Stir together flour, cocoa and salt; gradually add to butter mixture, beating until well blended.
Fill cookie press with dough. Press dough onto cool, ungreased cookie sheet. Garnish with sugars, sprinkles or cherries, if desired.
Bake 5-7 minutes or just until set. Remove from cookie sheet to wire rack. Cool completely.
Makes about 4 1/2 dozen cookies.
Variations:
Chocolate Dipped Chocolate Spritz Cookies
: Prepare dough as directed above. Press dough onto cool, ungreased cookie sheet with ribbon plate in cookie press. Bake and cool as directed. Melt 1 cup Hershey's Special Dark Chocolate Chips or Hershey's Semi-Sweet Chocolate Chips with 1 tablespoon shortening (do not use butter, margarine, spread or oil). Gently dip part of each cookie into chocolate. Place on wax paper-covered tray. Refrigerate until firm.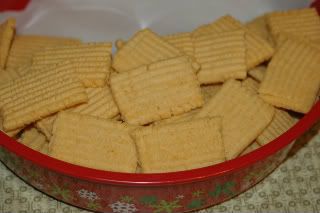 Zesty Cheddar Cheese Straws
I had too much fun with my cookie press today. Knowing Doug
LOVES
Cheese Straws, I thought I could try to make some. Millard and Peggy came by to drop off the kids and we had them here for supper. I told them about my idea and they thought it would be a good idea too. I found a great recipe from
Paula Deen
. Have I mentioned lately how much I love her? These cheese straws, I made are so soft and have a wonderful flavor. I hope you'll find time to make these because they are so good.
Zesty Cheese Straws

Ingredients
1/2 cup (1 stick) butter, at room temperature
2 cups shredded sharp cheddar, at room temperature
1 1/2 cups all-purpose flour
1 teaspoon salt
1/4 teaspoon cayenne pepper
Directions
Preheat oven to 300F.
In a food processor, add the butter, cheese, flour, salt and cayenne and process until a smooth dough is formed. Scoop it into a cookie press, fitted with a flat ridged tip. Pipe the dough in 2 inch strips (2 clicks) onto a lightly greased cookie sheet. (Alternatively, refrigerate the dough for 30 minutes and roll on a lightly floured surface into a 1/4 inch thick rectangle. Cut into smaller rectangles, about 2 by 3 inches, with a pizza wheel or sharp knife). Bake for 10 to 15 minutes or until lightly browned. Remove to racks to cool.
Note
: I don't own a food processor, so I made this delicious cheese dough in my Kitchenaid mixer just fine. In fact, I think it incorporated the ingredients really well like this and stirred it right into a nice ball for me. Yay! The measurement listed above for the amount of cayenne pepper to use gives the straws a very mild flavor. Too mild for my husband. So with the second batch, I put a heaping 1/4 teaspoon of cayenne pepper and Doug still says it's too mild. The next time I make these, which I already have a request, he wants me to double the measurement. I don't think I'll do the full double the measurement, but I will add a little more.
Well, now Doug has 2 batches of cheese straws to take to work for his Christmas party. That is, if we can stop eating them. They are just so good, even the kids like them.
A Quick Update
Katie didn't get to go to J's slumber party. J's mom called me yesterday morning, letting me know that she just got back from picking up J at school. The first thing going through my mind is she's sick. Sure enough, she was sick, but she didn't have a fever. Becca said that J was crying and so upset about missing her party ontop of being sick. Poor baby. I felt so bad for her. Becca decided to just move the party to this Wednesday night. Katie was sad, but she understood and she got to stay with her grandparents, so it all worked out.