Here is my Sugar Scrub as promised
I tried a little bit of my first batch that I made. I was very pleased with the results. I got the idea from
TidyMom
. I was interested in making sugar scrub of my own since this past Summer, but never had the chance. Then, I thought it would make a nice Christmas gift for the ladies in my family. I couldn't get over how easy it was to mix up. It took longer to decorate the glass containers then it did to mix and fill them up. My sugar scrub is different from TidyMom's because her recipes calls for cinnamon essential oils and other warm spices. It being no secret to my sisters, I had a couple of them to chose their scents. I couldn't find cinnamon essential oil at Hobby Lobby, so I purchased Honey Almond and Japanese Lotus. Well, I'm glad I didn't search any further for the cinnamon because none of the ladies liked cinnamon flavor anyway; however, they did like the smell of the Honey Almond. It's a light, sweet scent, similar to vanilla.
Honey Almond Vanilla Sugar Scrub
1 cup Pure Cane Sugar
1 cup light olive oil
5 drops vitamin E oil
6 drops of honey almond essential oil
1/2 tsp vanilla extract
1 16 oz. glass container with lid
Combine all of the ingredients in a medium bowl until well blended. Using a spatula, transfer mix into the container and secure lid. Contents will settle, mix before using. Scoop a teaspoon or two of the scrub on your hands and gently massage in circular motions onto your skin. Leave on for 3-4 minutes before thoroughly rinsing. The scrub will tighten on your skin.
I made these instruction tags for my sugar scrub.
Sugar Scrub Gift Tag
You can print them out for your own personal use.
I bought these pretty cocktail spoons from World Market. I thought they added a nice touch.
I designed this simple label for the top, which lists the name of the sugar scrub flavor.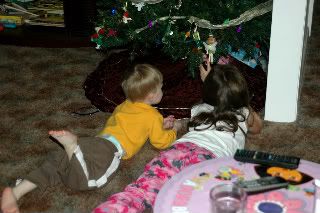 The kids checking out the Christmas ornaments on the tree.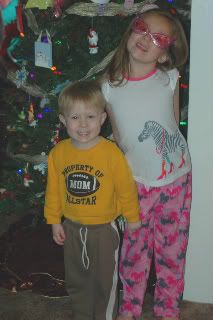 Katie loves her glasses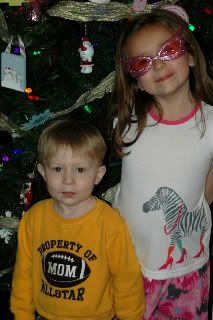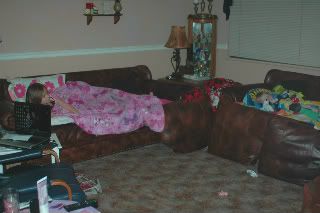 If you've kept up with my blog these past several years, you would know that it's tradition to sleep by the family Christmas tree. This year, Colton is old enough to participate in our tradition. I stayed up with them until everyone was asleep. We watched the "Radio City Christmas Spectacular" with The Rockettes and "The Christmas Bunny".
This afternoon, Peggy and I took the children to see Santa Claus at the mall. Katie wasn't too shy talking to Santa and telling him what she would like for Christmas. Colton on the other hand, seemed a little timid. I think that if sister didn't get up on Santa's lap, he wouldn't have attempted.