Katie's friend, J, is having a birthday slumber party tomorrow night and has invited Katie to come. She is so excited. Eventhough J and Katie go to the same school, she hasn't really been able to spend time with J since this past summer. Becca and I have been trying to get the girls together for a while. I asked Becca if I could bring a snack. She told me if I wanted to bring one of my good appetizers that would be great. I thought the girls would like to munch of this little treat, while playing games or watching a movie. It's really good and I wanted to share the recipe with you.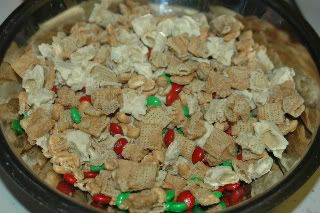 Chex PB and Chocolate Blast Recipe
6 cups Rice Chex cereal
1 cup white vanilla baking chips (8 oz.)
1 cup peanut butter chips
1 cup red and green candy-coated chocolate candies
1 cup dry-roasted peanuts
Directions
Line 2 cookie sheets with foil or waxed paper. Place 3 cups cereal in large bowl. In small microwavable bowl, microwave white vanilla baking chips uncovered on High about 1 minute or until chips can be stirred smooth. Pour melted chips over cereal in bowl; stir or toss to evenly coat. Spread mixture in single layer on one of the cookie sheets. Refrigerate 5 minutes or until set.
Repeat the above using the remaining cereal and the peanut butter chips; refrigerate 5 minutes or until set.
Gently break up coated cereal into large bowl. Add candy and peanuts; stir gently to combine. Store in airtight container.
Prep Time: 15 minutes
Makes: 22 servings (1/2 cup each)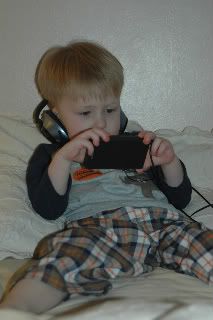 Doug got out the Zune and charged it up for the kids to play with. We just have Bugs Bunny and Tinkerbell downloaded on it. I got tickled at Colton all sprawled out on our bed, watching Bugs Bunny.
Katie's class "Read to Feed" campaign expires next Tuesday. I am so proud of her dedication. As you know, her goal is 90 books. She has currently read 80 books. I know she will be so relieved when she doesn't have to read 6+ books a day. LOL! Her homework time has gone from an hour and a half to two hours a day. It's real challenging on gymnastics day. Shew!
Today marks the second week, Katie has had a spelling test. She thinks she did well. Ms. G gives the children 10 words to learn to spell, plus a bonus word worth 5 points, by the end of the week. For homework, each night the students are to write each spelling word several times, write sentences with each word and put them in alphabetical order. At the end of the week, she checks the students spelling notebooks for extra grade points and they take the test. It's a great concept to get them to memorize and understand the meaning of each word. Last week, Katie scored 105 on her test because she got the bonus word correct "December." This week's bonus word is "holiday."
You can tell it's close to Christmas time around here. Katie is tired of school and so ready for a break. Colton is tired of taking his sissy to school without him going too. He is so bored with sissy being at school. Of course, I can't get anything done throughout the day because he is right underneath my feet. He is at the age that drives all mommas crazy. So I can get a few things done around the house, I do like any good parent. I give him a bowl of cereal, filled with tons of sugar and carbs and stick him in front of the television. We were doing good watching Mickey Mouse Clubhouse and Little Einsteins. Now, he thinks he is too old for those cartoons. Now, he wants to watch cartoons like Batman, Hulk, Spiderman and Superman. Ugh! Thank goodness for Netflix. Of course, he'll watch 5 minutes of an episode and announce that he doesn't like that "super spider." This is code for select a different episode so he can watch only 5 minutes of it. Then, you have to select a different superhero so he can go through all of it. Lastly, he'll insist that it's a splendid idea to watch 15 seconds worth of superhero videos from YouTube. Thanks Paw-paw Millard! Love ya!
This weekend, Katie and I have plans to make COOKIES. Doug's on me for not breaking in my mixer yet. Wish me good luck!