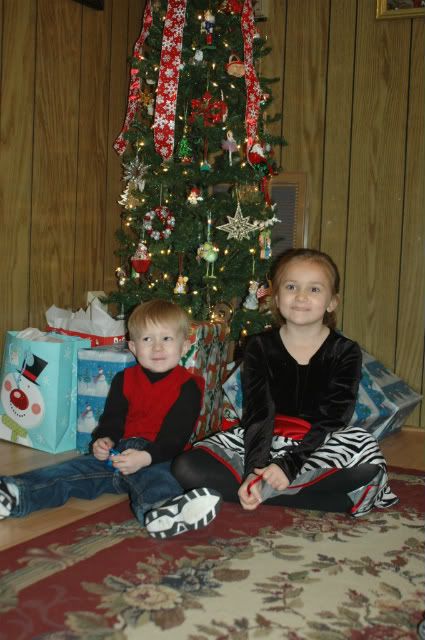 Kids acting silly

Another Blissful Christmas ~
We visited friends and family during the holiday weekend. Ms. E was so sweet to bake us some goodies. I guess she and I had the same idea because we gave her a tin full of butter cookies, which according to her is one of her favorite cookies.
On Christmas morning, we sang "Happy Birthday" to Jesus and blew out His candles for him. I split the Holiday Bon Bon recipe and made a small birthday cake to Jesus. I iced it with peppermint icing and decorated it with crushed peppermint candy. I would have taken a picture, but the next day the peppermint candy melted on the icing. Ugh! Oh well. It was still good.
Here are a few photos just to recap all that we celebrate and are thankful for this Christmas: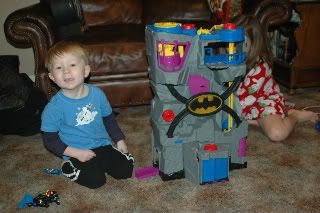 The kids got exactly what they wanted from Santa Claus. They couldn't believe that he remember them.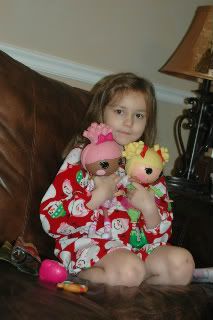 Peggy playing Uno "Moo" with the kids on Christmas morning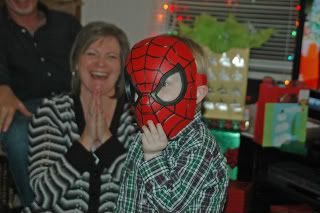 My parents gave Colton this Spiderman mask. He absolutely loves it! He is really BIG into the Super heroes right now.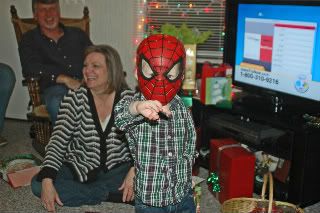 Colton is shooting his web at the camera for me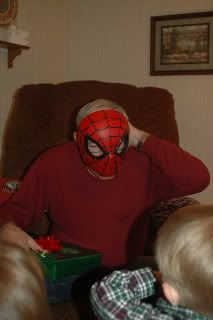 Colton wanted dad to try on his mask. Too funny! I think we got more laughes with that crazy thing.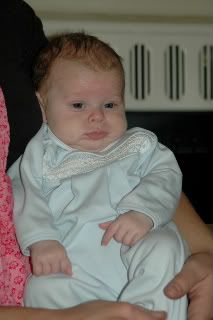 Zayden's First Christmas! He is 3 months old now. He is such a sweetheart.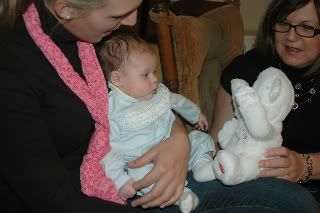 Me and my family gave Zayden this cute little bear for Christmas. The bear talks - says "Peek-a-Boo" and moves it's arms. So sweet. I think he likes it.
Sue and Tim's clan
Mom and Katie talking it over
I have to tell you this little tidbit before ending my post. While getting ready for bed the other night, Colton was following me around like a little puppy. He does every night. I began asking him questions like: "Do you have a birthday coming up?" and "How old will you be?" Then, I asked him if he wants a Mickey Mouse party for his birthday. I said this because I really want to throw a Mickey Mouse party, I think it would be fun and there are so many cute ideas out there. Well, he let me know right then and there that he doesn't want a Mickey Mouse birthday party. Instead, he said "I wanna Hulk party." Trying to convince him otherwise, I told him "no, you don't want a Hulk party. You would like a Mickey Mouse party better." He didn't like the idea of me trying to change his mind. "No, mommy. I not wanna Mickey Mouse. I wanna Hulk party." When I asked him why. He said, "'cause I said so." Oh no. He used my own playing card on me. Yikes! Needless to say, after much negotiation I did convince him to let me throw him a "Super Heroes" party instead. If you don't know, the Super Heroes are every one of the super heroes (Superman, Batman, Green Lantern, Flash, Ironman, etc.). Now, I'll have something to work with instead of HULK - GREEN. Ugh! It reminds me convincing Katie at this age to have a Fancy Nancy party instead of Shrek.
For Christmas, Millard and Peggy gave Colton characters to go along with his Batcave, like Joker, Riddler, Penguin. It's cute, seeing him using his imagination playing with the action figures. We were puzzled for a while when he kept telling us about a "Puckin'". We would look at one another, shake our heads, asking "what's a 'puckin'?" FINALLY! We figured it out. He calls Penguin, "Puckin'". It's quite hilarious. Now, we all call Penguin - PUCKIN'. And everytime, Peggy will begin laughing and the rest of us will at least crack a grin. LOL! My little Flash is such a character, but I wouldn't have him any other way. He always knows how to get put a smile on his momma's face.
At the beginning of the new year, Colton and I are going to get this potty training thing down. I hope to get serious about it. Please pray for me. I also have a few projects lined up starting at the beginning of the year. I promised Leslie that I would create a cookbook with all of my favorite recipes as a present for her. I went ahead and got started this morning. I'm going through
Blurb
to get it published. I guess they were really the only ones I could find that would help create cookbooks. Now, I have to gather ALL thoses food pictures I had taken for my past blog posts. Ugh! I knew I should have named thoses photos. Maryann wants to get together in the next month to begin planning Leslie's bridal shower. I pulled some ideas into my Pinterest, to go over with her along with a few possible bridal shower games. Then, I've got a Super Heroes birthday party to prepare for. I've been getting a few ideas from Pinterest and online. I've been playing around with an idea. We'll see how it turns out. Wish me luck!
Katie received some books and art books for Christmas, so she has gotten pretty wrapped up in them. I really thought that she would put the books down during Christmas vacation and not even think about it. In fact, she's been playing school in Colton's room with her bag of books. She loves to read to Colton. It is so touching. Christmas morning, she read a story to her grandma Peggy and Colton. She still says that she wants to be a teacher and I think she would make a great educator.