Spirit Week
It was Spirit Week at school a couple of weeks ago. Each day the students were encouraged to dress up by a theme for the day. In the mornings, the students were judged by the faculty and voted the best at the end of the day.
Above: (Left) Celebrity Day- she dressed up like Ce-Ce off of the show, "Shake It Up" (Right) Crazy Day.
All Over The World Day - she represented Texas proudly
Drawing by Katie from Art Class - "Scarecrow"
Art by Katie - "Seasons"
Halloween 2012
Time to Carve the Halloween pumpkin
Katie wanted a witch this year
Colton wanted to use his "Frankenstein" this year and not carve. I found this at The Christmas Shoppe for $1.99. It's made of wood and metal stakes that stick in the pumpkin. So worth the money! I bought Katie the witch, but she didn't want to use it.
Kids with their pumpkins (check out Colton's Angry Birds & Pigs in front of the pumpkins. LOL!) He's into Angry Birds now as well as Avengers - 110% boy.
Kids painting their little pumpkins
They had a great time painting. Colton wanted a little help. He told me that he wanted it all green.
"Happy Halloween!"
Kids ready for a wonderful Halloween day.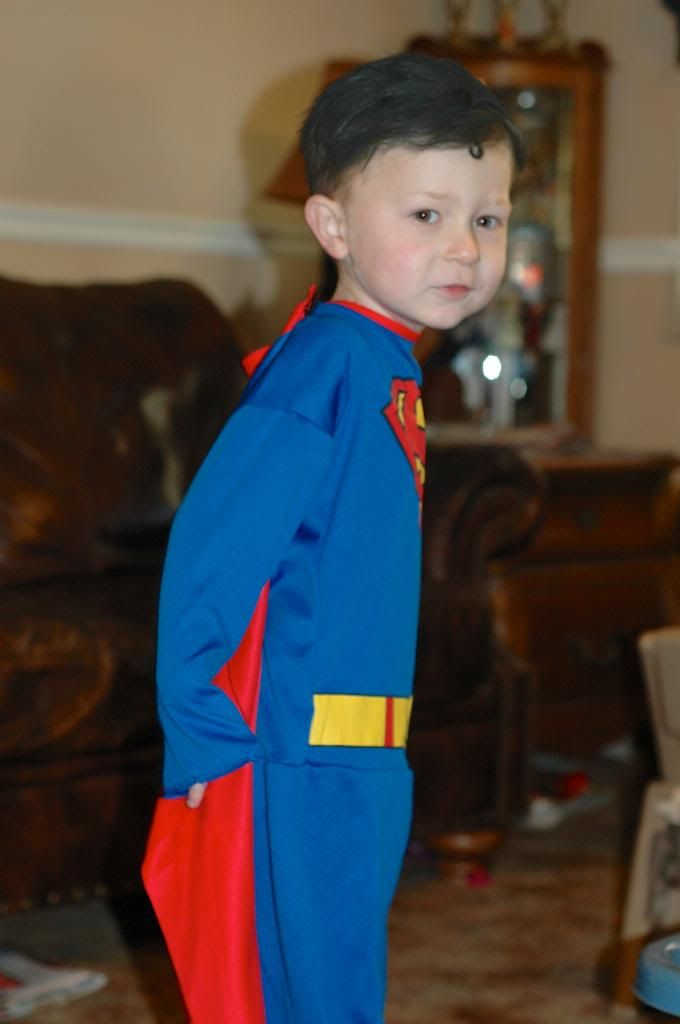 Colton wanted to dress up as Superman with black hair. He was so proud of his black hair.
Oh, he wanted me to add the curl on his head just like Superman. LOL! He got so mad at me last night, when I washed his hair. "Where's my black hair? I want it back." I tried to explain to him that it was just for Halloween and that he would have to go back to his color. I thought he was going to cry.
Yesterday at school, all the children received baby pumpkins. It was the cutest thing. A couple of dads that are doctors, dressed up and presented each child their very own baby pumpkin. It was a big thing. Katie got to bring home twin pumpkins - Scooby and Lucy. She was the only one in her class that was given twins. Each student is to take care of their babies. Take them home for the night and bring them back to school the next day. She'll bring them back home tonight for good. She is so excited that she gets to keep them. A really cute idea!
Our Superman and Rock Star
Colton told me this morning that he really liked going Trick-or-Treat last night. He wants to do it again. We did have a good time. This year, we went to a different neighborhood. A neighborhood I haven't been since I was about Katie's age. I'm telling you what, it was like Halloween Grand Center. You couldn't drive on the streets for all the people. I was scared to death that I was going to hit someone. Katie found out where one of her new friends live. She thinks we can have sleepovers now that I know where her friend lives. I've only met the mother of this child one time. She seemed real sweet, but I've got to get to them a little better. Katie just doesn't understand this.
Katie was a little disappointed the fun of Halloween is over. All the dressing up, carving pumpkins, lights, movies and music. I told her but the best is yet to come. CHRISTMAS! My most favorite holiday is just less than two months away. Of course, it perked Katie up and now she is ready to take down the Halloween and prepare for Thanksgiving.
This morning, I bustled around the house cleaning and putting up. What a mess we made getting ready to go Trick-or-Treating last night. Ugh! The color hair spray gets EVERYWHERE. Thank goodness my bathroom needed scrubbing anyway. HAHA! Clothes here and candy there. It took a couple of hours, but I got it done. I found time to post these pictures and a short description about our night. I love the Halloween fun, but it just gets me prepped for the REAL HOLIDAY. We are planning on having a Semi-Charlie Brown Christmas. I was tempted to have the Charlie Brown Christmas, which includes a real tree with homemade ornaments. The more I thought about it, the more I still want my artificial tree. To me it's not a fire hazard, I can keep it up longer and it doesn't make such a horrible mess with the needles all over the floor. I need all the help I can get when it comes to cleaning up messes. Nough said!
Can't wait to see everyones Halloween pictures and stories. God Bless!