We had a wonderful Thanksgiving Day with family. You know, our family might be loud and we all talk at the same time that some outsiders might be intimidated, but it's my family and I LOVE THEM ALL VERY MUCH.
Tomorrow is the first day of December and this little elf has been busy. Our artificial tree is much bigger than I thought and we don't have as many homemade ornaments as I first thought. What does any momma do when her tree is bare? She gets out the glue gun and Modge Podge. HAHA! So far, we've made three types of ornaments and paper garland. I finished a few decorations tonight like the paper garland and our fuzzy snowmen.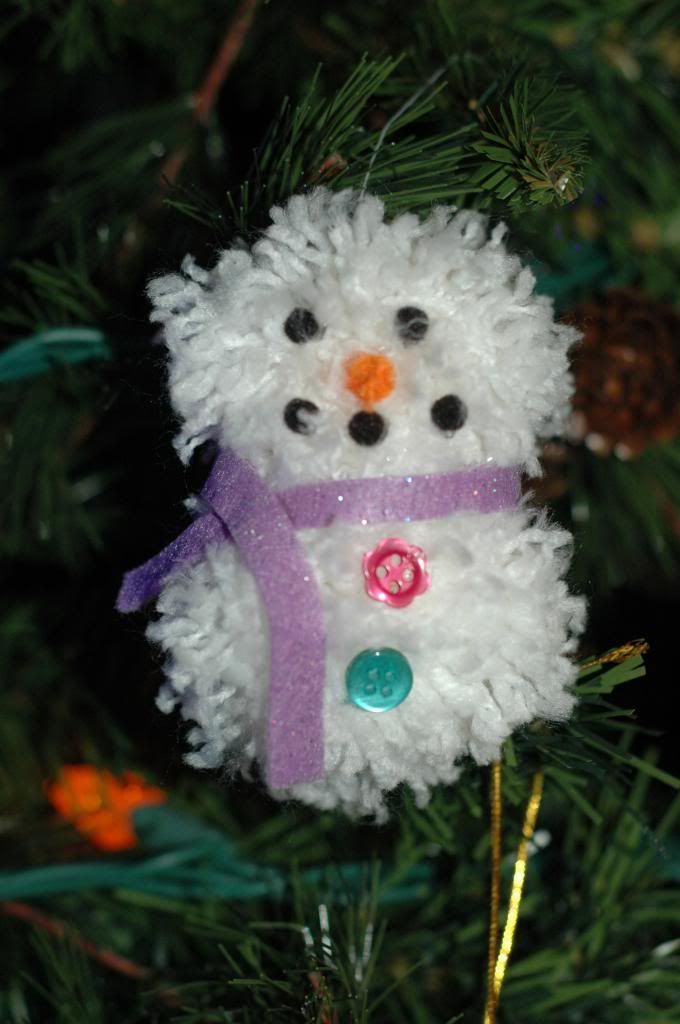 I think she turned out so cute. I got the idea from Pinterest. Basically, I wrapped white yarn around three of my fingers approximately 30x, you decide the thickness. Cut off a piece of string or yarn. Easily pull the yarn off of your fingers. Dividing the yarn in half, take the cut piece, wrap around and tie a very tight knot. With scissors, begin cutting the loops. To make it frizzy: carefully pull apart the yarn threads. When you make two pom-poms: with a thread and needle, attach the two pom-poms together. Have enough thread in order to make a loop at the top. With your scissors, give your snowman a hair cut, just to make sure all strands are even. Begin creating your snowman. I glued small black pom-poms for eyes and mouth. Cut and glue a small piece of orange chenille stem for the carrot nose. Go through your scrap button jar. Glue two small cute multi-colored buttons on the body. Cut and glue a thin strip of felt material around the neck of your snowman. It adds a cute touch. You could also add a top hat or knit cap. So simple and fun to make. I made one for each one of us in our family. I plan to make more for the tree and to give away.
I'm still working on the ric-rac candy canes. I'm having to lay books on top of the candy canes that is coated with fabric stiffener. This material is determined to want to have a mind of it's own. NO, NO, NO. It simply won't do. I'm working on my second layer of fabric stiffener with my shaped candy canes.
My sister gave me a bunch of scrapbook paper (black and gold colors) a few years ago. She didn't need them anymore and thought I might have use for it. It took that long for me to actually use a lot of the paper. I ended up punching scalloped circles and making paper garlands with gold thread. Turned out pretty good. It's slowly filling up the tree.
Of course, I made the felt ornaments several weeks ago. Remember
THIS POST?
I hope to still make clay shaped ornaments as well with the kids.
I've been promising to make mom a wreath since they moved into their new house. One day while going through Pinterest, I fell in love with the wreath below. It's so simple and elegant.
I've got the wreath part finished. Now, I have to embellish it. I've never tried to make rolled felt roses, but my niece Leslie tells me that it's very easy. A little nervous, but wish me luck. I found the berries on sale at Hobby Lobby (50% off). I hope mom will like it as much as I do.
Tomorrow is going to be another busy day for me. I signed Katie up for a day with the high school cheerleaders. I think she'll have fun. Little girls always like hanging out with older girls and high school girls at that. Our high school cheerleaders will be teaching the little girls all kinds of cheers and showing them all sorts of dance moves. Doug and Colt will have daddy/son day. I'm taking this opportunity to get several things done for Christmas and up-coming family gatherings.