I've got a lot of photos and stories to tell you, so hold on and read away.
A Charlie Brown Christmas
Second and third graders presents "A Charlie Brown Christmas." Katie auditioned for a speaking role in this play, but didn't get a spot. The director said there were so many students that came out to audition. This is great news that our students have interest in the arts and I hope it continues. Fortunately for the second graders, they were all encouraged to sing three songs during the play, between scene changes. They sang "Nuttin' for Christmas," "O' Christmas Tree," and "Hark, the Herald Angels Sing." They all did such a great job! The school was right on top of things and offered DVDs for sell. I received our DVD the following Thursday, which was awesome. I'm so surprised how quickly they got them edited and sent out.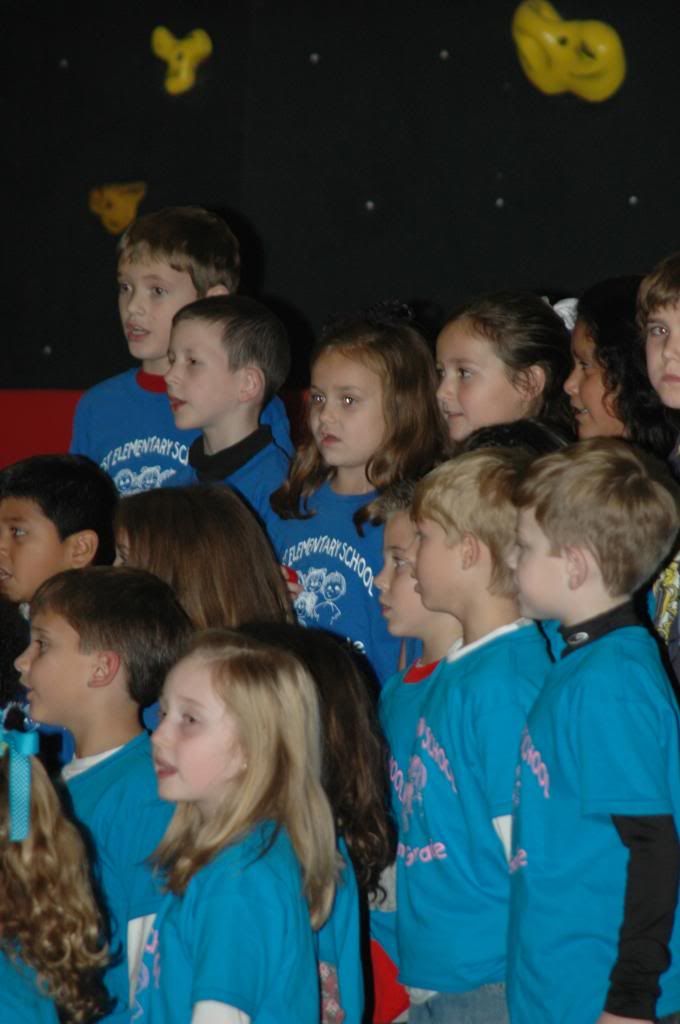 Second graders singing.
Snoopy decorating his doghouse, while Charlie Brown watches.
Charlie Brown gets counseling from Lucy.
All the second graders that made it to sing.
Katie's Class Christmas Party
What a nice party! Of course, there was too much food for everyone to eat all of it. Almost every student gave each other some little something. I thought Colton would enjoy the party as well, so I brought him. Quickly, I began to rethink that decision. He had a pretty good time the last time we came for class project. I just didn't think about him not getting a gift and he felt left out for a moment. I made a deal with him. If he would cheer up and be good, I'd let him open one gift from under the tree when we got home. He cheered up pretty quick.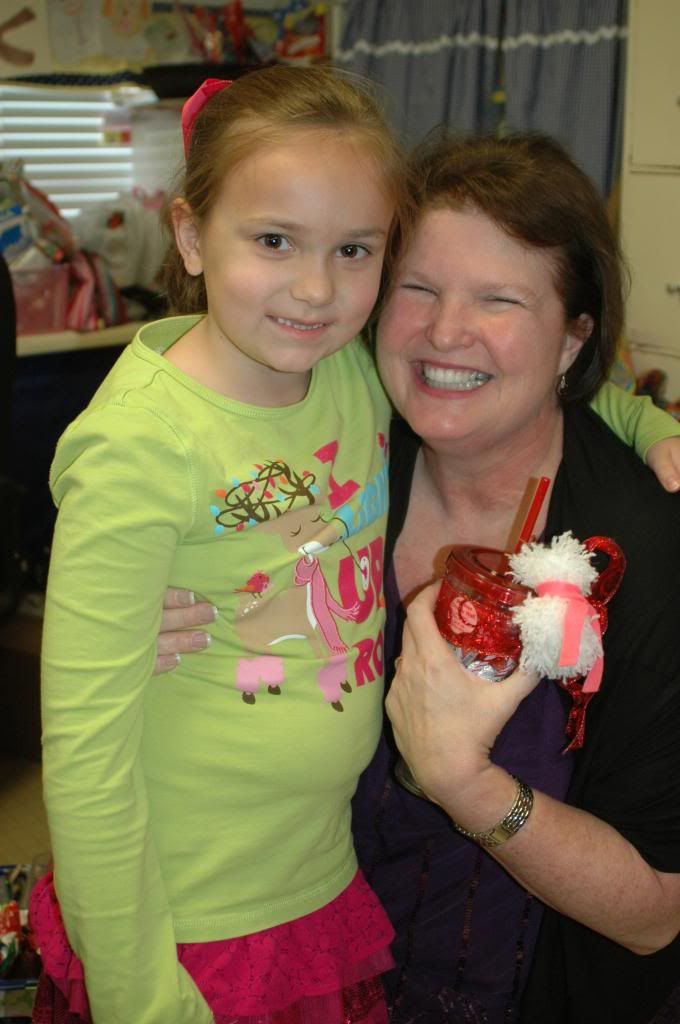 Katie had to have a picture with her Mrs. M. The kids got to play a couple group team games, which I thought was a great idea and everyone seem to have a good time. The first game was "Snowman." Teams broke out and who ever made their snowman without breaking the toilet paper, WINS! Katie's group broke their paper a couple of times. They were so frustrated.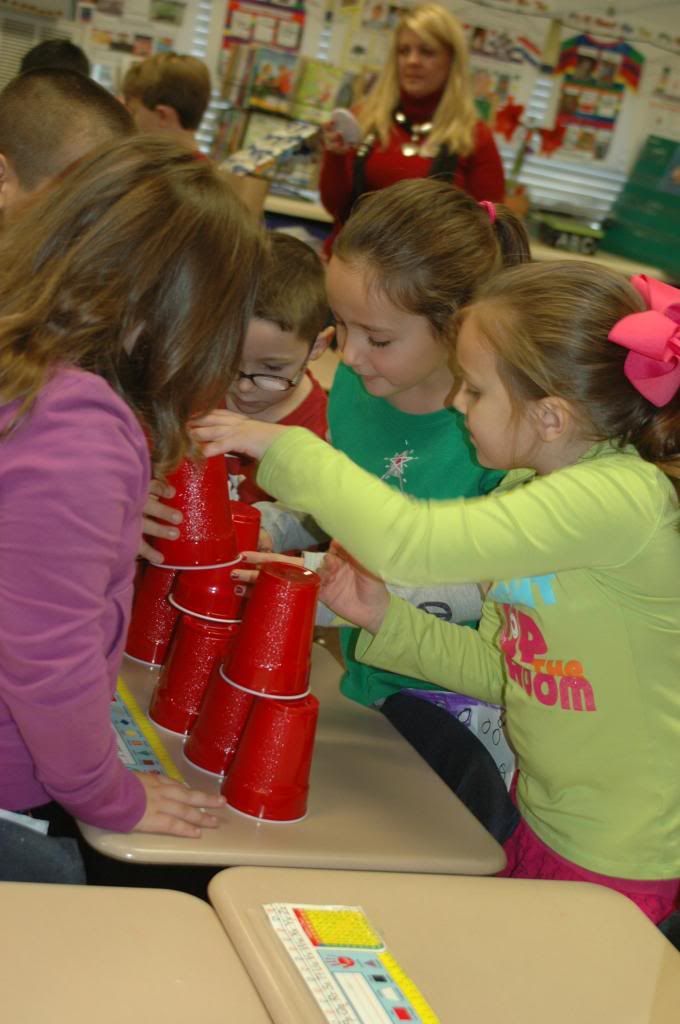 The second game - Solo Trees. Each student in the group had two cups. When the game started, you had to stack the cups up to make a tree. The students could check out after the party was over, if they wanted to. When people began disappearing, Katie made sure I knew that she didn't want to leave. This is a first for her. When I picked her up at that regular time, I asked if she had a good time after I left. "Yes!" said she with a grin on her face.
I have to tell you this funny Colton story. When we finally made it back home from our class Christmas party, it didn't take Colton long to remind me about the gift opening. He really wouldn't give me a second to sit down and figure out which was what. He found an Avengers' wrapped gift and thought that was the gift for him. I tried to feel around to make sure it was a toy and not clothes. Honestly, these gifts had been wrapped for so long that I forgot what was what. I asked him again if he was SURE this was the gift he wanted. "Yes!" he said. Okay. He ripped it up, box and all. Low and behold, it was a pair of pjs and underwear. HAHAHA!!!! He didn't have that many from us, so I didn't know what to do. You would have thought that I just took a big lollipop out of his mouth and put it in my mouth. Disappointment was written all over his face. He begged me to let him open another. The problem was that he only had two more presents from us. Oh well. I thought. I felt around and found a Toy Story wrapped gift. I knew it was a toy, so I gave it to him. Not remembering what it was exactly. I thought well, I'll wrap the clothes back up and all is good. As I was trying to fix the box, he tells me that he just unwrapped Zayden's gift. "No you didn't" just so sure of myself. I was thinking how silly he was to think that he unwrapped Zayden's. How silly was that! Just then, a lightbulb went off. "Wait a minute." I turned around and looked. Yep! Sure enough, it was Zayden's gift. Ugh! I had forgotten that I paper coded everyone this year. They all had tags, but who looks at them? Right? Ugh! Can you say "STUPID"!?! So, I ended up re-wrapping two gifts that afternoon before picking sister up from school. HAHA!
Preparing For Santa
We still had some preparation for Santa's visit. Lots of cookies to bake and a gingerbread house to assemble. I was completely wiped out that night. Shew!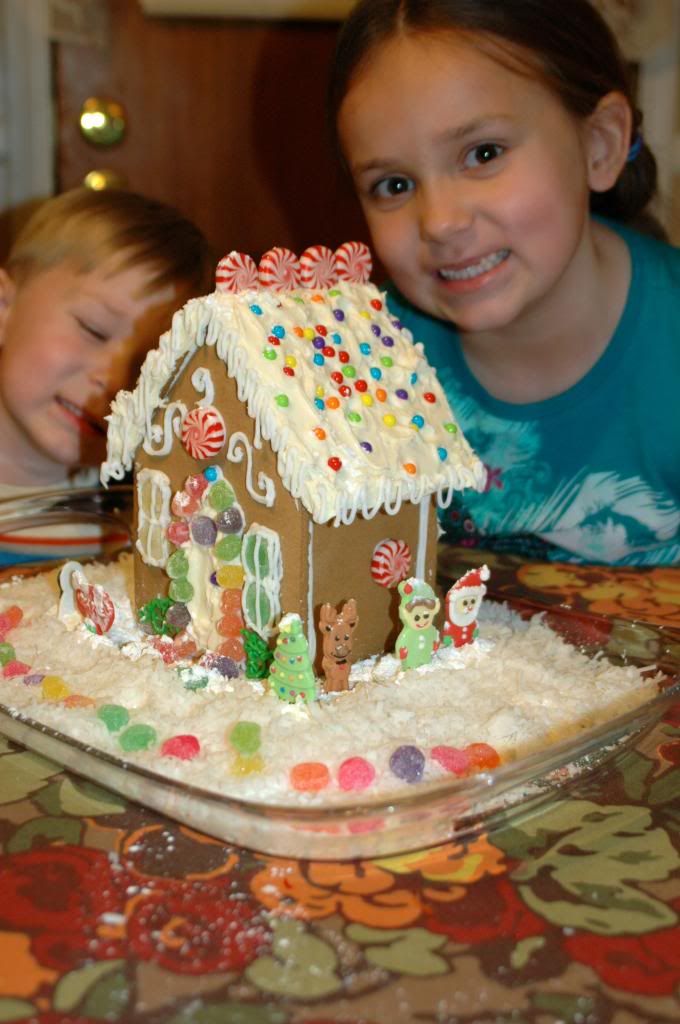 I tried piping this icing. Ugh! I remember why I hate piping icing on a gingerbread house. My hands were throbbing when it was over. Check out the steady hand craftsmanship and lopsided windows. LOL! You can tell this was done at 9PM. HAHA! Oh well, it's just for kids. Only Katie knew the difference.
These are the cookies I had on my platters for our Christmas parties. I ended up making two batches of each kinds - about 4 dozen of each cookie.
Go Here
for the recipes and other information.
Shown Above: (L-R: Reese Cup Cookies, Crimson Tide Truffles, Soft and Thick Sugar Cookies and Chocolate Chip Cookies)
Kids settled in the Living Room by the Christmas tree. It's a family tradition to sleep by the Christmas tree one day before Christmas. We always watch a Christmas movie right before bedtime. We use the Christmas lights from the tree as a nightlight until the kids are fast asleep, then we turn the tree lights off. The kids love it! This is the first year, momma didn't sleep with them. They asked me if I was sleeping with them, but I get so sore the next morning that I slept in my own bed this time. They did just fine and drifted off to sleep rather fast.
Family Christmas Parties
Dad and mom hosted our family Christmas party. The FOOD, it was unreal the amount of food. Everything was so good along with the company. I think everyone had a good time. My entertainment was watching the kids. Ryan's girlfriend, Angie was able to bring her children. Katie and K seem to get along so well. Zayden was into everything. So funny! I got tickled how he loved getting in boxes. They were his kind of toy to play with.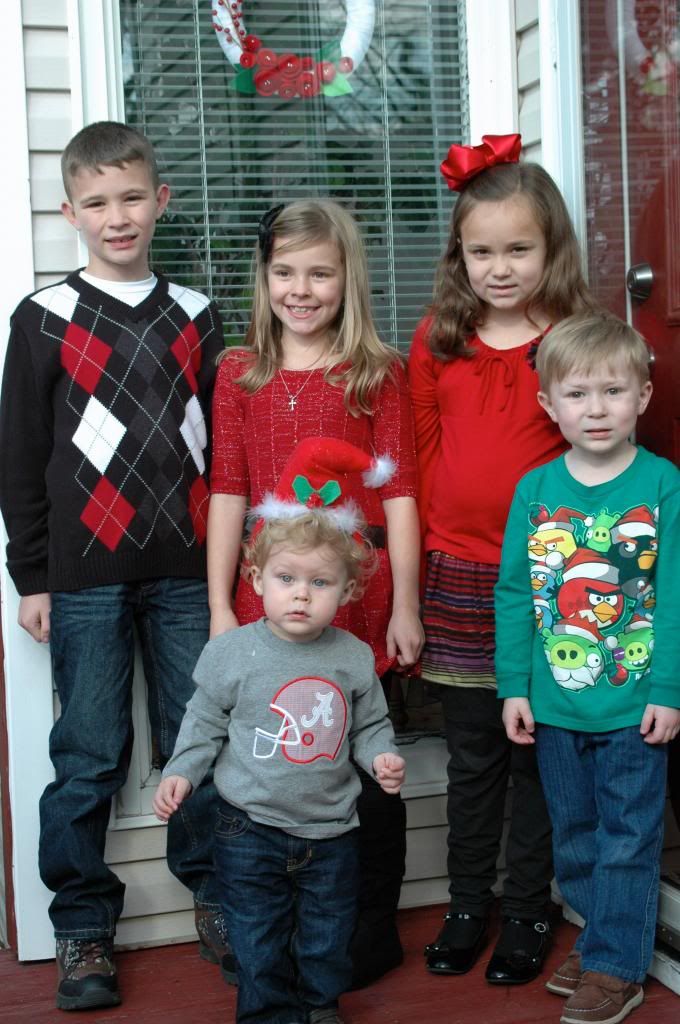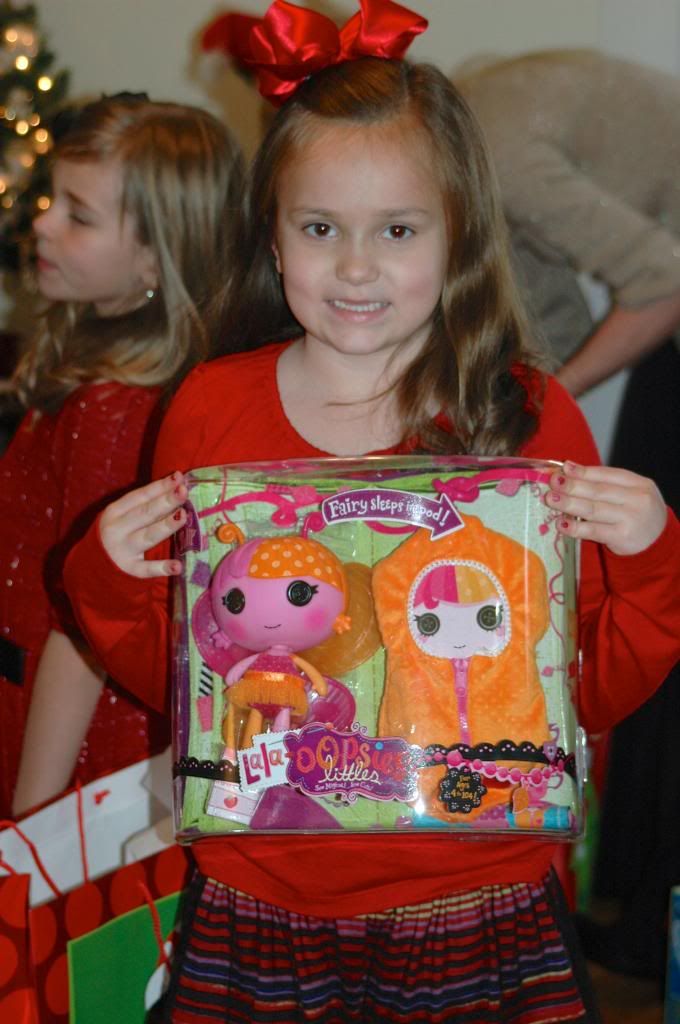 The wreath I made mom fit perfectly in her side window!
Katie loves her new Lala Oopsy from Grandma Jerry and Papa John.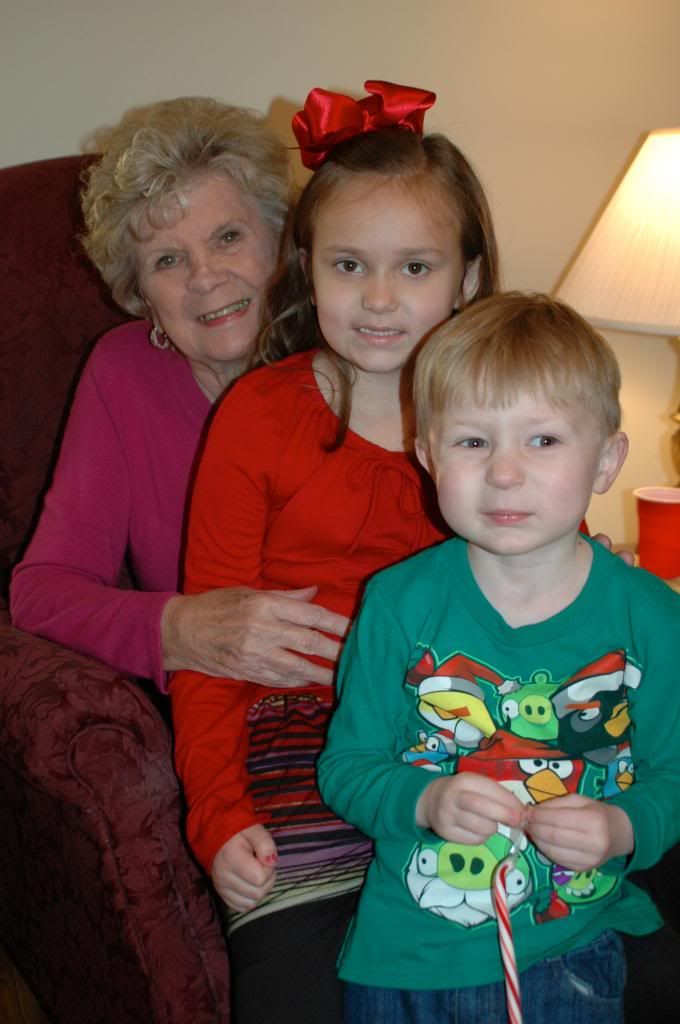 Colton FINALLY got his Hulk from Grandma Jerry and Papa John.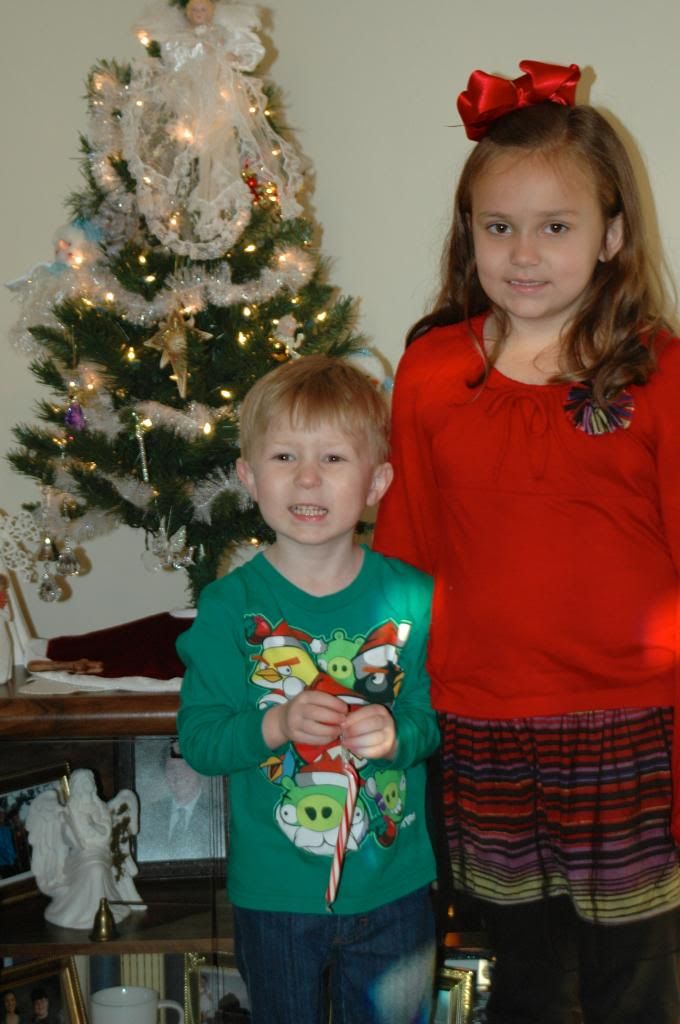 Kids in front of mom and dad's Christmas tree.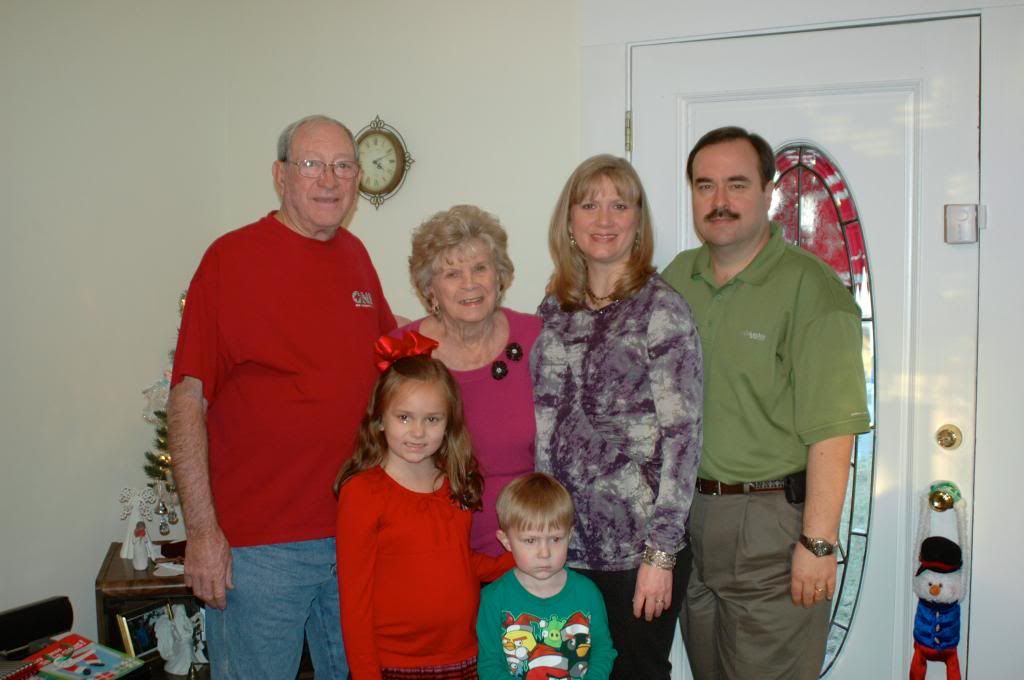 Family Christmas Photo
Christmas Morning
You have to understand, every year in the past, we've had to drag Katie and Colton out of bed to see what Santa Claus left under the Christmas tree. I'm happy to report, this is the first year, my children came into our bedroom waking us up with shrieks and squeals of excitement. They wanted us to hurry up and go with them to see what Santa left. Too funny!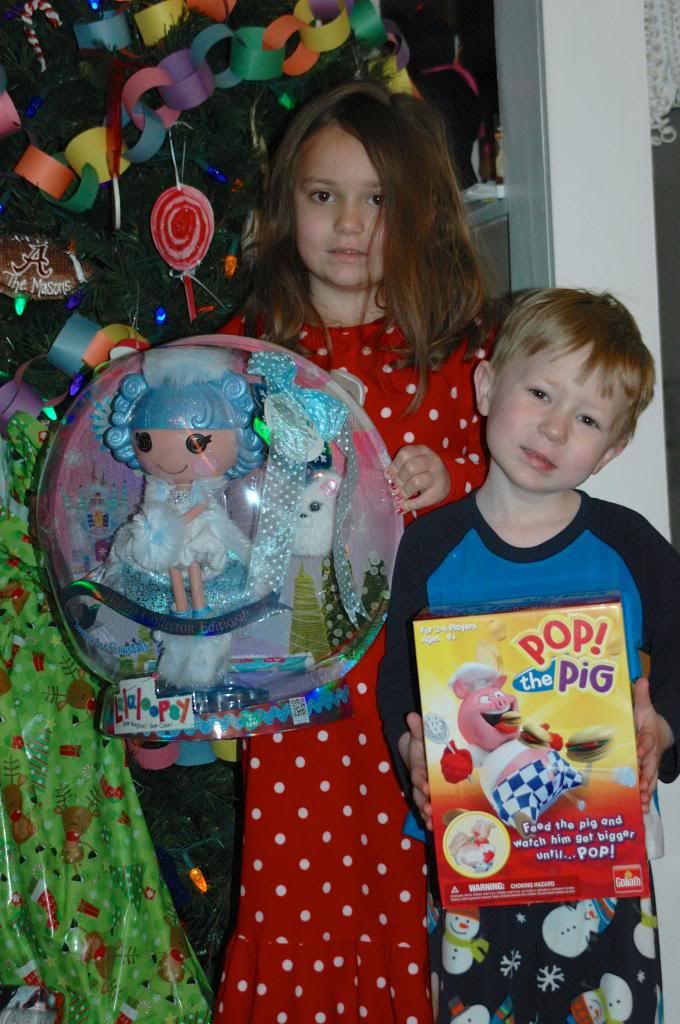 Merry Christmas 2012!
Santa must have a lot of patience and understanding because the kids got everything they asked Santa Claus. Wow! Katie received dolls galore and Colton, his games - Doggie Do and Pop the Pig. What fun!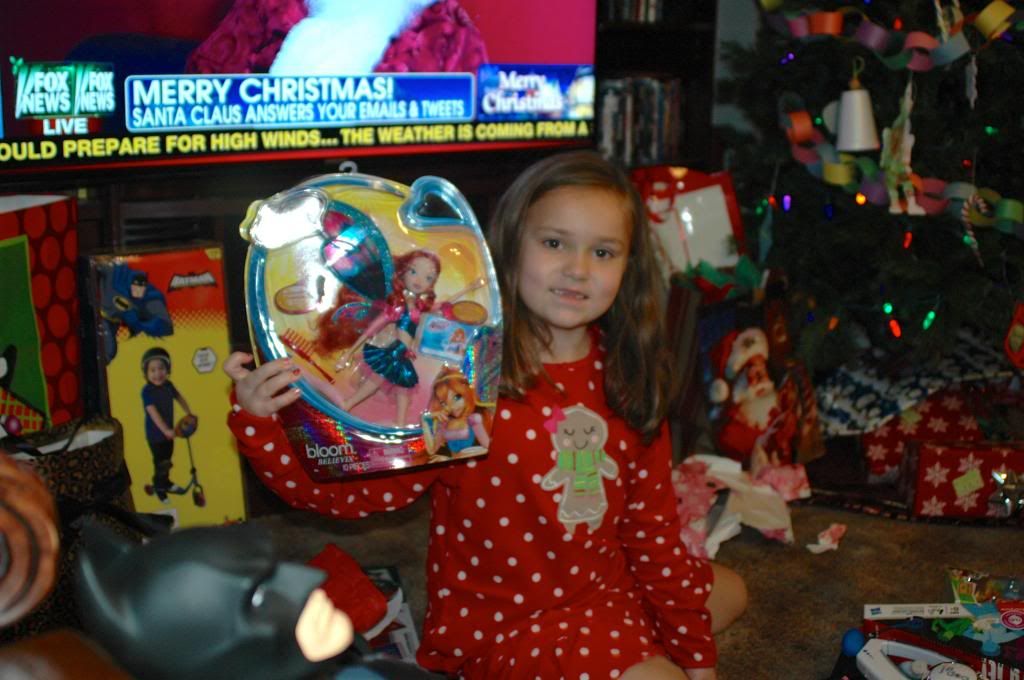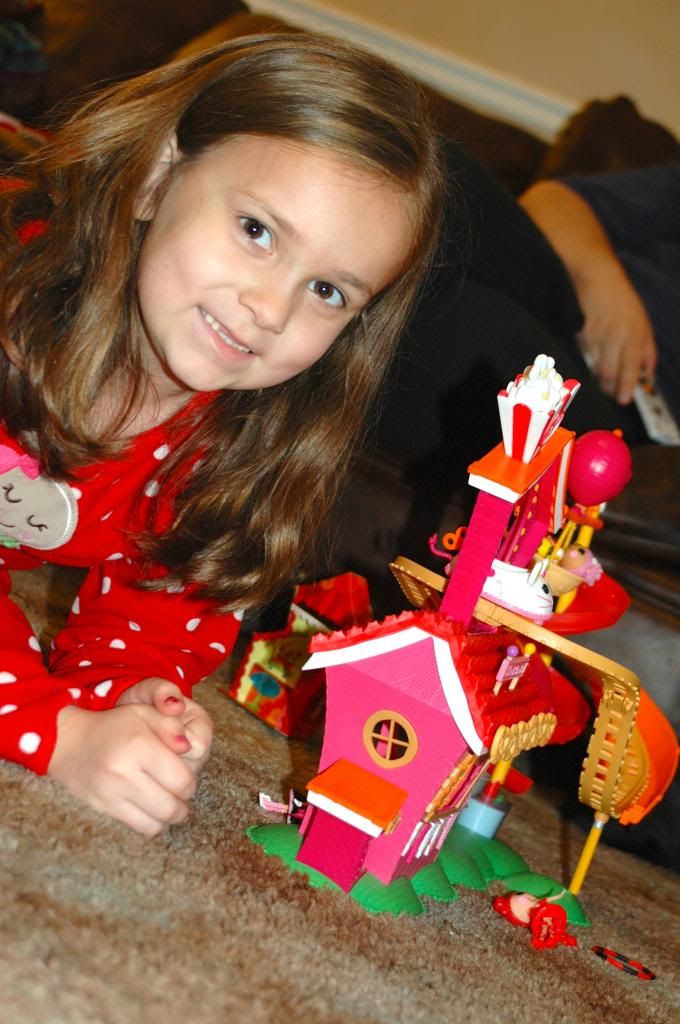 Colton told me that he loves his Pop the Pig so much. He just couldn't believe that Santa would leave these toys for him. Katie is playing with her Mini Lalaloopsy Roller Coaster set.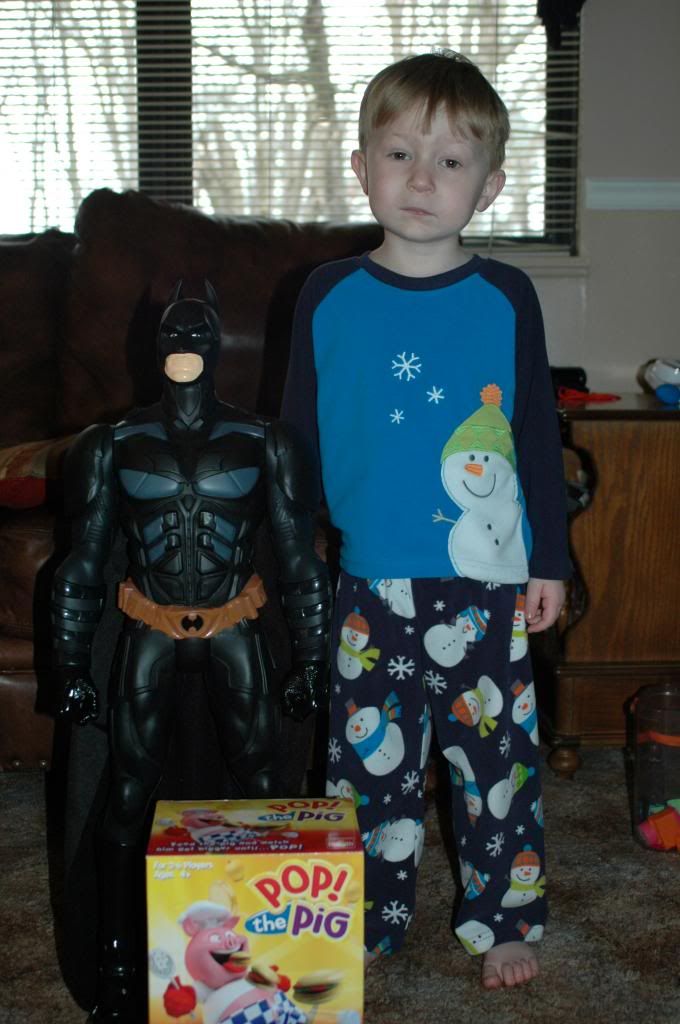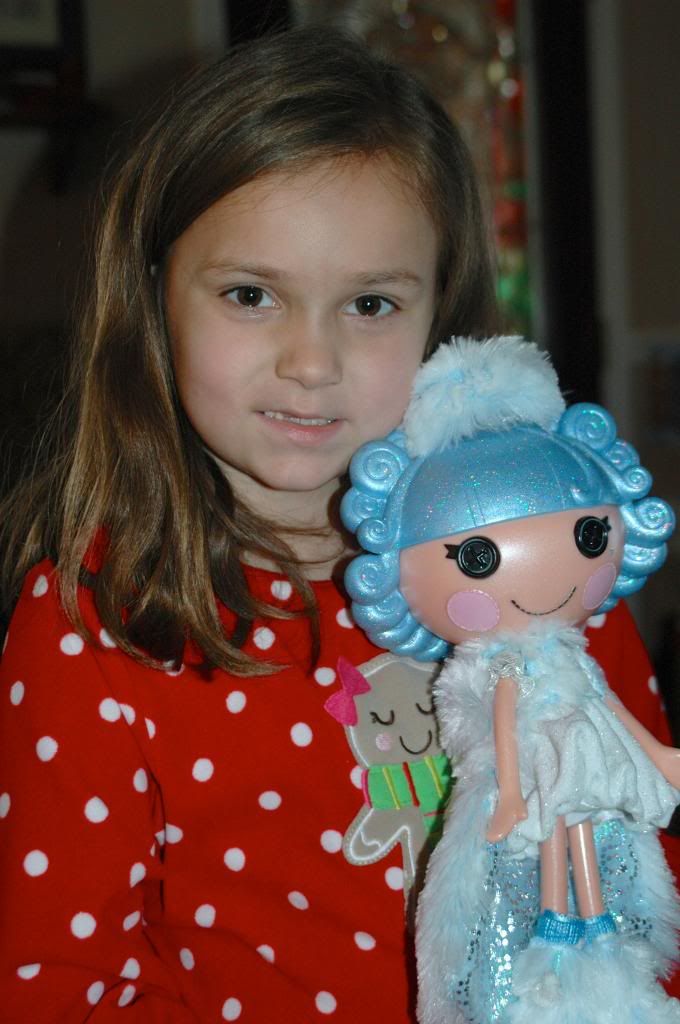 Check out Colton standing beside his 30" Batman. HAHA! Katie was so surprised to receive this beautiful Lalaloopsy Ivory Ice Crystals from Santa. How special.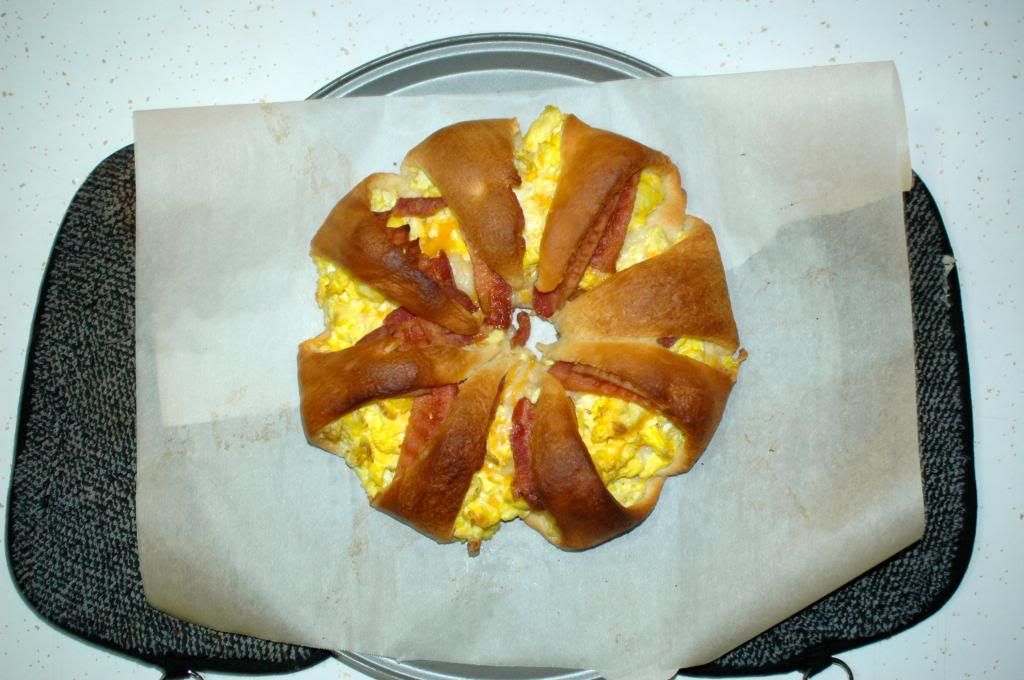 I wanted to try something different than the usual Breakfast Casserole. I made a Christmas Breakfast Wreath this time. I got the idea from Pinterest where
Bacon Time with the Hungry Hypo
posted this recipe. It was so easy and simple.
Breakfast Wreath
Ingredients
:
1 can Crescent Rolls
5 eggs, scrambled
8 pre-cooked bacon
Shredded Colby-Monterey Jack Cheese
Place some wax paper on a large pizza pan, so it won't stick. Assemble your crescent rolls around in a circle. I overlapped the rolls a little to make a small circle. Make sure the points of the rolls are pointing outward. Sprinkle a handful of cheese on the thick portion on the rolls. Place cooked bacon along each roll, cooked-scrambled eggs on the thick portion of the rolls. Fold the points over toward the middle. Place in a 375 degree pre-heated oven for approximately 17 minutes or until the crescent rolls are brown. According to the website it is great with your favorite salsa.
So good!
At lunch time, we went to Doug's parents house for Christmas. Had MORE food and sweets and unwrapped gifts. Had a great visit!
It was crazy, for Christmas Eve and Christmas Day, the weather had been warm and humid. It rained quite a bit Christmas Eve and all day Christmas Day. Some areas south of us had tornadoes. It's bad to have this kind of weather for Christmas of all days. The highs were in the 60s both days. As soon as the front passed through, temperatures dropped all day and night. The day after Christmas the temperatures were in the 30s and it snowed off and on all day. This morning, it was in the 20s and I don't think it got past 37 degrees today. For the next few days, we are suppose to expect these kinds of conditions until New Years Eve.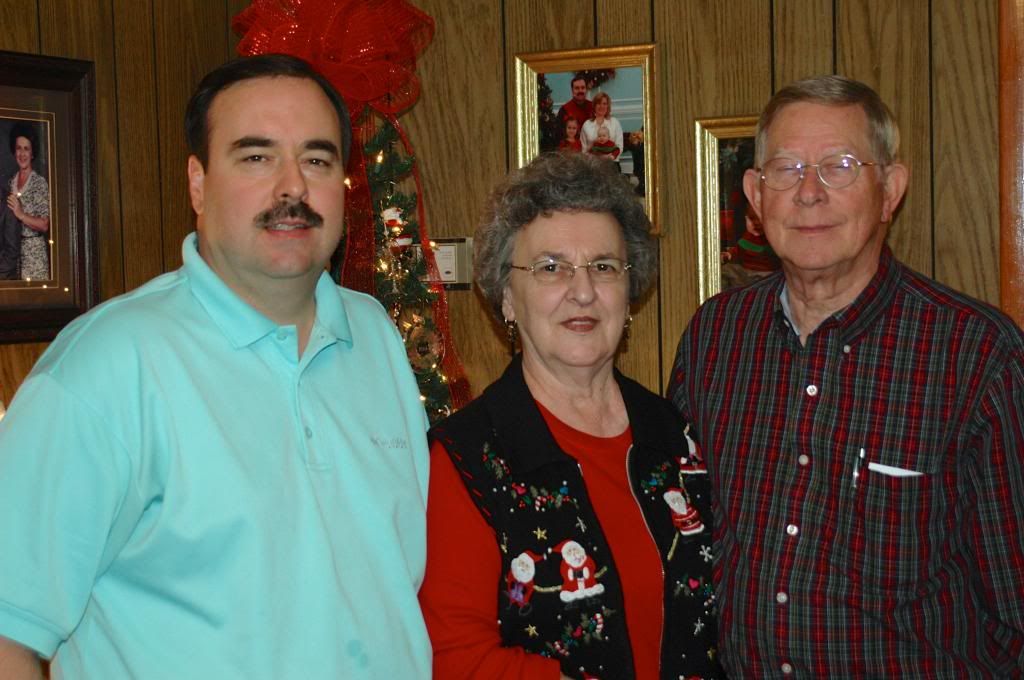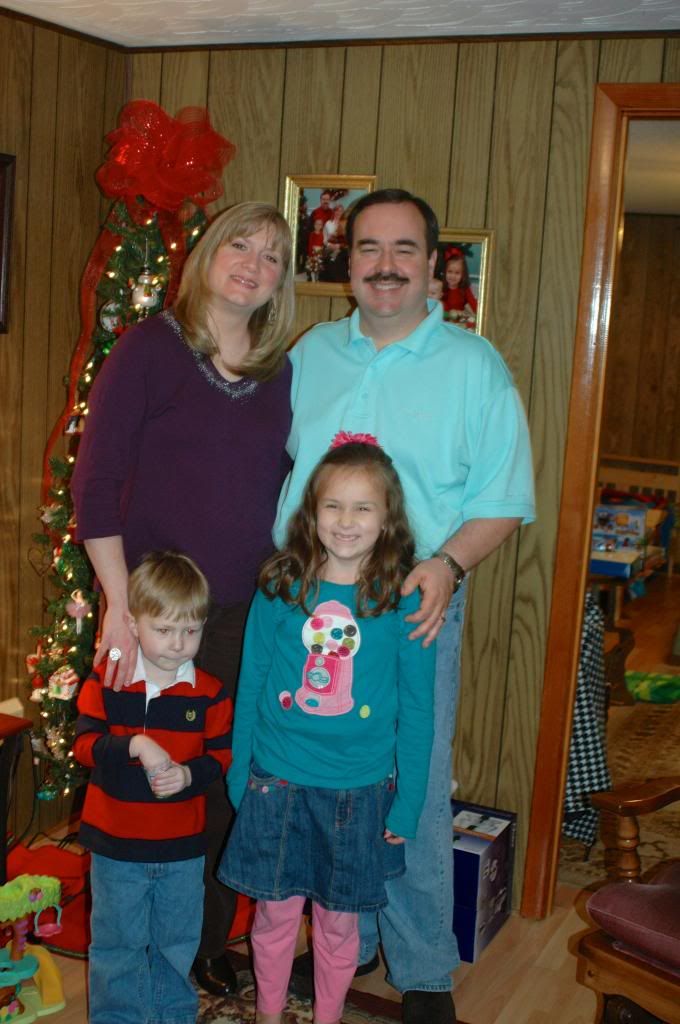 I hope you had a wonderful Christmas holiday and hope you'll have an awesome New Year!