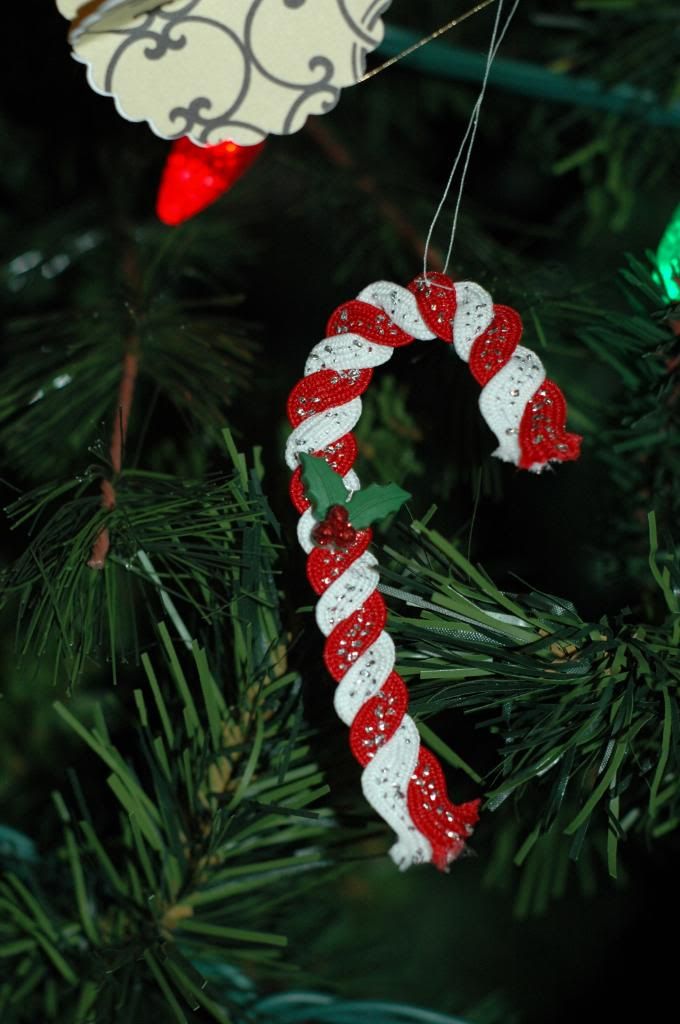 Ric-Rac Candy Cane Ornament
I got this idea from the Better Homes and Gardens magazine. I found this ric-rac with tinsel at Walmart and had to have it. This is an easy craft, but must have patience.
You Need:
2 different colored ric-rac trimming (white & red)
Fabric glue
Fabric Stiffener
Embellishments
Thread and needle
1. Cut ric-rac to the desired length. You'll have to play with it.
2. I glued the two ric-rac trimmings together with a little fabric glue. Wait until the glue dries a little before twisting them together.
3. Twist the trimmings together and put a little more fabric glue at the end.
4. Shape the trim into your candy cane.
5. Soak the candy cane on both sides with fabric stiffener.
6. Press it between two pieces of wax paper and lay heavy cans on top for several hours or over night.
Note: you may have to spray a couple of layers of stiffener. Trim off any unwanted threads.
7. It's time to decorate - I hot glued holly leaves and ran a piece of thread through the top. Tie in a knot, for hanging.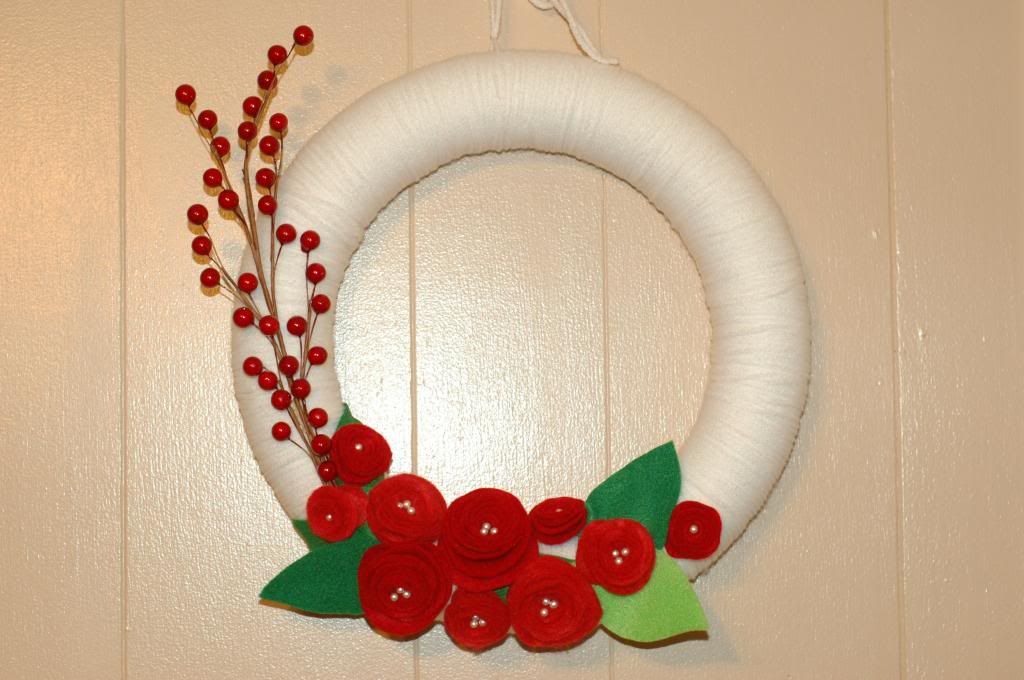 Rose Yarn Winter Wreath
I made this wreath for my parents. I think it turned out so pretty and my mom really seemed to love it.
You need:
Small Round White Foam Wreath
White yarn
Two or Three squares of red felt
One square of light green felt
One square of dark green felt
Round Pearl Corsage pins
Floral Berry Pick
1. Hot glue the beginning of your yarn to the wreath and begin wrapping. I applied two layers of yarn.
2. Cut out different size felt roses.
How to Make Felt Roses, CLICK HERE!
This tutorial shows you how to make the roses with paper, but felt is the same way. My bigger roses I cut between 4-5" in diameter, rough cut. The smaller rose buds are 3" in diameter, rough cut. Instead of hot gluing the bottom on the flower, I stitched a little. This is just to keep the flower in tacked.
3. Fold a piece of paper and roughly cut a template for your leaf. You want it to be a little fat in the middle. I had mine come to a point at the end. I practiced with paper first. Fold your green felt in half, lay the folded paper leaf template against the fold part of the felt and cut along the template.
4. It's time to assemble your wreath - I placed my pieces on the yarn wreath first and then apply the pins. You can get away with just one pin per rose bud, but I added three to the bigger roses.
5. Hot glue the red floral berry pick and shape it up the side of the wreath.
6. Hot glue the leaves. I had to move my roses around a few times before I was satisfied.
7. Tie some more white yarn at the top of the wreath for hanging. You could add a ribbon instead of the yarn. Play with it and have fun!
Katie's Penguin
Mrs. M emailed all the parents last week asking for volunteers to help the kids make Christmas decorations at school. Well, you know me. I responded as soon as I received the message and told her I would be there with bells on and a glue gun in my hand. I really got a blessing out of it. I'm just glad she was okay with me bringing Flash. He did pretty good, I might add. Our station was set up out in the hallway. Mrs. M's husband was there to help out. We had our hands full for a little while, but we got them put together and happy faces on all the children's faces. Each penguin had it's own little personality. Such a cute project for the kids. I'm sorry, but Katie's name for her penguin escapes my memory.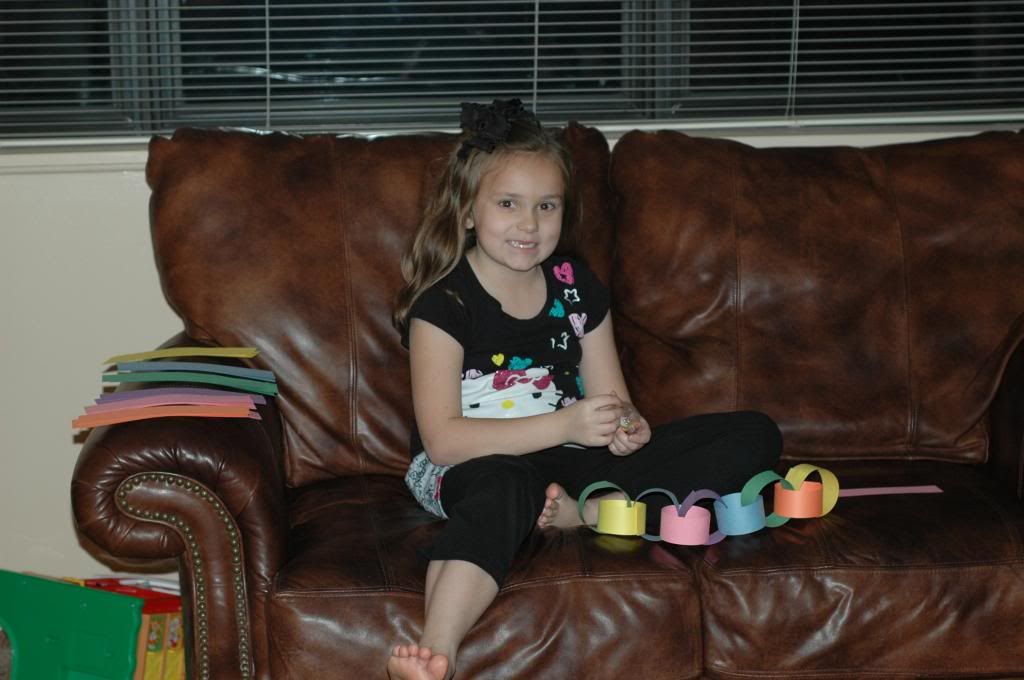 Katie's crafting ability
Our Christmas tree needed some color, so we added paper chain garland and I have to say, it did a lot for our tree. We may have to do this every year until the kids tell me "no, mom that's too embarrassing!"
Our Family Christmas Tree
See it really did a lot! We added the silver aluminum foil star at the top. The key ingredient to get your homemade star to fit perfectly on top of the tree. Toilet paper roll! Yikes! Yes, I did say that. Clean it off first before wrapping it with aluminum foil. I took a little double sided tape and attached the toilet paper roll to the star. Simple!
It's little hard to see the paper garland that I made last week for our tree; thus, the construction paper chain garland had to be made. The above picture is basically how I made it, minus the paper design. Instead of twine, I used gold thread. Very simple to make. If I had advice to pass along, it would be to use bright colored scrapbook paper. I used neutral and dark colors because that's what I had to work with and it didn't show up very good with a green tree.
Because we have a Christmas party this coming weekend, this little elf will be putting her crafting shop aside in order to bake a bit. I've been requested by my favorite fans to make the following for the party:
May the baking commense!
2012 SEC Championship
Did you watch this game? How exciting! You talk about down to the very last few minutes of the game and Bama decided to turn this game around in their favor. WOW! I think I had a couple of heart attacks in the last 5 minutes of the game. Doug, poor baby, stayed outside and put up our Christmas decorations during the entire game, except for the last few minutes in the fourth quarter. He is a BIG fan, so I was puzzled a bit on why he would stay outside during the game. When I asked him, he simply said that he was afraid of the outcome. LOL! When Bama actually won the game at the end, Doug jumped off the couch yelling "YES, YES!" We are ready to watch a good BCS Championship game on the 7th of January against Notre Dame!
ROLL TIDE!