I've been hard at it, when it comes to Colton's birthday party. I believe my husband will be glad when I'm finished. I know the birthday boy will be thrilled when it is time for his party. It is just a close family party, nothing too big. With the help of clipart online, I designed his invites. I wished that I could show you, but I designed them under Pages, which is a document program and can't figure out how to post documents. I guess I'll have to take a picture and show you on the post-party blog posting. They turned out so cute!
I created a few loot bags for the family children. I finished them tonight and I have to say that they turned out so cute.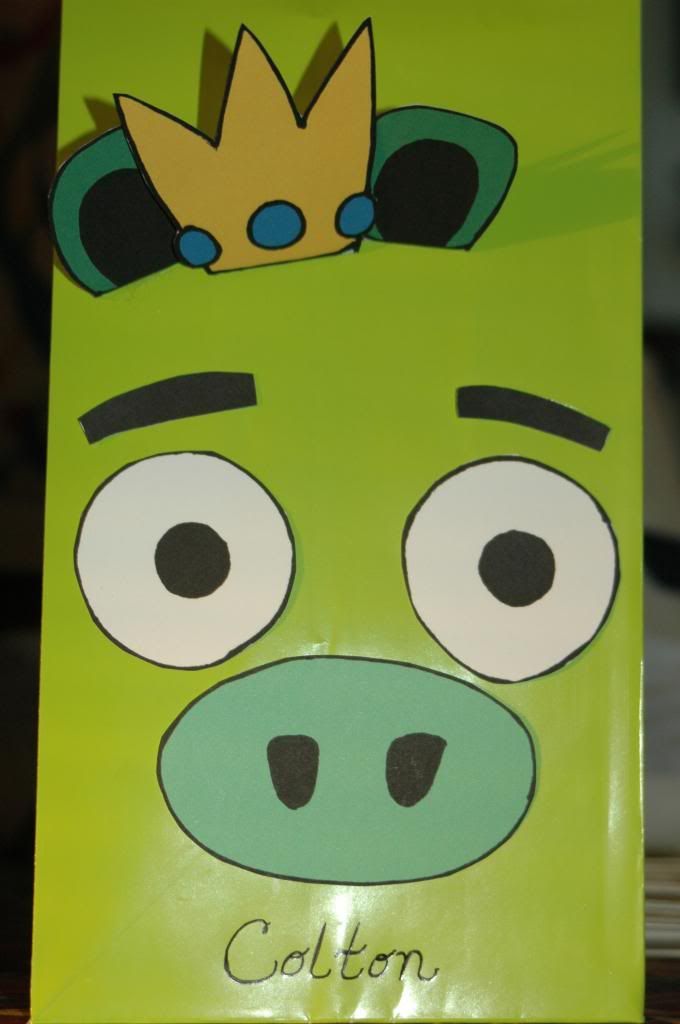 I bought a pack of green paper gift bags and began taping the cut-outs onto the bags. Love it!! I found the idea from Pinterest. At first I was only going to put the print outs on balloons, but then I thought what about for loot bags. I really like how they turned out. We will fill these up with snack baggies filled with Angry Bird Gummies; snack baggies filled with chocolate candy eggs; plastic whistles; flashing light gel rings (for the girlies); stuffed Angry Bird (for baby Z); Angry Bird Mash 'Em (for the boys); Angry Bird Coloring Pages and Mazes.


I am using the Angry Bird labels, designed by Shery K Designs, above. Click on the Source link above to access the free downloads. Shery K Designs has so many more printables for your party needs.

Below are the free printable cut-outs that you can tape on balloons or do like me and use them for loot bag projects.

Click on the above source link to access the free printables.

Colton absolutely LOVED the next printables from "Little Plastic Man." He thought they were awesome! He thinks I made them for him to play with, when I really made them to set around the house.
Click on the Source link above to access the free printables.

I do plan on making the Angry Birds cupcakes for Colton's party. I was pleasantly surprised to easily find the candy eyes and bags of black pull apart Twizzlers candy in order to make the eyes and eye brows. It will make it much easier for me to create these birds. Because we are having a smaller party, I will not be make all the different colored birds. I will only make the red, blue and maybe the green nest with eggs (I like this idea). Aren't these birds cute? Colton loves them!
I've decided to go along with the theme and since will be having a few children, I have a few games in the line-up. I found a fun sounding game online. We bought some PVC pipes. What am I going to do with PVC pipes, you ask? Well, we will make a frame and stake them into the ground. Tie green "pig" helium filled latex balloons to the frame. I've thought about sticking score circles to each pig. The object of the game is each child will have a chance to throw 5 beanbags at the balloons. If they hit the balloon, they will get the points that is shown on the balloon. This will be similar to the online game. Whoever has the most points, WINS! I will be sure to follow-up with pictures and game rating after the party.
I plan on having an Angry Bird Egg Hunt. All the bad piggies have stolen the birds' eggs. Where are they? Whoever finds the golden egg, will find a gift inside the egg. Whoever finds the most eggs, will receive a prize.
If it rains, I have the ol' standby - stack small plastic cups, place stuffed pigs on top of the cups. Using stuffed birds, who can knock down the most cups?

Of course, we will also have the bash the piñata. When we picked out the piñata, Colton and I liked the monkey. We've got a huge bag of candy for the kids to gather up. LOTS OF FUN!!


I have enjoyed planning and preparing for this party. I really feel Colton will have a wonderful 4th birthday. I do ask that you please pray for a warm sunny day on his birthday and more importantly, my niece won't go into labor on his party day. I did tell Whitney that if she did go into labor, not to worry. We would have a quick, blow his candles out, open a few gifts and we will finish the rest of the party at the hospital. HAHA! She will be 39 weeks on Colton's actual birth-date, so that would be awesome. This is beginning to be a tradition, family members sharing birthdays with other family members. My husband shares his birthday with our nephew, Jon. My niece shares her birthday with her first born child. I think it's neat!
Upcoming Posts
~
I made my first photo plaque. Find out how I did it.
My niece's basketball team win the Gulf South Conference. See photos.
My latest movie review.