Well, I have to say that it has been a very emotional end of the year for me. Yes, I said me. I can't for the life of me understand where time has gone. From one mom to another, embrace every moment that you can because one day your children will be gone. They will be out of the house, gone to college, work and starting their own life. I know, I'm getting too far ahead of myself. Katie will only be going into the 3rd grade, but one day I will be out of time.
Again, we had another fabulous year with a great teacher, principal, staff, students and very supportive parents. Right now, I have to thank and applaud our school district parents for being so involved and supportive of their children's lives. Wow! I know when I needed help with getting a party together, it didn't take long for parents to step up and offer an extra hand. A lot of them didn't know me from Eve, but they were there asking "what do you need?" or "can I help in anyway?" It's wonderful and I'm sure that it means a lot to our children's educators. I hope and pray that it will be this great all through elementary, middle and high school. Some of us have begun planting seeds of friendships with other parents. In hopes that we will be there for each other and our kids. It's awesome!
I know Katie's got a birthday coming around the corner and I seem to always see just a little bit of her growing up. Whether it be her clothes size, shoe size, her missing teeth finding room for new permanent ones. The way she acts around others and her attitude towards life. The way she tries to be more independent by making her own lunches or snacks and dressing herself. I've noticed how she tries to match her outfits better. At times, she'll ask me if the clothes that she has on actually match. She makes sure that I see her being a little more responsible, by cleaning up her room and putting away her clothes and shoes. She's not a baby any more. She is a young lady. She stayed the night with my eldest sister yesterday. Maryann was intrigued how cautious she was in a vehicle or if she needs to ask mom's permission before accepting anything from anyone. They went shopping this morning and Katie asked her if she had a front seat airbag. Maryann said yes. Katie told her that her mama can turn it off, but if she can't than she can just sit in the back seat. Another time was when Maryann offered to give her an old makeup bag that she never used, to store her squinkies. Katie told her that she would have to ask her mom if it would be alright because I instructed her to keep her squinkies in this ziploc bag. It's a 2X gallon size bag, I gave it to her because she had so many squinkies. She was getting so many that I wanted to make sure they all could fit in one bag. I also didn't want Zayden or the vacuum cleaner to get ahold of them. Bad news! That is why I told her not to put them any where else. When Maryann was telling me all of this a few hours ago. I laughed because I thought it was cute, but I also told her that it makes me feel good. I feel good because I know she's listening and taking some of my advice. Maryann assured me that she couldn't change Katie's mind until she talked to her mama. "Good girl!"
Katie has worked so hard all year, especially having to hear me lecture and teach her every evening. "Work first, play later!" or "have you read your 2 chapters this afternoon?" How many times, she has begged me to let her go outside and play before doing her homework or let her watch a little television before finishing her math, to hear me say "NO!" Now, it is the end of the year. Homework began to slack to just reading every afternoon. Recess became longer and longer and science class was no longer. PE was having fun outside playing tug-of-war and water relay with her other classmates from other classes. We went from hard nose study to relaxing and enjoying each other. She's made some terrific memories and I can't wait to document tons more in the future.
Katie and I thought it would be a treat to give the kids in her class a little "Have a Great Summer" type gift. Nothing spectacular by no means, but some little something. I wanted to do this last year, but never got around to doing it. I got the idea and free printables from
Eighteen25.
I picked the bottles up from Dollar Tree. They were $1 each and I bought a box of Kool-aid Singles to attach to each one. Girls fought over the pink bottles and the boys wanted the green and blue. Of course!
Field Day
It was a great day for Field Day at school. The PE Department put this together. Of course, it was one of their fundraisers as well. Parents buy tickets for the kids to play on the bounce house, sports challenge, blow-up slide, candy, food and drinks. I liked it because families could come and enjoy the festivities as well.
All 2nd grade classes compete against each other in the water relay and tug-of-war. Katie's class won the tug-of-war challenge. It was awesome watching those little kids giving all their might.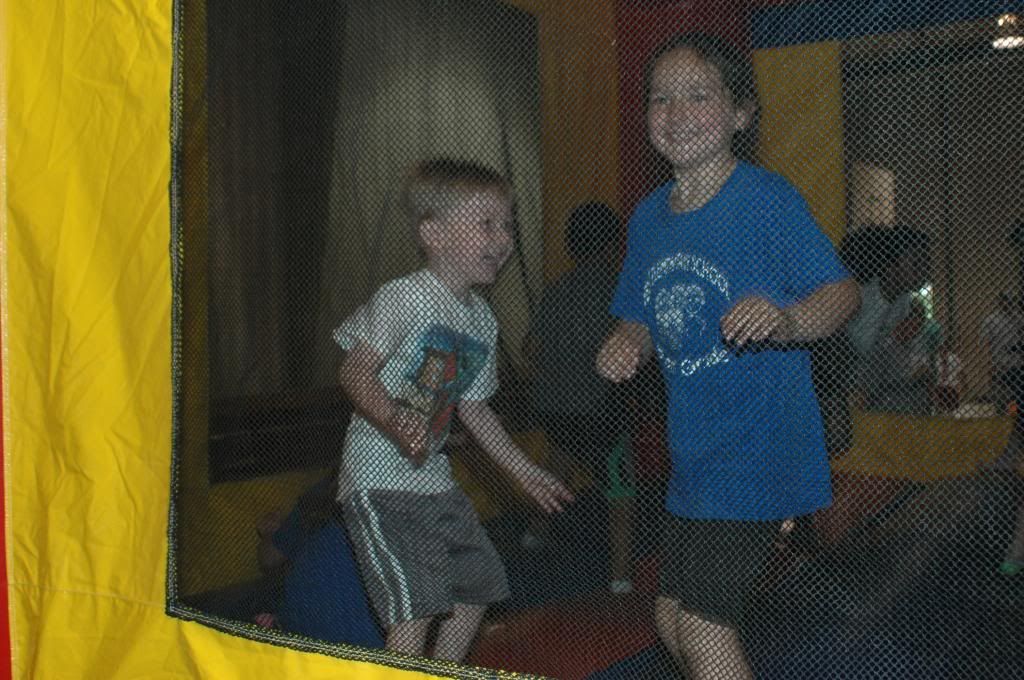 Colton loves Katie's classmates and they really like interacting with him as well. He had a blast!
Can you tell from the picture above that Colton was having a good time? LOL!
AWARDS
Our new principal, Mr. P, passed out outstanding awards to all 2nd and 3rd grade classes during the morning hours. All family members were invited to attend. Doug was able to get away for a few hours. I picked up my mom and Millard came with Doug and Colton. I think it means a lot to Katie to know that she has her family supporting her all the way.
Katie made the "A" Honor roll and I finally have my "my child's an Honor Student" sticker. Now, I just need my SUV to stick it on. No rush. I got chills when all the "A" Honor Roll students were asked to stand up. Most all 2nd and 3rd graders stood up to receive their certificate. Wow! I was completely touched at that moment. Even my mom said "wow!" I am just so proud of all these young minds working hard and reaping their reward. I mean, look at these little smiles. You know that they are proud of what they have accomplished.
Katie also made the top 5 AR points for the 2nd grade. She came in #4 with 213 points by the deadline, which was on May 10th. Of course, if you talk to her about it, she will quickly tell you that she has more than 220 when it came to the last day of school. Regardless, we are so very proud of her and the hard work she put in to accomplish this great award. Three out of five top students came from Mrs. M's class (Katie's class). I thought it amazing!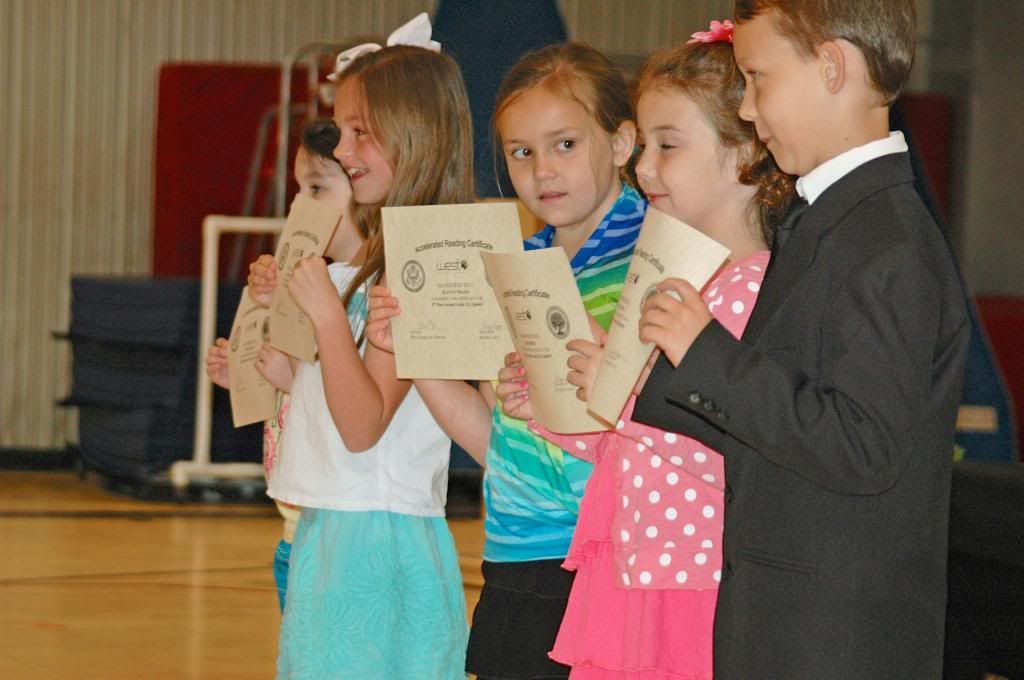 Mrs. M called me a couple of days before the awards ceremony and let me know about a surprise award, Katie would be receiving in class. This awards ceremony was separate from the whole 2nd and 3rd grade class awards.
Katie was awarded "Outstanding Classmate" for 2013. She was shocked and I think a little embarrassed. She was beside herself. I was very moved by the nice things Mrs. M had to say about Katie. It means a lot to a mom that tries her best to do what is right for the welfare of her children. I know my children are spoiled brats at times, but when they are recognized and others apparent for who they are, it does make a mom breathe a little easier and might wipe a few tears away from her cheek.
Here are all of Miss Katie's awards, now hanging on her board in her room. One thing during the awards ceremony, I thought was nice. The principal recognized and thanked the students' parents for supporting their kids during the school year. I thought it was so nice because we work very hard. We make sure that they get plenty of rest, good meals, help them with their homework, make sure they are on schedule, help them with class projects, field trips, PTA, and anything the teacher or homeroom mom ask of them.
PARENTS ROCK!!!
Doug and I have been trying to get back on our regular daily diet routine. It has been very hard with all the running around, no time to cook, "let's eat out moments." Ugh! It's killing me!
I was at Target and needed some more almonds. Doug likes the hot Washabi Almonds, but I usually just get the raw or roasted. Well to my delight, I came across this bag of Toasted Coconut Almonds. Oh it sounded so good. It could have been that I was craving sweets at the time, but I just had to try them. Oh. my. They are so good and when you know you can't eat any GOOD stuff, you'll settle for anything. Honestly, these are really good and my new favorite healthy snack.