The day after Memorial Day, the kids and I went to my niece's house to pick up our new member of the family. My niece, Leslie, said she found a kitten at her front door one morning and it wasn't her cat. He had a cut above her lip and a missing tooth. This precious little kitty needed a forever home. I told Leslie that it didn't matter what he looked like, we needed a cat just like he needed a family. It's been a perfect fit. The kids fell in love with him immediately and I think he likes us as well.
At first, we didn't know if he was a boy or girl. We took him straight to the Vet for his first shots and check up. That is when we found out that our LuLu is really a Louie. When I told the children, Colton said that he still wanted to call him LuLu. Katie thought it was silly to call a boy cat "LuLu," a girl name. She said that she would call him Lou or Louie.
We love our LuLu. He is such a sweet little boy and loves our attention. His cut has healed on his lip and we don't worry about his missing baby tooth. Katie has a new friend to stay outside with her and keep her company. LuLu loves chasing after Colton's fishing lures. Colton has a little fishing pole with a rubber fish at the end. When he cases out the lure, LuLu goes running after it. I got so tickled at Colton and LuLu the other day. Colton cased out the lure. As soon as LuLu jumped after it, Colton went running away, the lure bouncing behind and LuLu at it tail. Both Colton and LuLu were running all over the yard. Colton LOVED it, giggling and laughing at LuLu chasing him. LOL! I will have to video this event, if it happens again.
Saturday, we were gone to an open house at Doug's work. When we got back, LuLu had us a reward laid out in our carport. He caught his first mouse. It was a baby mouse, but a mouse nonetheless. I was so thrilled to know that we had a great little mouser in our family. We all praised him and let him know this was very good. Oh he was so proud of himself, getting our attention and going to the died mouse and meowing.
VBS 2013 - Colossal Coaster World
This year was Colton's first year at Vacation Bible School. The first couple of days was not his favorite because we had to get up so early. By the end of the week, he had so much fun and couldn't wait to go back. He still didn't like getting up early, but couldn't wait to go play games. Because Colton got to be a part of VBS, I volunteered to be Katie's Crew Leader. We had 8 children in our little group. They were all 1st and 2nd graders. I had a great little group and pray God will be with them on their life journey.
The children love going up on stage with Miss Erica, singing the theme song.
Recess time - the kids loved getting outside and just running around. We had a few teenage boys outside, getting the kids involved. It was fun watching them.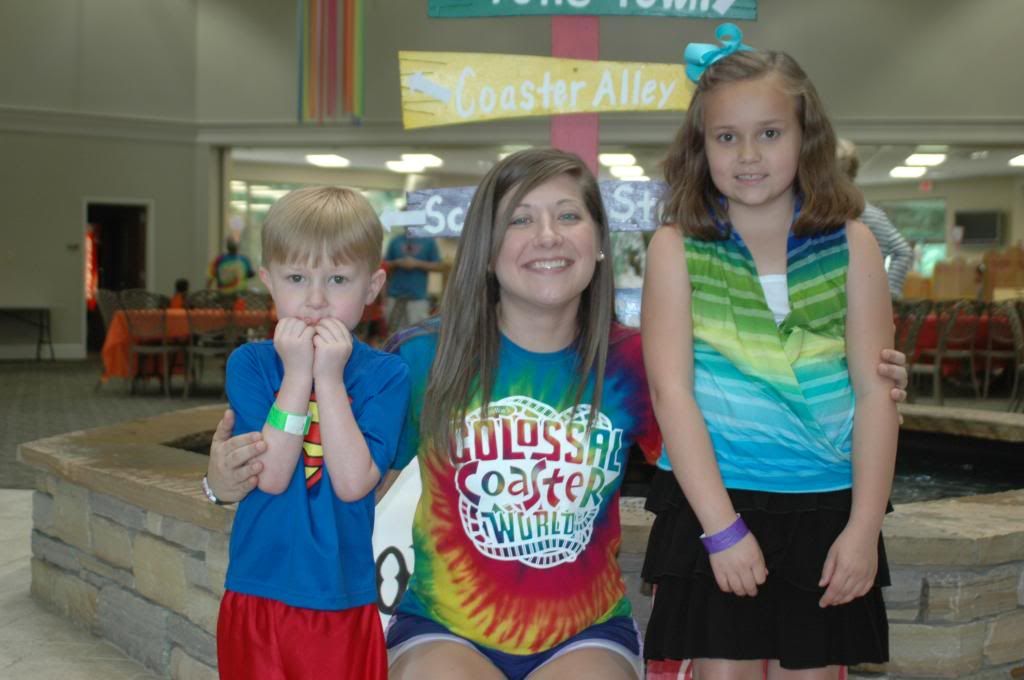 Colton & Katie with their Children's Director, Erica. They love her so much. She is awesome with the kids.
HAPPY 18TH ANNIVERSARY!!
On this day 18 years ago, Doug and I joined hands and became one with a covenant with God in matrimony. Our marriage has been a roller coaster. Lots of ups and downs, turns and scary moments. We have survived every moment, good and bad by the grace of God. Doug is my best friend and my rock. Some one to hear me, love me and give me good advice. With age and years under our marriage, God has allowed me to love Doug more today than yesterday. I ask God to allow us many many more happy years together as one.