New Year's Eve, we went to a birthday luncheon at Logan's Restaurant. I love their chicken tenders and rolls. Yum! Doug's cousin invited us to come celebrate her husband's birthday. Afterwards, Millard and Peggy took the kids shopping and then back home with them, while Doug and I went to watch Natalie's basketball game.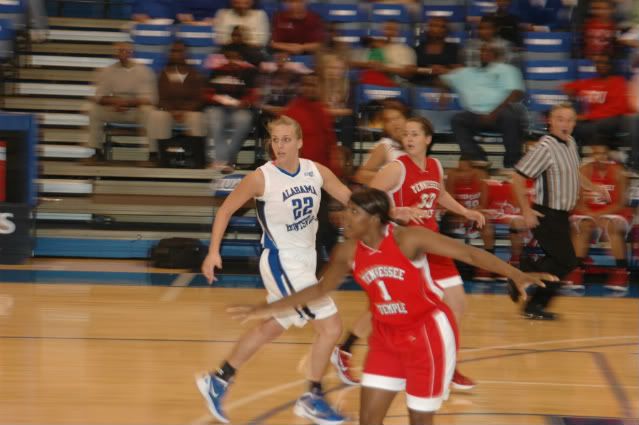 We had a great time, visiting with everyone and watching UAH blast Tennessee Temple. I believe Natalie made 7 or 8 points in this game. Natalie plays on the starter team. They were so far into the game, point wise, that coach began putting in the second string. They didn't even slow down our second string because we were still putting the points on the scoreboard. I believe the final score ended up being 117 (UAH) to 37.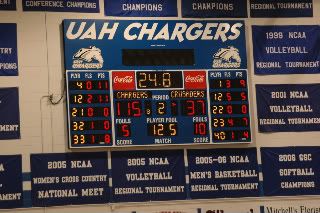 After the game, Natalie and Leslie invited Doug and I to meet up with them and their boyfriends at "Buffalo Wild Wings." We had a good time and their Honey BBQ Boneless wings were delish. Maryann ordered the Parmesan Garlic wings. It sounds yuck, but I tried them and they were really good. Maryann and I were discussing how good it would on a baked chicken breast. I will have to work on that dish.
That night, Millard and Peggy came to our house to help celebrate the new year. We had our own private party. Doug bought the XBOX 360 Forza Motorsport 4 some time back, but I never really got to play it until over the Christmas vacation. We were telling Millard and Peggy how much fun it was. We talked ourselves into getting it out and playing a few races. We even got Peggy to try it out. We laughed so much. Katie loved driving just so she could see how bad her car looked after the game was over. So funny to see how beat up your car gets. I absolutely recommend this game. It's just a lot of fun.
Millard and Peggy didn't stay with us until midnight. They were wiped out and ready for bedtime. We stayed up long enough to watch the Moon Pie in Mobile to fall and a little New Year's Rockin' Eve party. The only ones up to say "Happy New Years" were me and Katie, sitting next to me in bed. Uh, we were exhausted the next morning.
On New Year's Day, we always go to Doug's parents for a big pot of greens, cabbage on my part, and black-eyed peas. It's a sin that we ate so much. But I told Peggy that I had better enjoy it while I can because when everything gets back to normal, we are changing our eating habit. I'm cutting back on sodas and sweets. Drinking more water and taking time to do a low cardio exercise each day. Nicholas and I have been discussing my weight loss plan and exercise. He just finished a complete study on good nutrition and weight loss at school. I've told him what I've been doing in the past and he is helping me tweak it a little and showing me where I might be making mistakes with my weight loss plans. He has been very helpful. I've done a little research on cancer fighting foods, getting fit, and possible calorie burning foods. Really, it's a lot more food than I first thought. Basically, Nick told me to shop my groceries around the outside of the aisles and stay away from the food aisles. That's your produce, breads, meats, and poultry. Pray for me. I need all the strength and prayers that I can get. I have to watch my sodium, sugars and carbs. Everything has carbs! That's why he wants me away from the inside food aisles. Makes sense.
Today, Pat, June and Nick came over for a visit. While the guys watched ballgames, us girls played one of Katie's games, "Cinderella." Later, June, Nick and I played "Rummikub" and a card game called "Golf." June won all the Rummikub games and I think I overall won Golf, I love that game. We also got out the Motorsport XBOX 360 game for everyone to try out too. That is until the bowl games started going good. LOL!
Katie is so happy that she gets one more day of vacation before she has to start back to school. She misses school, but we (all) have enjoyed sleeping-in in the mornings. Come Wednesday, it's going to KILL us. Katie and I both have stayed up late every night and slept in every morning.
Ahhh!
Happy New Year!