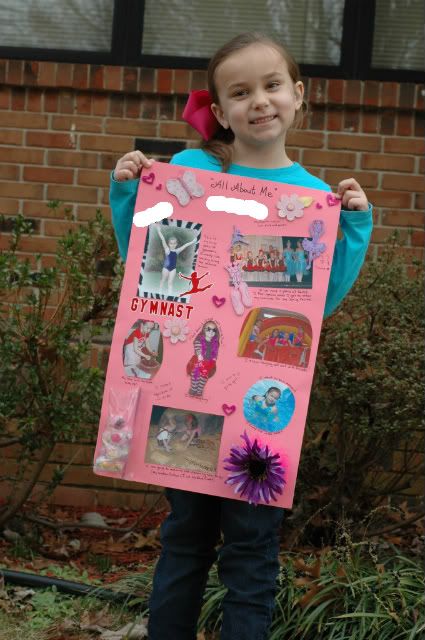 My little Diva was the Star Student for two weeks at school. Calm down. All the students in her classroom has their turn being "Star Student." This gives each student an opportunity to get to know one another and Ms. G to know more about her students. Diva loved the fact that she got to show her classmates a few of her Squinkies that she collects.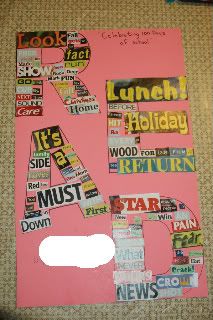 Last week, Katie's school celebrated 100th Day of School by having each student bring a poster with 100 words that you can read. I thought it would cute to arrange the words to spell out "READ." Little did I know, I wasn't the only one with the same idea of using the words to decorate the posters. I got to see other kids posters and WOW! These parents have done this before, you can tell. A boy's poster had the Auburn symbol. A little girl had a gumball machine. The gumballs had words on them. CUTE!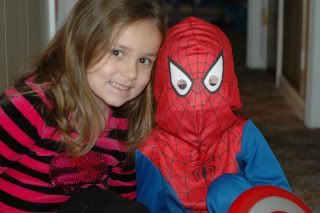 Colton and I have been under the weather. I haven't been to church for the past couple of weeks. If it's not him, it's me. Ugh! I still blame the weather. I can't remember when we had highs in the upper 60's and lower 70's in the month of January. CRAZY! Anywho, Katie and daddy brought back this costume after church for Colton.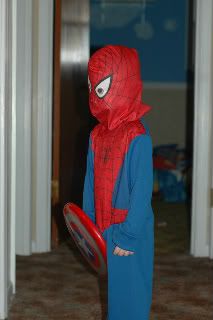 As you can tell, Colton loves his Spiderman costume. In this picture, he was shooting his web at me. HAHA! His mask looks weird because I was kind of afraid that he would have a hard time breathing.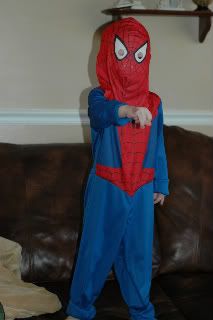 A real quick Colton story. Is two years old too young to be girl crazy? Why I ask is because I was watching movie today and a pretty girl wearing a swimsuit showed for a second. Out of the blue, Colton turned to me and said and I quote "Yeah, ba-b-y." At first I was shocked because I couldn't believe this was coming out of my baby's mouth. I couldn't believe it, so I asked him what he just said. He said it again, but this time he grinned.
The other day, Colton and I were headed to pick up sister from school. He asked me to sing the "Hulk" song. Well, I didn't know the Hulk had a song. I told him that I didn't know the song. He insisted that he wanted me to sing the Hulk song. I asked if he could sing it for me. Without skipping a beat, he started singing "I want my baby."
Weight Watchers Crockpot BBQ Pork Sandwiches
I just want to tell you this is a great recipe to try. So tasty! I didn't take a picture, but Doug really liked it.
Ingredients
:
2 medium onions, cut into thin wedges
1/2 cup water
1 (2 to 2 1/2 lbs) boneless pork sirloin roast
1/2 tsp chili powder
1/2 tsp ground cumin
1/2 tsp ground black pepper
1/4 tsp garlic powder
1 cup low calorie bbq sauce
1/4 cup cider vinegar
1 Tbsp honey
1/4 tsp ground ginger
10 whole wheat hamburger buns, split and toasted
Directions
:
In a 3 1/2 or 4 quart slow cooker, combine onions and the water; set aside. Trim fat from meat. If necessary, cut meat to fit in cooker. In a small bowl, combine chili powder, 1/4 tsp of the cumin, black pepper and garlic. Sprinkle mixture evenly over meat; rub in with your fingers. Place meat in cooker.
Cover and cook on LOW 8 to 9 hours or HIGH 4 to 4 1/2 hours.
Using a slotted spoon, remove meat and onions from cooker. Using two forks, pull meat apart into shreds.
In a large bowl, combine bbq sauce, vinegar, honey, ginger and the remaining 1/4 tsp cumin. Add shredded meat; toss gently to coat. Fill each bun with about 1/3 cup of the meat mixture and about 1 Tbsp of the onions.
Yield: 10 servings
Serving Size = 1 Sandwich per Serving
Weight Watchers PointsPlus + = 6 per serving.
Nutrition Info. :
Calories 251, Carbs 27 g., Fat 5 g., Fiber 3 g., Protein 23 g.