Teacher Appreciation Day
Due to all the tornado activities, unfortunately we missed Teacher Appreciation Week. Our homeroom mom and I had so many plans for our classroom students, showing their love for Mrs. M. Normally, we would all present a small special gift to Mrs. M every day for the full week. I had so many great ideas that I found online to share with Mrs. Holly. For instance,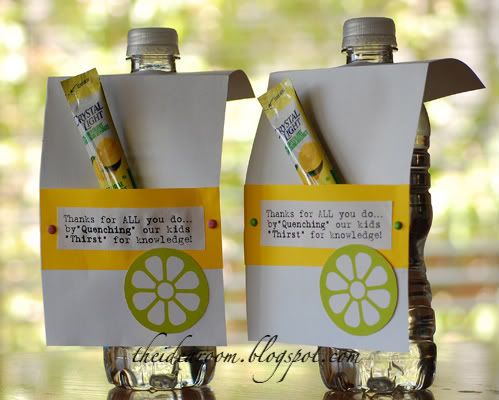 I love, love, love this idea! This great and inexpensive gift came from
The Idea Room.
Thanks for a Picture Perfect Year (A picture of your student with his/her teacher in a picture holder)
You are O'Fishally the Best (Container filled with Swedish Red Gummy Fish)
You are AWesome (A&W Root Beer can)
So, you'll have to check her out.
This idea compliments of
It's All Small Stuff
. I thought this idea was so cute. In fact, "It's All Small Stuff" gave me the idea for Mrs. M this year.
Katie's Teacher Appreciation gift last year.
Drum Roll Please . . .
Featuring this year's Teacher Appreciation gift. . .
"Movie Night" for the "POPular Teacher"
I got the idea from "It's All Small Stuff" and even used her "POPular Teacher" label for the front decoration to my box.
Items needed:
Cardstock Carnival Bowl (Hobby Lobby)
2 Cardstock Carnival Popcorn Containers (Hobby Lobby)
Bag of Red Paper Shred for filler
Movie Scrapbook stickers
Film Wrap
Ribbon Bow
2 packs of Orville Reddenbocker Movie Theater Butter Popcorn
Assortment of Movie Theater Candies (Reese Pieces, M&Ms, Gobers, Junior Mints, Cracker Jacks, Skittles)
Movie Gift Certificate
Special Thank You Card from your student
I stuck a label from
Haphazard Happenstances
that read: "You Were Mint To Teach"
on the Junior Mints. I thought it was cute.
I think I got a little carried away, especially with the candy because I really didn't know what was Mrs. M's favorite. I knew she had two teenagers to help her eat all the candy. LOL! Originally, I wanted to purchase a gift card from Blockbuster Movie Rental, but the clerk told me that they were recently bought out by DishNetwork and they currently didn't have any gift cards to sell. Ugh! On to plan two. I purchased gift certificates from our local movie theater. She might want a date night with her hubby. I kept up with my purchase. If you are considering this idea, it would be a good choice because you can add or take away depending on your budget. My overall cost for supplies on this gift basket was approximately $20. Doug calls me a suck up. Honestly, I don't mind spending this kind of money on Mrs. M. It is well deserved and more. Our teachers' pay in the state isn't all that great. The way I see it, she taught my child to read, write, add, substract, and other miscellaneous. In my book, she did an excellent job. What I love is how she welcomed parent involvement. She said her reward is watching the children grow and soak up all the knowledge.
Reading and Writing Celebration
Today was Katie's Reading and Writing Celebration at school. Us parents got to come and be apart of this celebration this afternoon. On each student's desk, were piles of paperwork. Katie had in her pile, a binder, folder, journal and several small paper books that she created. Inside the binder, folder and journal were full of stories. The binder was created when school first started. You can tell from it, where Katie started writing stories just by drawing pictures. By the end of the book, she not only had a picture, but a written story underneath. It helps you to see how she's progressed throughout this school year. Katie got to take home all of stories, artwork and other paperwork home this afternoon. I'll have to find time to sit down and look through all of it because I didn't have much time to read it all.
Katie took me around to all of the different stations to show me her work. She was so proud of all the hard work she put into each project. I hope she keeps it up. Mrs. M passed out cookies and milk to all the students and their parents. It was so nice!
For these two weeks, the students have something fun planned for each day. This past Monday through today was the following: Read a Book Day; Puzzle Day and today was Reading and Writing Celebration. Katie really loves to take her special things to school for show and tell. What surprised me was the book she chose to take to school was a Dr. Seuss "Put Me In The Zoo." What surprised me was that she read the entire book in class and read it again to me after school. She only needed help with words like "should" and "take". She insisted reading the entire book to me. She did so good and it was a major accomplishment for her because it's fairly a long book. Tomorrow is Board Game Day and Friday is our annual Field Day. Yay!
I'm going to be one busy aunt this year and into next year. I've volunteered to help with my niece's baby shower in August. The only thing is we don't know what Whitney is having. Both her and her husband want to know what he/she is, but the baby is thinking otherwise. This maybe the way it's suppose to be, but it sure does help when planning the baby's room, baby showers and outfits to buy. I've found so many outfits and little booties that I would love to purchase, but I have to slap my hands because we still don't know. Ugh! They are going to try one more time to find out the sex of the child. Hopefully, he or she will cooperate. Saying this, I will be playing around with a few decoration ideas.
Another niece, Leslie, currently is planning her wedding. It is scheduled for this time next year. She has the place and dress in mind, but is still working on the type of wedding. She may have been joking, but she has left her future mother-in-law and I in charge of the decorations. I've shown her a few beautiful ideas that I've seen online. While walking around Hobby Lobby, I became very inspired. This may sound strange, but I love the centerpieces - crystal garland draped around dark twisted sticks in clear vases filled with crystals that you can purchase at Hobby Lobby. I tried my hand at Pomander Flower Balls. Not bad and Leslie says that she "loves them".
Stay tuned . . .