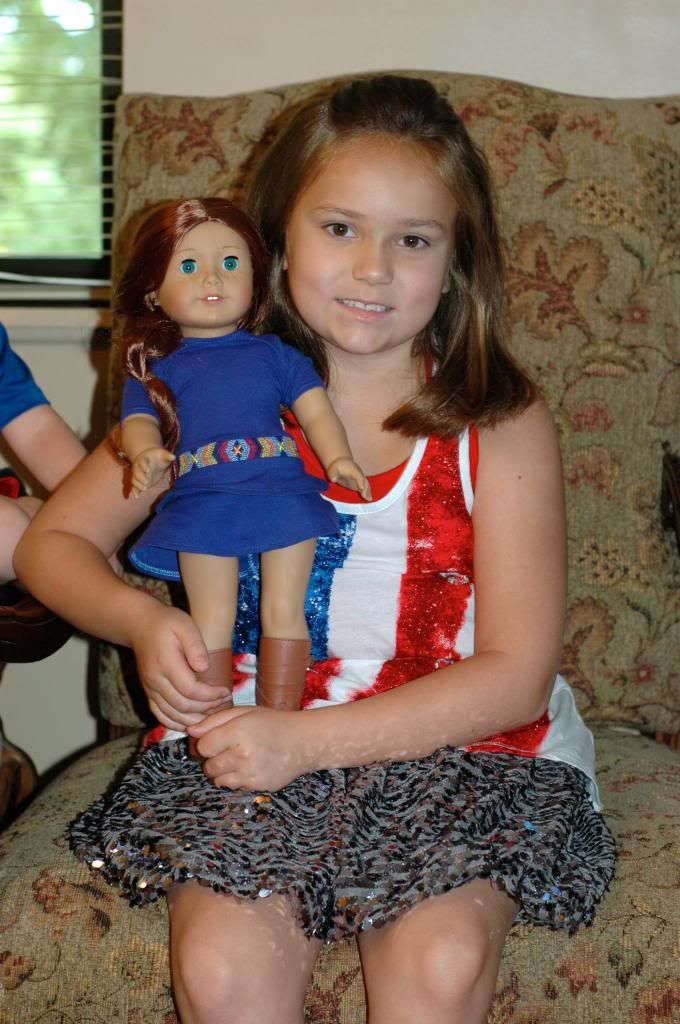 Katie decided she should go sparkly on her 8th birthday party. She loves the BLING!
Kids waiting for the guests to arrive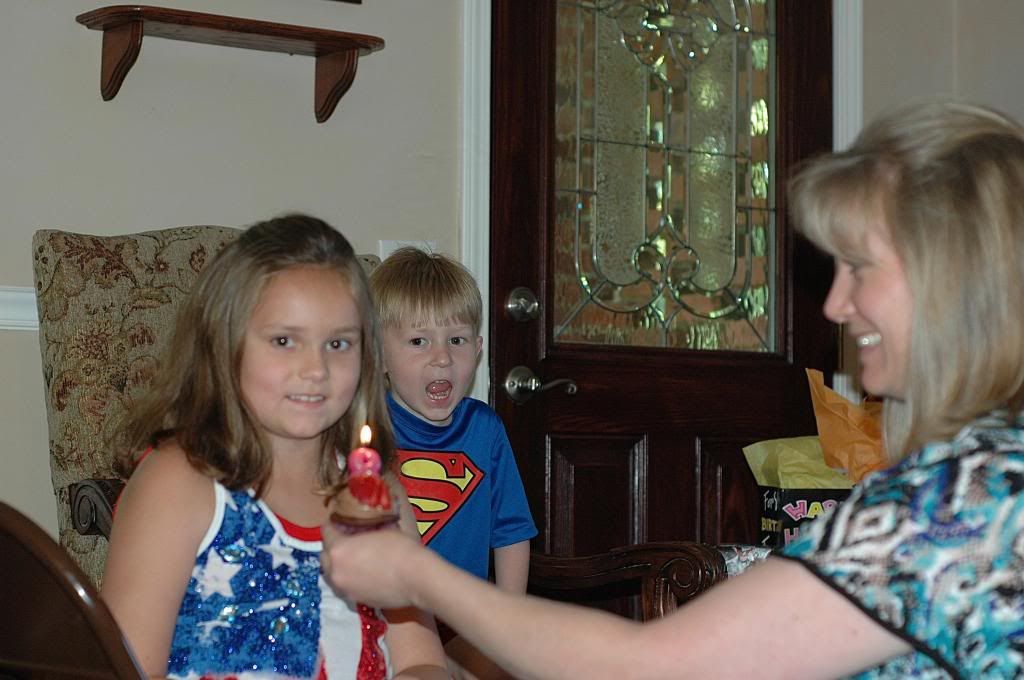 Make a wish birthday girl! Check out Colton in the background. He is giving her some moral support. LOL!
Our family picture - I am so blessed!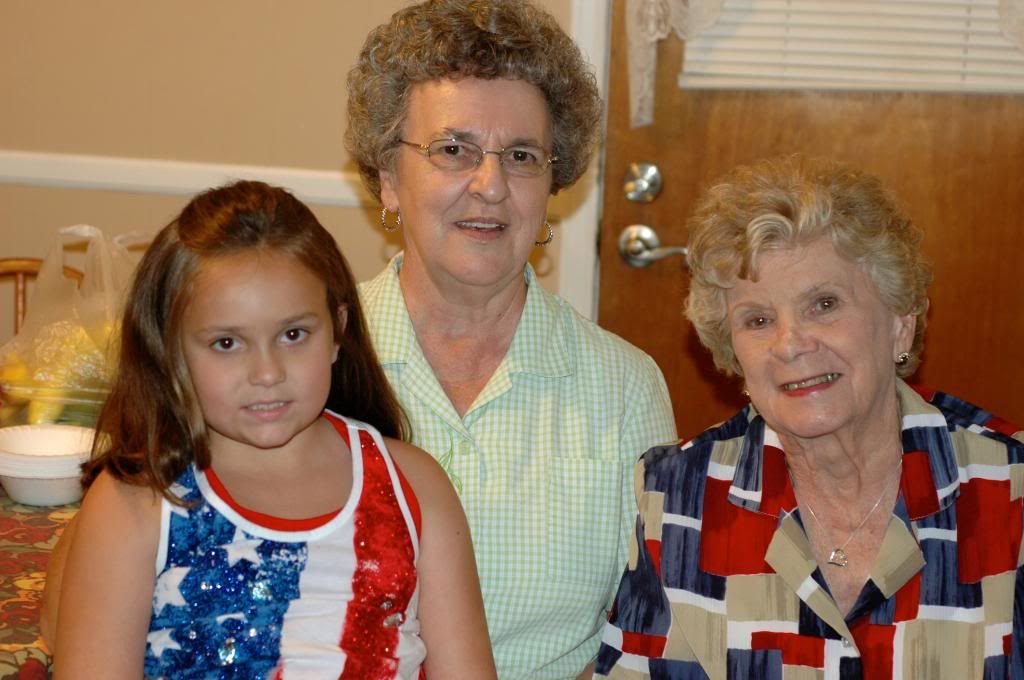 Katie with her grandmas. She is such a lucky girl to have two grandmas that think the world of her.
Katie with her grandpas!
Her aunt Sue-Sue and cousin, Leslie gave her Hedbanz games (regular and Disney). She loves them! It's a challenge at times, but loads of fun.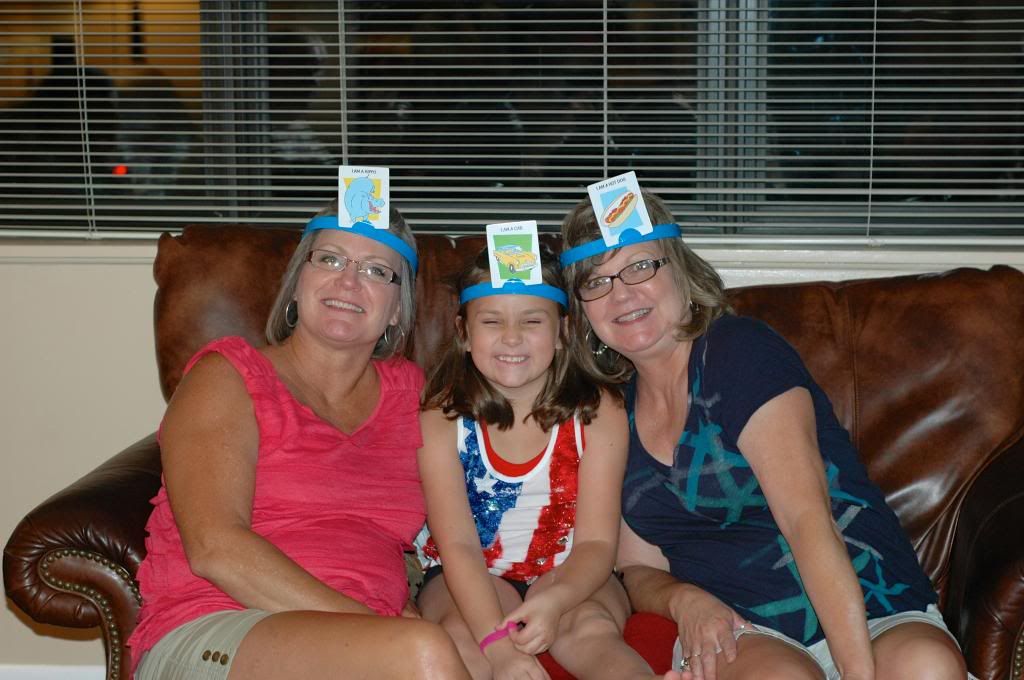 Katie being silly with her aunties
Ryan's girlfriend, Angie is the best. She loves getting in the floor with my kiddos and play with them. She went missing a couple of times. We found her and Katie in the floor of Katie's room, playing with Lalaloopsy dolls. Too cute! Of course, Colton LOVES picking on her because she picks back. I'm always afraid he is going to hurt her, but she says it's alright.
Katie and Colton showing off a couple of their gifts that they received. Ryan and Angie gave Katie Lalaloopsy Wall Decals. She is so excited to be able to have Lalaloopsies all over her wall. I may have to wait until school time before I tackle this project. Angie said it's simple and they are reusable.
Colton's mind was blown when he unwrapped his gift and it was RED HULK. STOP THE PRESS!!! This is major for him. Of course, he had to run in his room and get his green Hulk that is just like this one. Carefully, he played fight with them. We've had to get on to him because he so rough with his action figures. They are coming up with missing heads and broken legs. He is costing us money and Paw-Paw Millard a lot of time gluing and pinning parts back together.
Thursday, we gave him the Superman. Saturday, we gave him Hulk. He loves the POP Action Figures. He couldn't understand why Hulk had a bobble head and Superman didn't. Try explaining that one. LOL!
We had a great stress free little party. We served different flavored hot wings. I even made cute tent cards this time around with the names of the flavorings. It made everything so easy. Last time, we had a party with hot wings. No one knew which bowl of wings were what. This way, I didn't have to stand and tell everyone which was mild and hot. My favorite wings are the Asian Teriyaki and Honey BBQ. Yum!! I wanted to bake. I've been so good about not baking because of our diet. I've been itching, especially after seeing so many sweet sweet recipes on Pinterest. I prefer cupcakes over regular cake making. I've been wanting to try the new trend of cupcakes with fillers. This party was a perfect opportunity to exercise my baking techniques and try something new. Katie loves strawberries and I thought of one of the recipes that I repined on Pinterest. It's a Chocolate Cupcake with Strawberry Filling. It was a hit! My dad wants me to make a regular cake like this, now I have to figure out. . . How? I took pictures and plan on sharing them and the recipe on the next post.
Stay tuned . . .