I've been wanting to try the filled cupcakes. I came across this recipe on Pinterest and had to try it. I don't do tutorials well, so if you would like the full tutorial go to
Tidymom
.
Chocolate & Strawberry Cupcakes
Serves 24 cupcakes
Ingredients:
Chocolate Fudge Cupcake
1 Duncan Hines Moist Devil's Food Cake Mix
3 Large Eggs
1/2 cup melted butter (not margarine)
1 cup water
Strawberry Whipped Cream (filling)
1 cup heavy whipping cream
1/3 cup sugar
1 tsp. vanilla
5-6 Tbsp. chopped/processed strawberries
Chocolate Cream Cheese Frosting
1/2 cup butter, at room temperature
8 oz. low-fat cream cheese, at room temperature
1 tsp. vanilla
1/2 cup unsweetened cocoa
4 cups powdered confectioners sugar
1-4 Tbsp. heavy whipping cream ( I used 2 Tbsp. for my frosting)
Instructions:
Chocolate Cupcakes
Preheat oven to 350 degrees.
Mix on low until blended, then mix on high for 2 minutes
Pour into paper lined cupcake pans.
Bake for 20 minutes
After baking cupcakes, let them cool completely. Cut out a small section in the center of the cupcake. A large melon baller worked perfectly for me. Save the extra cake in a bowl. You can always use it later for cake truffles.
Strawberry Whipped Cream (filling)
Chop strawberries in blender just until they look thick and liquify. Four (4) large strawberries make about 5-6 Tablespoons.
Beat whipping cream and vanilla until it starts to thicken. (Look for a cool whip type thickness)
Mix in sugar.
Fold in strawberries.
Add strawberry whipped cream to the hole in the cupcakes. Replace the tops (just do the best you can - or you could just leave them off)
Chocolate Cream Cheese Frosting
Place butter in a large mixing bowl and blend slightly. Add cream cheese and blend until combined, about 30 seconds.
Add the cocoa powder (before adding the sugar, so it gets fully incorporated into the butter an cream cheese).
Add vanilla extract and powdered sugar and blend on low speed until combined. Increase to medium speed and beat until it begins to get fluffy.
Slowly add the heavy cream, a little bit at a time until desired consistency is met. (Don't add too much if you want the frosting to stay in place when piped on cupcakes.)
Beat until fluffy, about 1 minute.
Use at once or keep refrigerated. (This frosting will keep well in the refrigerator for several days, but you may need to re-beat it for the best texture.
Pipe chocolate frosting on top of the cupcake with 1M tip. I garnished the tops with fresh sliced strawberries.
Note: I used a small spring ice cream scoop to make my portions all the same. I dipped 2 heaping scoop full to each liner. I ended up making 28 cupcakes doing it this way. The cakes rise quite a bit.
I cut one in half for you to see what it they looked like. These cupcakes were a hit at Katie's birthday party. The filling actually tastes like strawberry shortcake filler. I had a little frosting and filler left. If you do as well, you might want to save them for strawberry shortcake.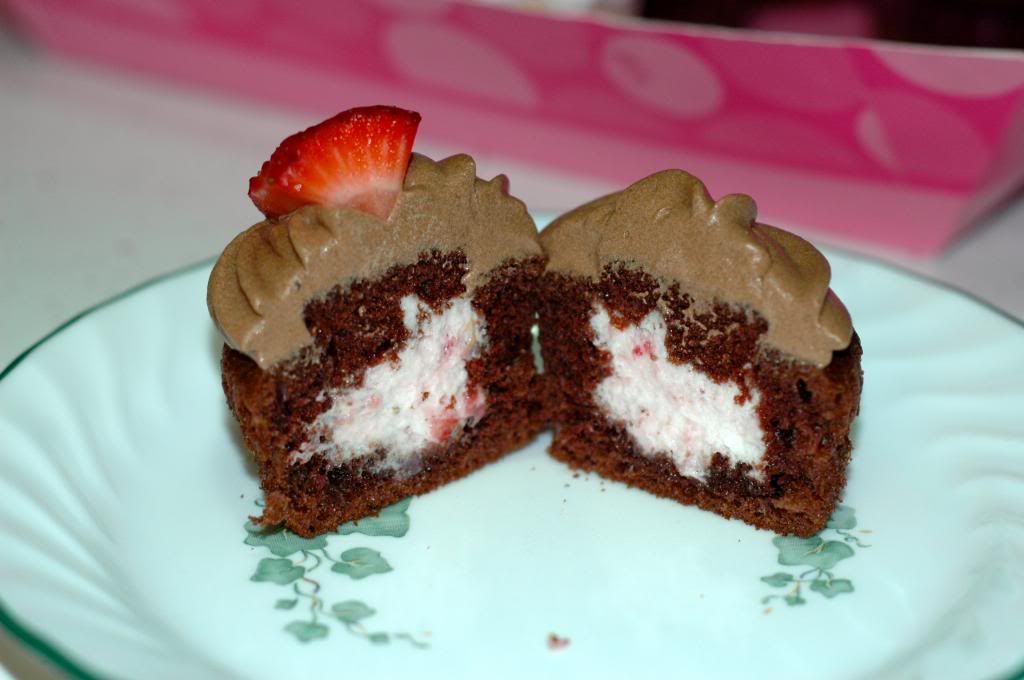 My dad liked them so well, he wants me to make him a whole cake just like this. Hmmm! I guess I could make it like a poke cake. The strawberry filling will have to be thinner then it was in the cupcakes.
I hope you try this recipe. Please don't be intimidated with all the instructions because this was very easy and lots of fun to make.
Enjoy!