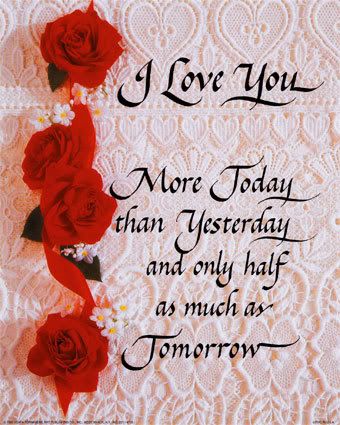 Never lie, steal, cheat or drink
But if you must lie,
lie in the arms of the one you love.

if you must steal,
steal away from bad company.
if you cheat,
cheat death.
and if you must drink,
drink in the moments that take your breath away.
"Life is not measured by the number of breaths we take,
but the places and moments that take our breath away"
~ Anonymous
I hate to say this, but the first time I heard this saying was while watching the movie "Hitch." I consider myself a romantic at heart. I fell in love with this quote and it is so true. Embrace every moment you have with one another because you never know what tomorrow holds.
I dedicate this post to the man, God put in my path. The man that caught my eye for the first time and still has my eyes set on him. He is truly my life partner, my rock wall, my soft shoulder to cry on, and motivator. I love him yesterday, today and always!
HAPPY VALENTINE'S DAY
I LOVE YOU MY HUNNY BUNNY!