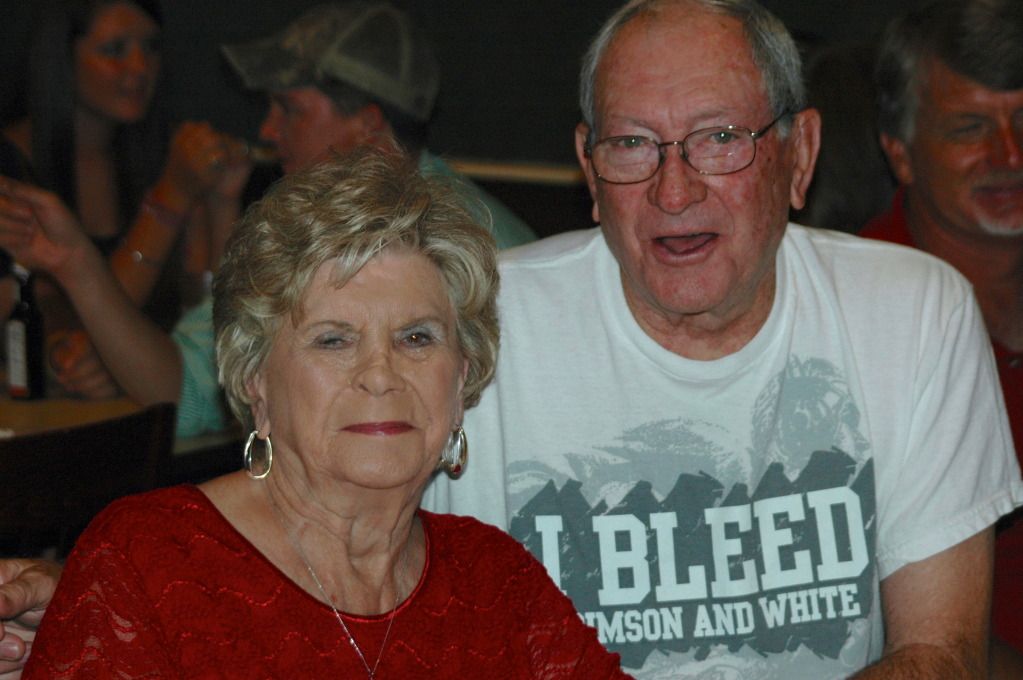 This past week, my parents celebrated their 57th year together
They wanted to take everyone out to eat at a local steakhouse restaurant. Don't they look good? Dad is getting over having his appendix taken out. He looks good. He says that he is beginning to feel a little better, still sore.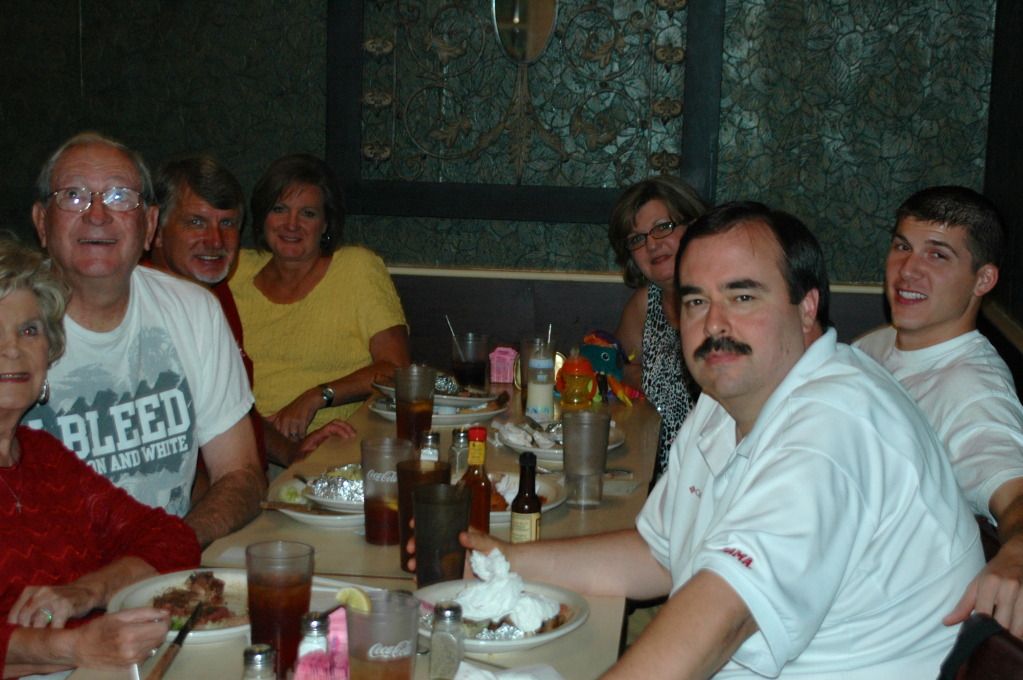 Table #1 of family members - parents, sisters, brothers and nephew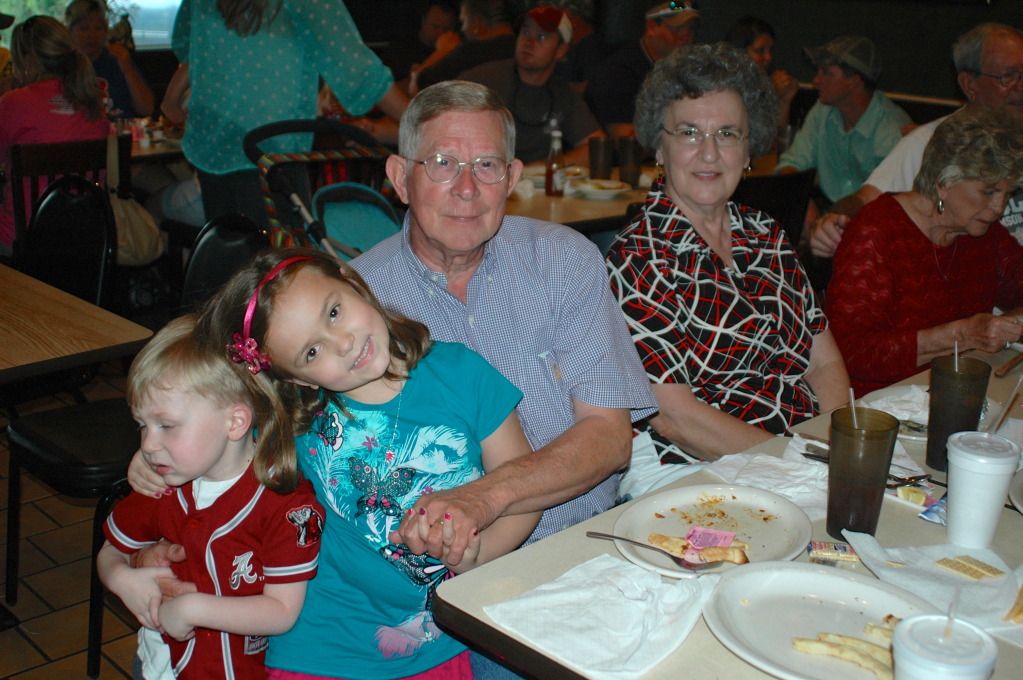 My in-laws got to make it and of course my precious children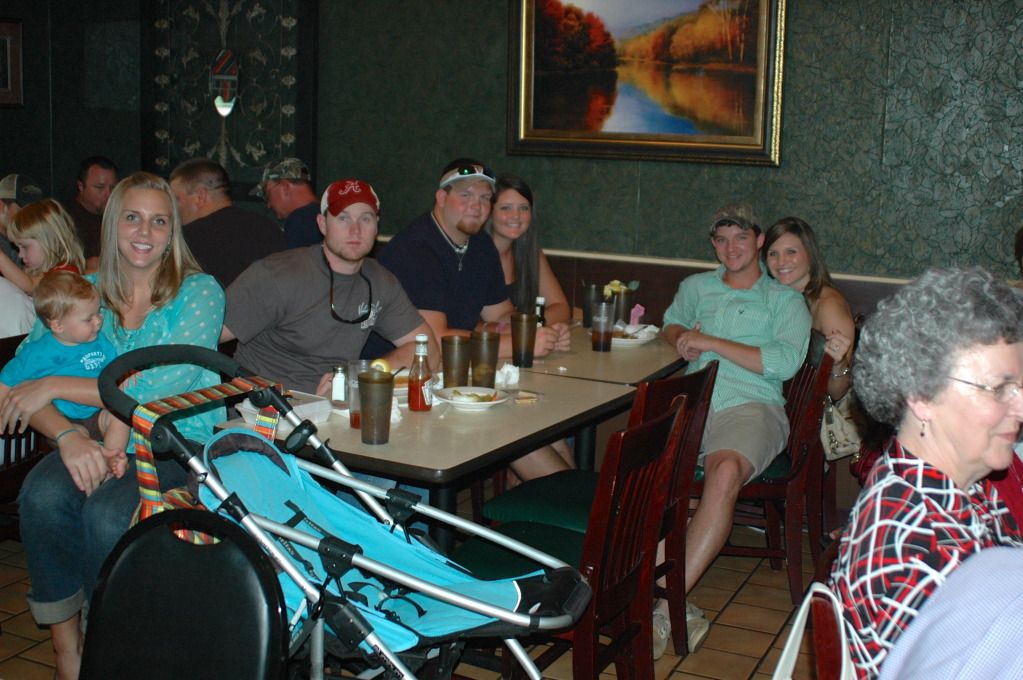 Table #2 is filled with nieces, nephews and more in-laws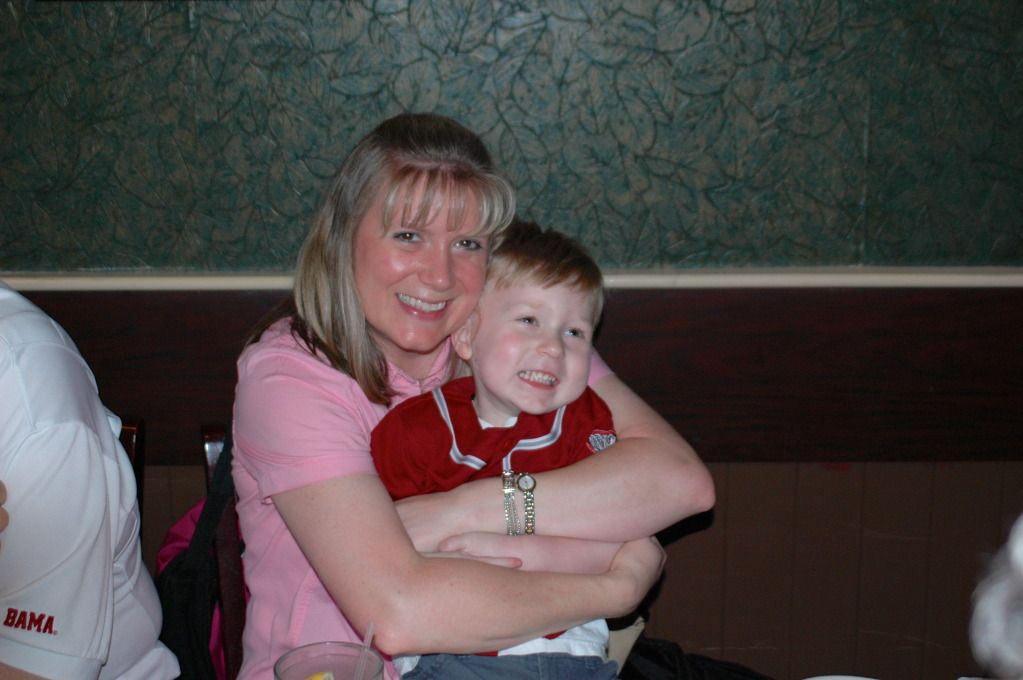 Here's our future quarterback for the Bearcats!
He has good aim throwing a ball (football or baseball). He loves to toss the ball with you. Doug is helping him with his catching. He gets real excited when he catches, you have to clap. BTW, Colton is holding a Walmart sack full of his superheroes, waiting to go to his paw-paw's house.
Friday, Katie and I took advantage of Tax-Free weekend. The Children's Place was having a real good sale and I had a 20% off coupon, so I got a heck of a good deal. Katie is such a glitzy girl. I wish you could have seen the tank top and skirt, she wanted to purchase for school. They were both solid sequins! I felt it would be too much for Mrs. M to have to handle. LOL! I did agree on a few sequined outfits, as long as they were not solid sequins. I have to say, she is fashion savvy and can mix and match perfectly. I did give in on a pair of hot pink sequin tenny high tops. These shoes look like Twinkle Toe shoes, but are more like boots. LOL! She said that she loves them because they make her sparkle. She is a character. I tried to get her buy the match hot pink sequined beret, but she wouldn't do it. She told me it was too much. LOL! We went to a couple more shops and I believe Katie is just about ready for school. We are going on another shopping trip with Doug's mom this week. I can't get over all the clothes that Katie has out grown in just a few months, both in the length and height.
After all this shopping, we met up with daddy and had an early supper at The Olive Garden. Katie LOVES their bread sticks. The Grilled Mozzarella Chicken was absolutely delicious! I think daddy liked us meeting up with him for supper after work. We tried to meet up with him for lunch, but it just didn't work out. Maybe next time, we can actually leave the house on time.
We finally got our school packet this week and I am so happy with Katie's new teacher. Mrs. M is a friend of mine and Doug's. She is an absolutely sweetheart. Kindness just pours out of this dear lady. Not only is she a sweet lady, but she is an awesome educator. She was teacher of the year a couple of years ago. Katie's been a little nervous as to going back to school. She normally loves school and can't wait to get there. This year will be a little different because she will be going to a different school. She felt a little better after I told her that one of her best friends will be in her homeroom. Yesterday, I introduced her to her new school principal, Mrs. D. Mrs. D is also a friend of mine. Mrs. D was so sweet to talk with Katie a little bit about school and Mrs. M. Katie's eyes grew when Mrs. D told her that they get to visit the circus this year. Now Katie has a few good things to look forward to school.
Ballet registration is next week and I know Katie is excited to get back into dance. The ballet school is celebrating their 40th anniversary. I have a feeling that my family will just have to learn to love ballet because I am not going to strongly suggest that Katie leave it again, unless she tells me that she needs a break. She loves ballet so much and has really missed it this past year. I'm excited to find out what grand Spring performance theme we will be going this year. I promise you, you never leave disappointed.
We've had a great, busy, and relaxing Summer vacation. If I was Katie, I would say the only thing she didn't like about it was the HOT weather and the pages of class work she has had to do periodically during the week. I'm such a mean mom. I've found out this Summer, if the kids are tearing down the house and being entirely too LOUD. All I have to do is threaten Katie to do math problems and read a chapter in her book. It's amazing!
Colton's potty training is finally going good. There are days when we are taking two steps forward and then there are days when we are taking one step back. It just takes time and LOADS of PATIENCE.
As I mentioned above, I think he would be good at baseball and/or football because he will throw the ball right at you (most of the time). Doug says he needs help with his catching, but it will come in time.
He is also a pretty tough little boy. Nothing keeps him down. He can scrap his knee, bump his head or get stepped on by his sister and the boy doesn't cry. He may get mad if it is sissy that hurt him. In fact at Doug's parent's house, he scraped his knee pretty good and all he would tell me was "I'm OK mom." He doesn't want me to worry over him. (hehe) Yesterday at church, poor little fella was bitten on the arm by another little boy in his class at the playground. The Sunday School teacher said that Colton didn't cry or anything. He came down from the playset and told his teacher what happened. I asked him and the teacher if he did something to provoke the little boy to bite. They both said no. His teacher went on about what a big boy Colton was, not to cry because it was a bad bite. Today it is all bruised.
We've been enjoying the Olympics somewhat. We mostly watch the gymnastics, swimming, equestrian and track & field. The men and ladies swim teams are on fire! I've been staying up late at night watching the men's and ladies swim teams go at it. Gabby Douglas in gymnastics is awesome!
I hope you have a fantastic week. Stay cool! We are suppose to actually go through a nice cold front. It was reported that temps will be in the lower to mid 80s during the day. Wow! We won't know how to act, but with the low temps are lots of showers I'm afraid. The change is suppose to begin tomorrow.