First Day of School

- Check out my fashion savvy glitzy diva. LOL!
I think she did good, selecting her outfits this year. Very girlie and sparkly. Can you tell that Colton just got out of bed? I think he may have fallen back to sleep on the way to school. LOL!
Katie wanted to go all out for her first day of school. She requested to have her nails done for the big day. She couldn't decide whether to have all different colors, which is the thing now, or having all sparkles on her nails. So, we went with dark pink color for her piggies and a more glittery fingers. She loves the butterfly nail stickers.
First day of school went great! Katie loves everything about it. She actually talked my ears off when I picked her up. She was so excited! She knew a few of the kids in her class from her other school last year, so that was fabulous. One of her new close friends is actually a friend she knew before, from church. She knew Sadie, but never really had the opportunity to get to know her. The girls have really known each other at church since they were babies. Well since they have had the chance to get to know one another, it's Sadie this and Sadie that. It's cute. Katie has always been very easy to make new friends, she is very sociable. Every day this week, Katie goes through her list of goodbyes. "Goodbye, Sadie" Goodbye, Ashton" Goodbye, so and so." Mrs. M has caught on to it. She told me today, "Katie is very popular, having to tell everyone 'goodbye'." As we were trying to get Katie in the car and buckled, I just left the window down so she would finish her goodbyes. It's funny.
It wasn't two days into the new school year and already Mrs. M has given us projects to work on. I'm sending a baby picture of Katie, a bag full of things that describe her for the "Star Student week", sending in permission slips for class trips. Yeah, she has her first field trip as early as next week. Her P.E. class will have the opportunity to go swimming. Coach is wanting to teach students the proper techniques for swimming in water. It will be fun and Katie is reminding me every day that she needs to bring her towel, sunscreen, swimsuit and flip flops. Ugh!
I'm making Katie eat the school lunch food. She hates it, but I know she might get some nourishment out of it. I made an agreement that she may take her lunch every other Friday. Tonight, she begged to take a Lunchable for lunch tomorrow. She is doing better eating more veggies. During the Summer, we made an agreement that she may have ice cream or cookie if she ate a serving of vegetables for supper. It works! At the grocery store, she picks out her veggies and she has to try something new as well. This time around, she grabbed a can of light kidney beans to try. Hmmm! I guess I'll have to make chili one day.
We could not have asked for a better week to start school. Ahhh! Man. Fall is in the Air! Today was actually the hottest day of the week with the high reaching 90 degrees. The kids and I have to wear a little sleeve and pants in the mornings with temps between 57 to 65 degrees. WONDERFUL! I love this weather. While waiting in line to pick up Katie, I leave the windows down and enjoy the cool breeze. Actually, I've been trying to get in line a little early. It works out because Colton usually falls asleep and I can relax and read my book "Just Perfect." My book is getting really good. I didn't know how much I would miss reading my book. It's sad. I started reading this book around April. LOL! I haven't picked up my Kindle, except for church, since the last day of school.
I may be wrong, but since Halloween is a little over a month away, I think Colton's found his costume. LOL!
He has slowly been collecting his entire outfit. I think he looks adorable! And let me tell you, he can play the part.
With Katie back in school, I've got Colton back. Does that make sense? When Katie's here, he doesn't want anything to do with me unless he is tired, hungry or hurt. Katie and he normally play great together. Now that Katie is out of the picture, he will not let me leave the room with out knowing what I'm doing or where I'm going. HAHA! Our days have consisted of us sitting in the floor with his Batman tower, playing superheroes. If I do it wrong, he has to show me how to play superheroes. His imagination is amazing. I'm having to put some ground rules with the iPad. Come to find out, Colton loves it just as much as Katie. Yesterday and today, I let him play with it for a couple of hours. It's probably too long, but the hounding was driving me crazy and I wasn't getting anything done. Today, I made time and went searching on the Apple Apps. Uh huh! I found a couple of apps that I liked for $3 to help Colton with colors, shapes, puzzles, numbers, and alphabet. What I liked about it is it will grow with him. There were sections that would help him with addition, subtraction, spelling and reading. I think it was worth $2.99. He played with it quite a bit once I got it downloaded.
Poor little guy. I felt so sorry for him yesterday. Katie was telling him that morning, he was going with her to school. Well, he misunderstood and thought he was going to school. I wondered why it was so easy to get his clothes and shoes on. He even wanted his jacket on too, like sissy's. When I dropped her off at school, he kept telling me "mom, help me out." I tried calming him down, but failed. When I began driving off, he started crying. I thought something was wrong. Nope. He was upset because he wanted to go to school too. Of course, I tried to soothe him by saying that he'll go next year. What 3 year old understands what "next year" means? Fortunately, today he did much better. He just told me that I was mean because I wouldn't let him go to school.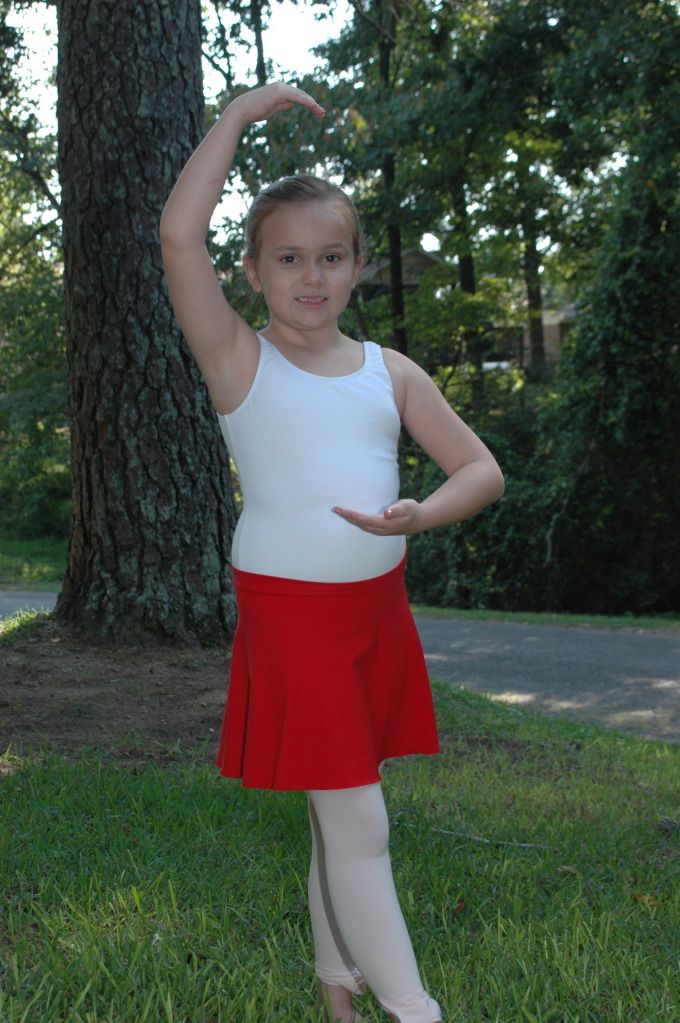 After experiencing last year with gymnastics, I think ballet is more her thing than anything else right now. She loves it so much and has missed it.
When we went to sign up last week, happiness was beaming from her face.
This year, she is in Level C. Next year will be a little harder, Level 1. I'm excited for her. This year is the big production Spring Performance. I can't wait to find out what Ballet we will performing to.
Thor needed to be apart of picture time.
Katie's little friend from last year, moved down south. Her mom texted me the other day, asking if Katie could attend Erin's slumber party. Erin couldn't make it to Katie's slumber party because she was at Summer camp. I get so tickled at these little girls, they are so much alike. I've kept the party a secret from Katie until tonight. A secret because I know Katie would aggravate me to no end about it. After ballet practice, we drove to the store and had Katie picked out what she wanted to get her friend. She misses Erin a lot, but understands why she can't see her friend as much. Sure enough as predicted, she has been badgering me as to "who all is going to be at this party?" "I sure hope this person will be there and I hope that person will be there." CRAZY! Let's not forget, which stuffed animal, pillow, and Lalaloopsy she has to take. It's sad, but she actually has a large tote full of Lalaloopsy dolls that she keeps on go. This way, when she is asked to stay the night with someone. All she has to do is grab her large tote of Lalaloopsy dolls. I put my foot down tonight and told her only 2 items will be accompanying her to the party, other than the necessary clothes and hygiene products. She wasn't a happy camper. She shows me though because she grabbed her very large stuffed Lalaloopsy pillow doll and puts it on top of her duffle bag along with one of her baby Lalaloopsy dolls. Oops! She announced that she has to have her unicorn Dream Lite or she won't be able to sleep without it. GIRLS! I love mine - drama and all.
It appears hurricane Isaac is headed our way. Yesterday, it's track appeared to be showing up through Florida and now it may hit Mobile head on. Yuck! Katie is my storm nut. She freaks out when she sees the color red on the map and then begins to pommel me with questions like "mom, where is that red over?" "Is it over us?" "Is it suppose to storm today?" "Will we get the bad weather (red)?" On the news yesterday, all she heard was "hurricane" and she began her questioning. I assured her that the storm was headed for Florida and she needed to calm down. I'm not telling her about Mobile. I'm afraid I may have to borrow some medication from my sister's dog, Jack. He has to be heavily medicated during storms or he goes completely CRAZY. Unfortunately, my daughter is the same way. I wonder if it would be alright to give her Benadryl. It will at least help her to sleep. LOL! I'm just kidding y'all, but it's a thought.
Tonight, I came home to Doug down on his back. Poor thing. We put a cold ice pack on his back for 10 minutes. Later, I told him that I would rub some Aspercreme on his back. Well, he didn't know that I had been on my feet and running here and there for the kids. I even did my weekly grocery shopping tonight, picked up our Subway Tuna Melt and got home around 7:30PM. I was tired, legs cramping, knees aching, head pounding and back hurting. All I wanted to do was sit down long enough to enjoy my sandwich and watch "The Big Bang Theory." Yeah, it's re-runs, but that show just puts a smile on my face. I sent Katie to take a shower and trying to get Colton to eat supper. I'm pooped! Well, Doug gets up and opens the refrigerator to either put something up or get something out. All I know is a brand new gallon of milk that I bought tonight, fell and busted all over the floor. Oh. no! It's amazing, when your not looking, you know exactly what happened. "Clean-up" is my middle name since I got pregnant 8 years ago. Poor Doug feels really bad and I hate it for him. I had to have my few choice words and then I was fine. I had to blow the steam to get the engine running good, if you know what I mean. I knew he didn't mean to and it didn't take long to clean up. Besides, I needed to wash my Kitchen floor anyways. I finally convinced him to go to bed and I later rubbed him down. Hopefully, he'll feel better in the morning.
Katie and I are counting down the days to decorate for Autumn! One of many things we share is that we both LOVE Autumn. We love the cooler temperatures, the many beautiful colors (which are already beginning to turn) of leaves and the first sign that the HOLIDAYS are approaching. At night (Mi's time), I've been having fun on Pinterest. Repinning Autumn and Halloween craft ideas and let's not forget the recipes. OH MY GOODNESS! Crafts can be very costly, so I don't know exactly how many we'll be able to do. I have a couple personal ones that I would love to try. Stay in touch to find out more.