I think the Halloween party was a great success. Kids running every where, candy wrappers all over the floor, hyped up children from a major sugar high, and girls upset if they were separated from their best friend.


Katie was sitting in a tot's fold up lawn chair, this is why she looks shorter than everyone else.

All parents (that could come) got to school at 9:30 for the BIG party. As soon as we arrived, Mrs. Katie had the children participate in making Pumpkin Pancakes. Every child from both Pre-K4 classes got to either pour in an ingredient or mix together. Everyone, including parents, got to have pancakes. I've never had these and I must say that they are pretty good. Katie must have liked them because she ate her's up before anyone else started eating theirs. I'll share the recipe with you a little later.

Katie pouring in the ingredients for the Pumpkin Pancakes
When it was time to Trick or Treat, all the 4 year olds sat in line on the floor. Mrs. Katie gave them loads of candy to pass out to the trick or treaters. After all the beggars left, it was our turn to go Trick or Treating around the classrooms.

First, we went out on like a little adventure walk and had a class picture taken of both Pre-K4 classes. So cute! Second, we hit the 1st Grade class and the children loved to get candy from them. Then, we headed to the Kindergarten class. This is where Katie forgot she was Trick or Treating because she was too interested in Mrs. Heather's critters (turtles & fish). I tried to get her attention, but I couldn't get to her. Finally, Mrs. Katie brought her back to reality and moved her right along.

Trick or Treat Time

Mrs. Katie & Mrs. Sara's Class lined up to pass out candy
Mrs. Katie & Mrs. Sara's Class Group Picture

Ty, Katie & Olivia


Katie forgets she is Trick or Treating 'cause she is mesmerized with the fish & turtle.


Katie Trick or Treating

Back at our classroom, the children got to eat their snacks and snuck some more candy as well. Poor Mrs. Katie made me tired just watching her, bouncing around like Tigger from the classic "Winnie The Pooh." Most all the children and parents began clearing out by 11:00. We stayed until 11:20, so Katie and Claire could play a little longer.

Everyone's eating their snack - cupcakes, popcorn, cookies, apple slices, punch & Pumpkin pancakes.
The only bad thing is Katie woke up with an attitude problem and it seemed to have stayed with her most of the day today. As most of you know me, I can only have the patience of Job for just a short while before I turn into this mean mommy. I never could stand a whiner nor will I ever. It's like for some, fingernails to a chalkboard. I honestly believe that when I arrived at school, I thought Katie's attitude brightened up a little. I was mildly relieved there for a second. Yes, a second. Then, after Trick or Treating it all came tubbling down. Another little girl sat in Katie's chair. A seat right beside her best friend, Claire. The world has come to an end and therefore Katie declared that everyone in the building should know about this treachery. "Mia got my seat. Hey, get out of my seat Mia. I sit by Claire. I was sitting there. Mrs. Katie, get her out of my seat. Mommy, tell her to move!" Katie announced. Then, they came. . . the lip popped out, the eyebrows dropped down at an angle, the arms were crossed as to make an statement 'this is unacceptable' and the waterworks were turned on wide open. When it started, I tried to get Katie's attention and get her to calm down. Of course, I was on the other side of the room and couldn't get to her. I gradually made my way down the room. When she was getting out of hand, I told Breanna's mom that I was about whip somebody. She giggled and said she had one like that as well, so she understood. Ugh! Mrs. Katie brought out the crafts for all the children to make a bat. It wasn't long after that that Katie made up with Mia, they were friends again. I even made pictures of Katie, Claire and Mia playing with their finished bat project. Shoo!

Mia and Katie are friends once again, eventhough she came between her and Claire. I think what happened is Mia's close friend, Me-Me, wasn't there today. Thursday was Me-Me's birthday, so I'm sure her and her parents did something special today. Unfortunately, it made Mia out to be the third wheel and causing Katie to show her little temper
.
I may not have had a lot to do today, but I am pooped. This afternoon, I found myself dragging and having to force myself to do anything. It may have been lots of fun, but I really hope we don't have too many of these type parties. I figure the next "BIG" party will be Christmas.



Pumpkin Puff Pancakes
2 eggs
1 cup milk
1/2 cup cooked pumpkin
1 3/4 cups Bisquick baking mix
2 tbsp sugar
1/2 tsp each cinnamon, nutmeg & ginger
1/4 cup salad oil

Beat eggs in small mixer bowl on high speed 5 minutes or until thick and lemon colored. Stir in remaining ingredients.

Pour batter by tablespoonfuls onto medium-hot ungreased griddle.

Bake until puffed and bubbles begin to break. Turn and bake other side until golden brown

Yield: about 5 dozen 2" pancakes
Note: Mrs. Katie used canned pumpkin (pie filling)& Canola oil.

Maple Rum-Flavored Syrup
Heat 1 cup maple-flavored syrup and 1 tablespoon butter or margarine.
Remove from heat; stir in 1/2 teaspoon rum flavoring.
Serve warm. About 1 cup.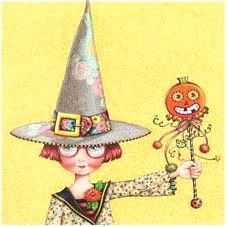 I hope y'all will have a fun and safe Halloween tomorrow. If the weather will cooperate with us, I will go with my original plan (visit relatives for Trick or Treating & take Katie to Fall Festival). If the rain continues all day because I think it's suppose to be 80% chance of rain, I think we'll just have a party here. Both Doug and my parents are suppose to come over for dinner (chicken & dumplings w/hot rolls & garden salad). Maryann told Doug that if the rain kept us home, for us to call them and they would come over.