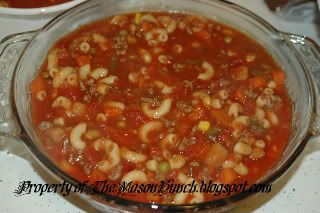 Vegetable Soup
2 cans (lbs) Veg-All
1 can (lbs) Petite Cut Diced Tomatoes
2 3/4 qts. Tomato Juice
16 oz. Elbow Macaroni (2 1/4 cups) - cooked and drained
2 lbs. Ground Chuck - cooked and drained
Salt and pepper to taste
Mix all the ingredients together ina 6 qt. stock pot. Bring to a boil. Stir occasionally. Simmer on low heat for 5-10 minutes.
Makes for a very LARGE gathering, be prepared. This soup is so easy to freeze and use for later.
Serve with corn bread, bread bowl or saltines.