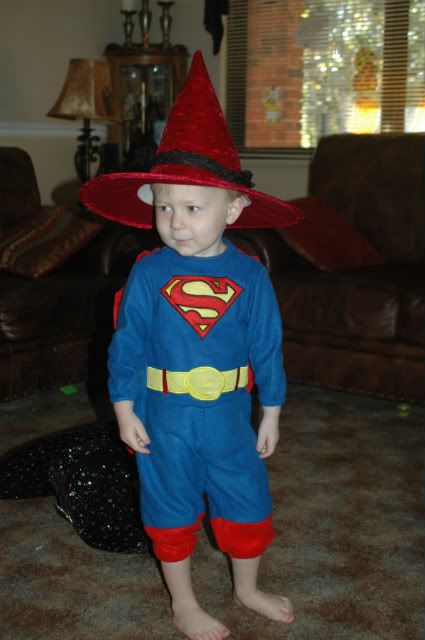 Flash tried on his Superman costume for this year. Well, I bought a 2T last year, but his legs are too tall. LOL! He is definitely not like Diva. He needs to go up an extra size every year. So I guess our Bama elephant costume wins it hands down. Check out the witch's hat, Diva's, on top of his head. Too funny. That is until . . .
he decided to put my witch's hat on. LOL! That hat swallows him up. He had fun playing with it.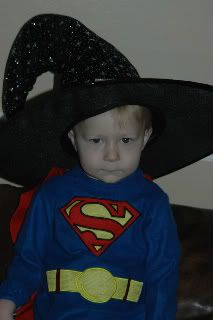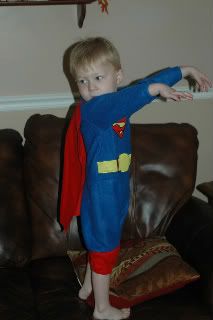 He's a bird, a plane. No! He's Superman.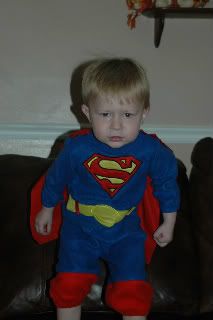 His tough look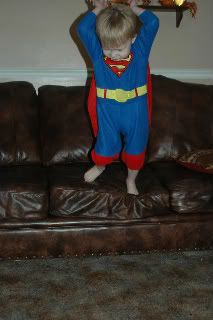 And he is taking off - flying off of the couch. Ugh!
I was really wanting him to be able to wear it this year because he is so in to the Marvel cartoon characters like Batman, Superman, Iron Man, Captain America, Green Lantern, and Spiderman. He likes to pretend that his Batman figure is flying through the air. When we look through the toys at stores, he is always wanting to look at the Marvel characters now. Don't get me wrong, he still loves his cars, sports and Lightning McQueen. He is 110% BOY!