Sure, it's fun to dress up and go from door to door receiving candy. But is there a different meaning to celebrate Halloween. Did Historical Christians take part in celebrating or honoring All Hallows Eve?
The answer is ABSOLUTELY! Today, All Hallows Eve is seen as a night of pagan rituals, but it has Christian roots. All Hallows Eve or Halloween is a time to honor the saints, the living and the dead. All Hallows Eve literally means the eve or day before all "holy ones" (hallows). The Lord's Prayer, used by many Christians, contains the phrase, "hallowed be thy name." Medieval Christians hallowed, or honored, not only God, but also all the saints who worked for God's work in the world and glorified the Church with their prayers and service.
Skeletons decorate walls and scenes for Halloween today, but the original Halloween skeletons were bodies of holy Christian men and women.
Early Christians gathered bones and remains of their dead and honored them with special prayers and devotions. Christians began celebrating the Feast of All Martyrs and its vigil during the fourth century to honor all Christians who had died for their faith (martyrs).
Despite King Louis and Pope Gregory IV's intentions, Samhain ("Sow" "en") traditions such as trick-or-treating, dressing in costumes, and pranks continue to be a part of Halloween celebrations.
Catholics and other Christians observe All Saints Day on November 1, and some honor the vigil of this feast, All Hallow's Eve, with prayer and reflection for the saints.
In order to keep this special day holy, offer thanks and prayers to God. Here are a few October prayers and dinner grace.
"God of time and timelessness, thank you for a new month, October. Please bless us in all that we do this month [one may insert significant activities occurring during October such as birthdays, children's concerts, tests, or projects at work.] As this month begins and continues, let us notice Your changing creation around us and rejoice in the goodness of Your world. Amen."
Christians historically celebrated the Eve of All Saint's Day, known as All Hallow's Eve or later Halloween, with candles and prayers to honor the saints. The following prayer invites God to bless all who celebrate All Hallow's Eve as well as the saints who glorify God in heaven and on earth:
"God of heaven and earth, thank you for all Your saints who serve you and glorify Your name, especially [insert names of saints and other Christian friends and family if desired.] As we notice the celebrations around us, let us remember Halloween's basis in You, that we may celebrate Your goodness in the world, this day and always. Amen."
A family might light a candle and share this prayer together on Halloween to honor God and all the saints who have served God's church.
October is a month of beauty, cool weather, and many blessings from God. With prayer, a Christian can honor the passage of time this October and always.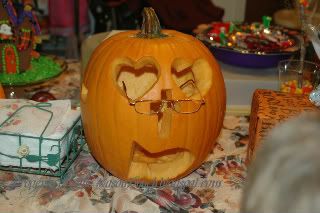 Do you remember me carving this last year's Halloween? If not,
HERE
is the post for Halloween 2010. The glasses were my mother's special touch. LOL! You'll also find the Pumpkin Carving Prayer posted on last year's Halloween as well.
This year,
1+1+1=1
posted a really cool free template regarding the Christian Pumpkin. So precious! My kids did their Christian Pumpkin today and wanted to share it with you tonight. I simply printed out the cute printables and had my children color and glue the symbols onto their pumpkin. I read the pumpkin gospel to them as they created their Christian pumpkins. We have them displayed in our windows for everyone to see. I really love this and wanted to share it with you. Thank you 1+1+1=1!
Pumpkin Gospel
I am a Jack O' Lantern
My lights will shine so bright
For I'm a Christian pumpkin
My symbols tell what's right
My nose is like the cross
On which our Savior died
To set us free from sin
We need no longer hide
My mouth is like a fish
The whole wide world to show
That Christians live in this house
And love their Savior so!
The story starts at Christmas
My eyes are like the star
That shone on Baby Jesus
And wise men saw from far
My color it is orange
Just like the big bright sun
That rose on Easter Day
Along with God's own Son
And so on Halloween
Let's set our pumpkins out
And tell the trick or treaters
What God's love is all about!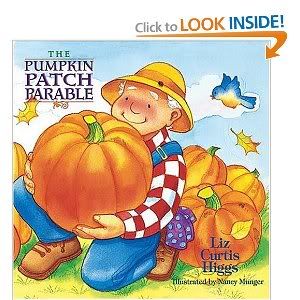 I love reading "The Pumpkin Patch Parable" to my children. We've only just checked it out from the Library, but I think we should add it to our own Library at home. If you haven't read it, I highly recommend. You won't regret it.
1+1+1=1
also offers a Pumpkin Patch Parable printable activity for you and your children to read and color. Just
CLICK HERE!
For more awesome Christian Fall Books,
CLICK HERE!
HAPPY FALL Y'ALL!
Resource:
Suite 101;
Grace To You
1+1+1=1