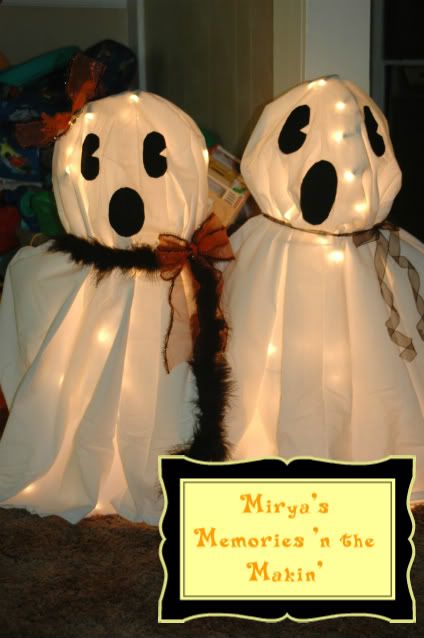 Now that I made my first ghost, I wanted to be creative with the second one. This time, I supported the frame by adding more wire, from a cut wire hanger. I also added a more frilly bow with furry boa and hair bow.
I've been a little busy, decorating for Harvest Season. It's amazing how you put out a few things and it gets you into a great spirit. A table full of different sized gourds and pumpkins. I still plan on making some salt dough characters and spooky trees. Where I'm going to put them? I have NO idea! LOL! Would someone like them? LOL! My hanging "Halloween Greetings" card, I purchased from one of my favorite stores "World Market."
The "Trick or Treat" beggers and haunted house with graveyard, I purchased from Big Lots for $7 each. I absolutely fell in love with them.
I must tell you that you will have to start checking into
Eighteen25
beginning tomorrow for all the Halloween craft and cooking ideas Link Up Party. I'm thinking about sharing my crafts this year. What do you think? I know last year, I had so much fun at their Halloween Link Up Party. I posted a couple of my crafts, but I received so many other inspirations. I encourage you to link up, browse, and just have good fun.
Oh and I guess you can see from the photo above, I finally received my Bama Cross today. Don't you just LOVE IT?!? I'm so tickled. A sweet sweet lady from Mississippi makes all kinds of these crosses for a living. She makes all sizes. Mine is considered large and is perfect for the front door. Instead of displaying on my front door, I've got it in my hallway because I didn't want to take down my Halloween wreath that I just made. Mrs. D had my cross ready for quite sometime. Unfortunately at the time that she was ready to ship it to me, her son had an accident. Isn't that awful? Please keep him in your thoughts and prayers. I asked her if he was doing better, but she hasn't given me a response back. If you are interested in purchasing one of these crosses (in any color), please leave me a comment along with your name and web address and I would be glad to get you in connect with Mrs. D.
Happy Harvest!