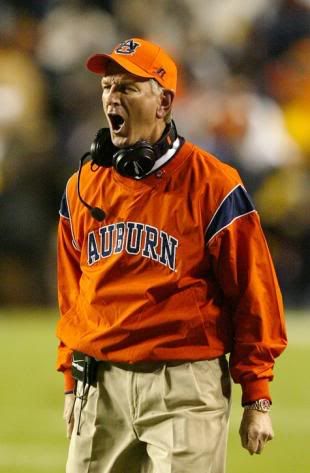 What a shock to find out that Tommy Tuberville was fired/resigned as Auburn's head football coach. Katie and I were visiting my parents when we heard the startling news. As you noticed I wrote both fired and resigned. This is because one source reports he was in fact fired, whereas another source is reporting he wanted to leave the program anyway. It sounds like to me that he and the Athletic Director had mutual feelings about the whole situation. I just find it strange because this the first bad year Tuberville has had in the past 6 years. Why now? Why not give him another year for redemption? I feel there is some other reason for him leaving. Despite my personal feelings for Tubby, I think he is a pretty good coach. Sure, he is arrogant, self absorbed and I never cared how he is a blame namer, but it doesn't mean he should leave the program because of it. I know some surgeons that fit that description, but it doesn't mean that I don't want him/her operating on me because they have bad bed side manners.

Now that Tuberville is out of the picture, who will fill his shoes as the head football coach for Auburn University? What did you think when you first heard the news?

A Pregnant Woman's Cravings
Isn't it strange how pregnant women have the craziest cravings? While I was pregnant with Katie, I lived off of McDonald's french fries. With this pregnancy, I'm eating Chicken Pot Pies, Chips & Dip. I'm loving Welch's Grape Juice, Motts Apple Juice, Decaf Sweet Tea and orange drinks. I've never really been a citrus flavor lover, but apparently the baby does like the taste. I'm grabbing a Minutemaid Orange drink from McDonald's, orange Popsicles and orange flavored suckers. Normally, I love fruit punch drinks. Right now, I can't stand the taste. Yuck! I've learned to eat what I can during the day that is until supper time, around 4:00 p.m. I've made the mistake of trying to eat after 5:00 p.m. Trust me, I'm ready for a bowl of cereal around 5:00 the next morning.
Prayer Update
We finally received an update on Aunt Mary. According to Aunt Virginia, Mary is doing well and is currently in a Nursing Home for therapy. Let's just hope it will be temporary. I don't know how long she is expected to stay in the Nursing Home. Thank you for the prayers. Please continue to pray, she will have a fast recovery.