Our Two Little Spooks - Winifred Witch & Big Al
We had another great Halloween night. I hated that it was during the week. My little Winifred Witch was ready in her costume early yesterday morning for school. I just know when we picked her up that makeup would be everywhere along with her hair. I was surprised that she didn't need a lot of touching up.
The children didn't get to Trick-R-Treat much last night, but what they did was a lot of fun for them. We have the area churches that have the annual Fall Festivals, but we like it old school. Our neighborhood is good to cater to the children. This was Big Al's first year to really get out there and beg for candy without help. He was sooo FUNNY! Maryann and I were giggling and laughing at the way he was acting. He would go up to the houses and before knocking on the door, he would yell out "TRICK OR TREAT!" Believe me, he found out REALLY quick that people at the door give you candy. We went to an old school friend's house, which is an Auburn fan home. Johnny saw Big Al and began picking at us and him. Johnny made the mistake of saying, he won't give candy to an Alabama fan (laughingly). Well, Big Al took that as a no candy. turned around. and was headed to the next house. Maryann and I had a time explaining to him that he can get his candy. I think it made Johnny feel bad. GOOD. ROLL TIDE! LOL!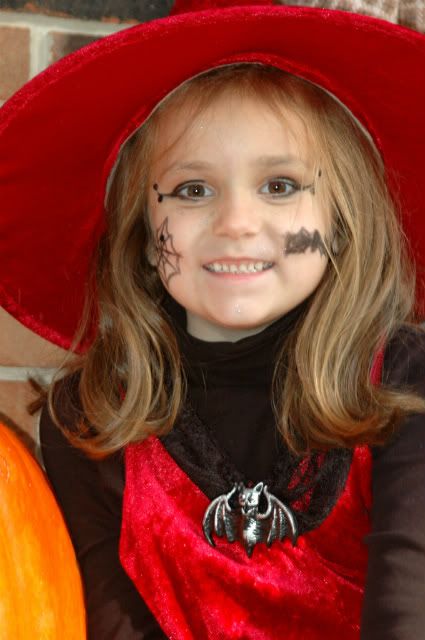 She wanted a spiderweb on one cheek and bat on the other
How do you like my craftsmanship? LOL! She said that she wanted a Snow White.
We had a pretty good party at home. A few of our family members got to come by for some Chicken and Dumplings, Homemade Veggie Soup, Spagetti and all the fixin's. Let's not forget the owl cupcakes, chocolate dipped pretzel sticks and tons and tons of CANDY.
Winifred Witch loved getting to stay up a little longer on a school night. Her and Big Al acted like they were hiped up on candy. Running around having a good time.
Big Al wanted a ghost pumpkin. I think he likes it.
He was goofing around.
I LOVE THIS PHOTO
of him.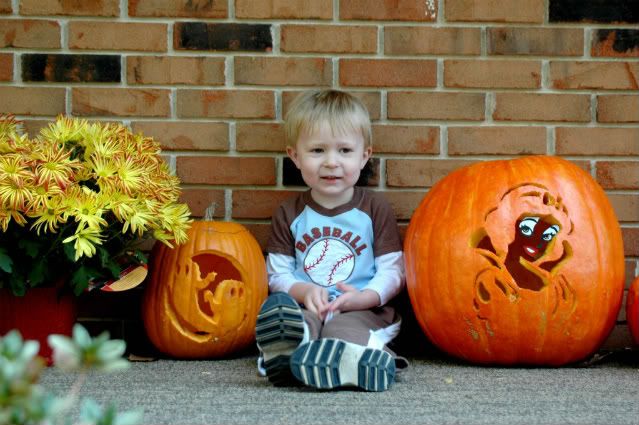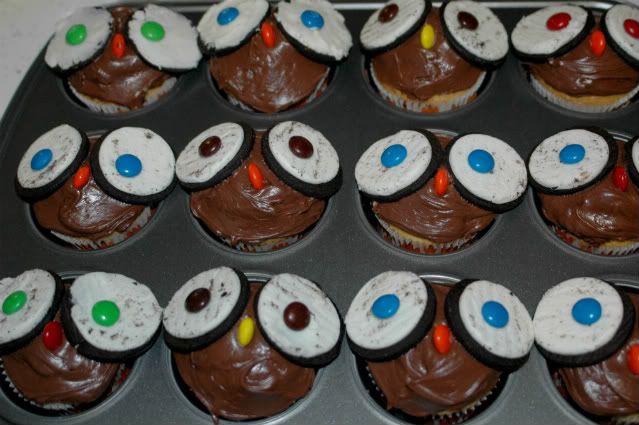 I tried making owl cupcakes. Mine doesn't look as good as my friend, Malorie's, owl cupcakes. I was also in a hurry. I had two hours before everyone got here.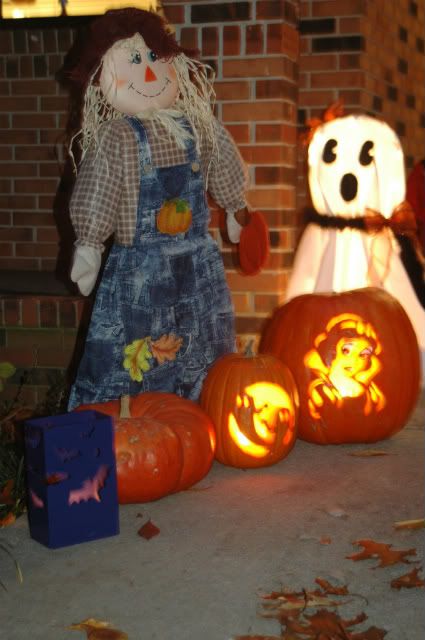 My hands get shaky when I take nighttime photos at slow shutter speed, but I love the effect.
Here is our newest little pumpkin. He is such a doll baby.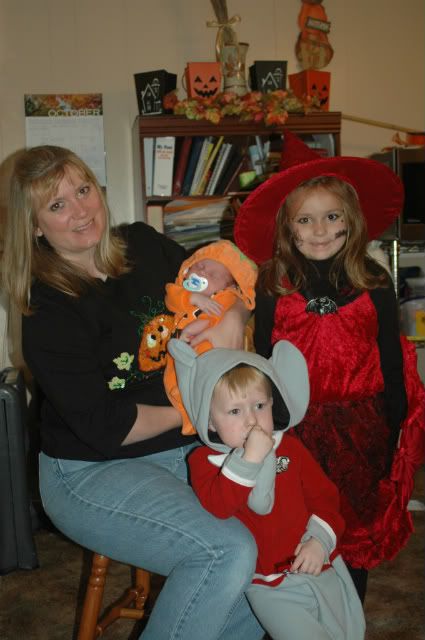 I was wanting Maryann to take a picture of the kids. I didn't know that she got me in the picture as well.
We hope you just as much fun at your Halloween party as we did. Now, on to Thanksgiving! Please remember Christmas in Cullman is November 12th & 13th.