I'm thankful for Adobe Photoshop and having the ability to do so many different, fun things. YAY!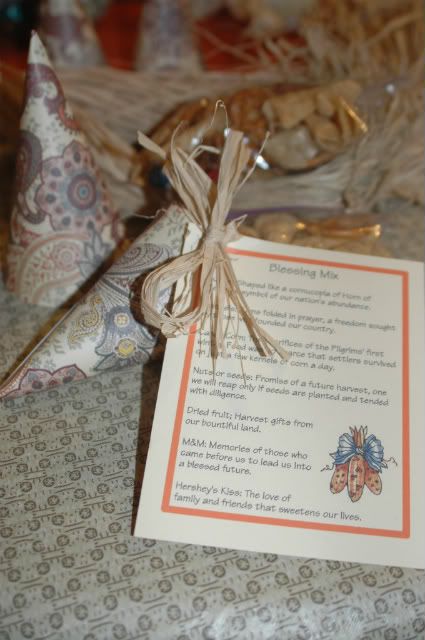 I've been a little busy making some tasty hostess gifts for our guests this Thanksgiving. It took me a few days, but I put together the final touch last night. I made enough Blessing Mix for an army. I ended up making 43 gifts. Shew! I got this idea from
Caramel Potatoes.
I wanted to put my own spin on this treat. I thought it would be nice to stick the bag full of mix inside a paper cornucopia. I didn't like the idea of putting Hershey's Kisses inside the bag with the rest of my mix, so I place a little double sided tape on the bottom and stuck it on top the bag. I think it turned out nice. After Halloween, I couldn't find any candy corn. It's the only thing that's missing from this mix, so if you are planning on making this next year - BUY the CANDY CORN ahead of time.
Blessing Mix Tag
I got the cornucopia template from Make and Takes
CLICK HERE
for free template and instructions.