This afternoon, I had the joyful opportunity to sit down and have a lovely pre-Thanksgiving dinner with my parents, Doug's parents and Katie at church. Our church does this every year, where we try to get together at our facility with our friends and loved ones. We are all served a traditional supper by our wonderful deacons by candlelight and serenaded by a few choir members. After dinner, Bro. Steve says a few words, followed by communion. Then, we are dismissed by prayer. I really enjoyed tonight with my family.
So tonight, I'm thankful for still having the ability to get together with my family and give thanks until the Lord for all He has done in my life.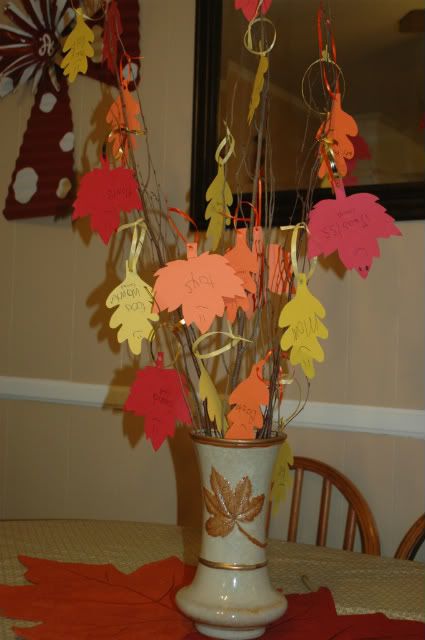 Katie's Thankful Tree centerpiece
I thought this was touching. She is thankful for "Jeasiss" aka Jesus
Checking in on my blogs that I like to follow, I caught a glimpse of this precious Snowman. I have a weak spot when it comes to snowmen. I just think they are so sweet. This guy (below) is chilling as a great centerpiece from
Shindig Parties.
I fell in LOVE! I breezed through the instructions on how to make this little guy and it sounds pretty simple. I don't know if I'll be able to make him this year, but I had to share him with you.
CLICK HERE
for instructions and further information.